Netvision Telecom, Korean Specialist in MPTCP Technologies, to present its MPTCP Gateway Solutions at MWC 2016
02/12/2016 | By NETMANIAS
Netvision Telecom, Korean Specialist in MPTCP Technologies, to present its MPTCP Gateway Solutions at MWC 2016. Netvision Telecom, Netmanias' proud sponsor, will be exhibiting and presenting their latest solutions at MWC 2016. Let's take a peek at what they have to share with the world, in advance.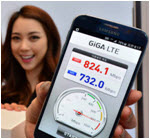 KT's GiGA LTE, World's First Commercial Wireless 1 Giga (3-band CA + GiGA WiFi)
06/17/2015 | By NETMANIAS
KT announced that it succeeded in commercialization of the world's first wireless 1 Giga service, called "GiGA LTE". The service is known to have achieved speeds 15 times faster than the current LTE, through combining two heterogeneous networks: LTE and WiFi.