A connected car, technically a car combined with IT that gives the real-time Internet access, is one of the highly recognized killer services of 5G now. Connected to the wireless network, connected cars can deliver fascinating ICT solutions like infotainment, vehicle control service etc.
There is a dominant view that, in the future, automobiles will serve the purposes that smartphones do these days. 5G, with ultra-high/ultra-low latency, is the key to realize connected cars. Given that, many people in the relevant industries, including mobile telecommunication, IT, automobile, etc. agree that connected cars will become a next-generation growth engine.
On the 14th November, Samsung Electronics announced its USD 8 billion acquisition of Harman, a USA-based car infotainment and audio company, opening a new era for connected cars. SK Telecom also declared its clear interest in the connected car sector by conducting a demonstration of 'T5', 5G-based connected car, jointly with BMW and Ericsson on the 15th November.
At the demonstration event, Alex Jinsung Choi, CTO of SK Telecom, explained T5, a 5G connected autonomous car platform and service that runs on 5G networks, will eventually evolve into a self-driving car.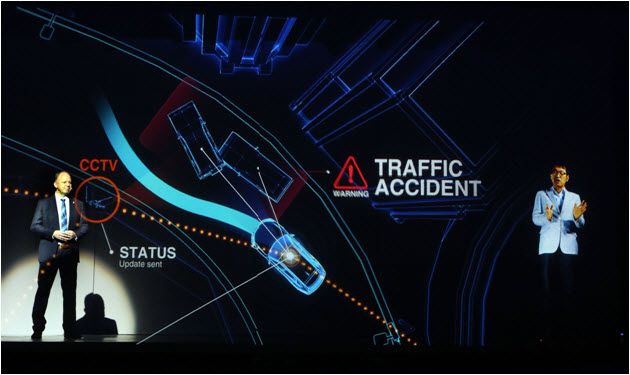 Martin Wöhrle, the Head of R&D Center at BMW Korea (left) and Alex Jinsung Choi, the CTO at SK Telecom
Below we will briefly review the T5 demonstration, connected car development by South Korean mobile operators so far, the South Korean government's plan for supporting self-driving car, etc.

In the demonstration held at the BMW Driving Center in Yeongjong Island, Incheon, SK Telecom presented the world's first 5G-based connected car. The operator performed test driving of T5, with a built-in 5G device, demonstrating future driving technology that connects 'connected car (T5), drone and road traffic information in real-time in the track equipped with 5G trial network that it had deployed jointly with Ericsson.
<Detailed partnership>


5G field trial network
SK Telecom deployed a mmWave 5G trial network that covers the 2.6 Km track, and installed 28GHz 5G base station and repeaters in the BMW Driving Center in Yeongjong Island. 5G devices were added to two BMWs. The 5G trial network deployed with Ericsson can support data rate at 20 Gbps or higher. The latency between base station and devices was kept under 1ms, which is 25 times faster than what it takes for humans to sense things.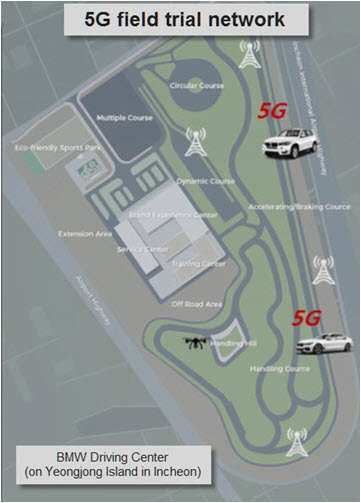 Connected car (T5) demonstration
SK Telecom demonstrated communications between vehicles, vehicle monitoring and control technology, etc. using ultra-fast/ultra-low latency 5G network. T5 collects not only communication data between vehicles, but also traffic information like data from traffic lights on the streets or CCTV in real-time, ensuring the driver receive the important information, such as unexpected danger like sudden stops in blind spots, traffic accidents, etc. in real-time.
What's demonstrated
Avoid obstacles in the front by using Vehicle to Everything (V2X) technology and video recognition sensor
Multi-channel, real-time IoT communication with things around the car (e.g. traffic lights, street and CCTV)
Bird's eye view system using unmanned drones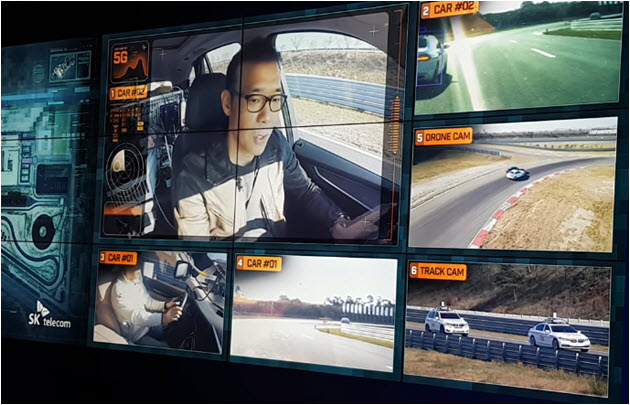 Driving conditions in and around a 5G connected car can be effortlessly monitored from a control center
Related 5G technologies/scenarios
Multi-sync True Live Streaming (TLS)
4K 360° live VR
Video recognition:

1) Detects obstacles or potential danger ahead and alert drivers
2) Detects obstacles on the road and redirect drivers to alternate routes

5G V2X: Communicates with other vehicles or infrastructure on the road, sharing the collected information like road conditions and accidents (in the demo, the system alerted a driver to the sudden stop by the driver who was in a blind spot ahead.)
Video recorded by flying drones: Drones record accident areas from above and share large video clips in real-time.
5G experience bus (5G-based virtual reality bus equipped with large screen displays, an audio system and state-of-the-art video cameras to provide augmented/virtual reality multimedia)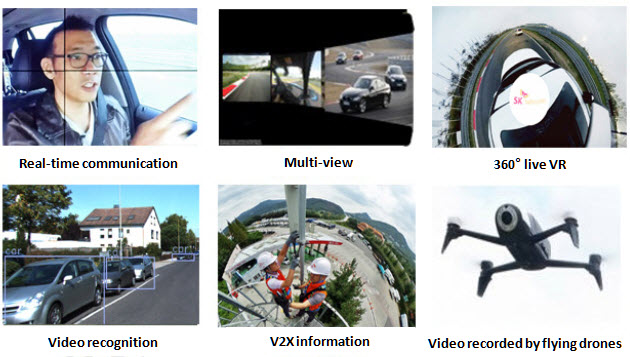 Connected car developments by South Korean mobile operators so far
South Korean government's support for self-driving cars
South Korea is getting ready to present the world's first 5G trial service during the PyeongChang Winter Olympic in 2018. The nation, with the world's best 5G technologies and network deployments, is drawing keen attention from around the world as a testbed for some of the key 5G technologies like self-driving car. Tesla, with the aim of entering the South Korean market in 2017, has been test-driving electric cars in the nation since last August. SK Telecom and KT are currently competing to become the automaker's partner.
The South Korean government has been providing full support for self-driving cars, specifically planning to:
implement conditional automation (level 3) in 2020
lead development efforts in full self-driving automation (level 4) in 2026
For this, the government in May announced a plan to expand the self-driving test routes across the nation, and deploy three key infrastructure components for self-driving (i.e. precise area map, precise GPS and Cooperative Intelligent Transport Systems (C-ITS)) for support of field test.
What the demonstrations told us
This demonstration was the first opportunity to preview how 5G technology can be applied to automotives prior to actual commercialization. It showed the world that the connectivity can be enhanced with ultra-high speed and ultra-low latency, and a wide selection of innovative communication services can be delivered for added safety and convenience. 5G will trigger transition of communication service from smartphone-centered to connected car-centered.
SK Telecom, with an aim to commercialize the world's first 5G in 2020, is also pushing forward to make 5G self-driving car come true by 2020. The latest demonstration will serve as the very first step that helps the operator to successfully commercialize 5G and enter the connected car market.
See also, "SK Telecom's CTO Alex Jinsung Choi's view on 5G Connected Car"