Looking to the reachines and the diversity of technologies; one can realize that starting from 3GPP Release 13, the standards have taken a new path. New Network Elements, Extensive focus on Machine Type Communications (MTC), New REST-based Interfaces (JSON), and actually new protocols such as Packet Forwarding Control Protocol (PFCP) have been introduced.
Having discussed before the CUPS, DeCore, Network Slicing and MEC in previous articles; in this article I will shed some light on three newly introduced Network Elements in 3GPP Releases 13 and 14 which are the Radio Congestion Awareness Function (RCAF), Packet Flow Description Function (PFDF), and Traffic Steering Support Function (TSSF).
Radio Congestion Awareness Function (RCAF)

As per the 3GPP definition, The RAN Congestion Awareness Function (RCAF) is an element that provides RAN User Plane Congestion Information (RUCI) to the PCRF to enable the PCRF to take the RAN user plane congestion status into account for policy decisions.
So, How does it do that? Simply, the RCAF integrates with RAN O&M and collect the information related to User plane congestion and the impacted Cells/eNBs and then interrogates the MME/SGSN to get the impacted Subscribers and services (IMSI/APN) and then update the PCRF with such info. helping PCRF to take decisions (Policies) to handle the subscribers/services currently in congestion.
RCAF Reference Points
NS, Np, & Nq/Nq' interfaces are all standard 3GPP interfaces while the deployment of the interface between RCAF & Radio O&M is operator specific. Below is a summary of the reference points with the corresponding 3GPP Standards.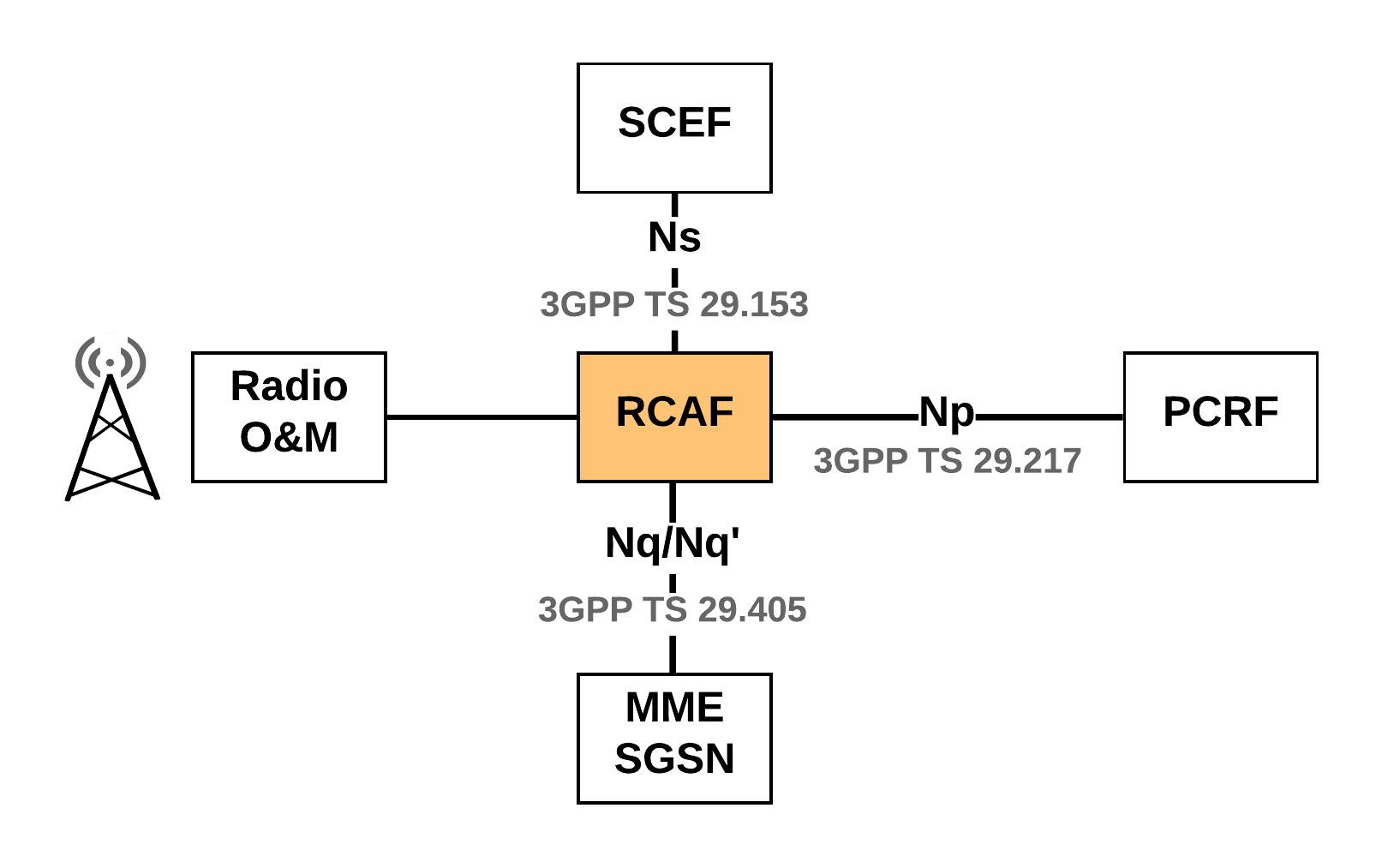 RCAF is meant to play a vital role in Congestion awareness and reporting in both Mobile Broadband and M2M (mainly NB-IoT).
For MBB, RCAF is to Identify the Congested Cells, Affected Subscribers and services, and then reporting it to PCRF for applying the relevant congestion policies. This is done via the capability of RCAF to interrogate the MME for the impacted subscribers and services (IMSI + APN) for a given congested Cell reported or exported from the Radio O&M.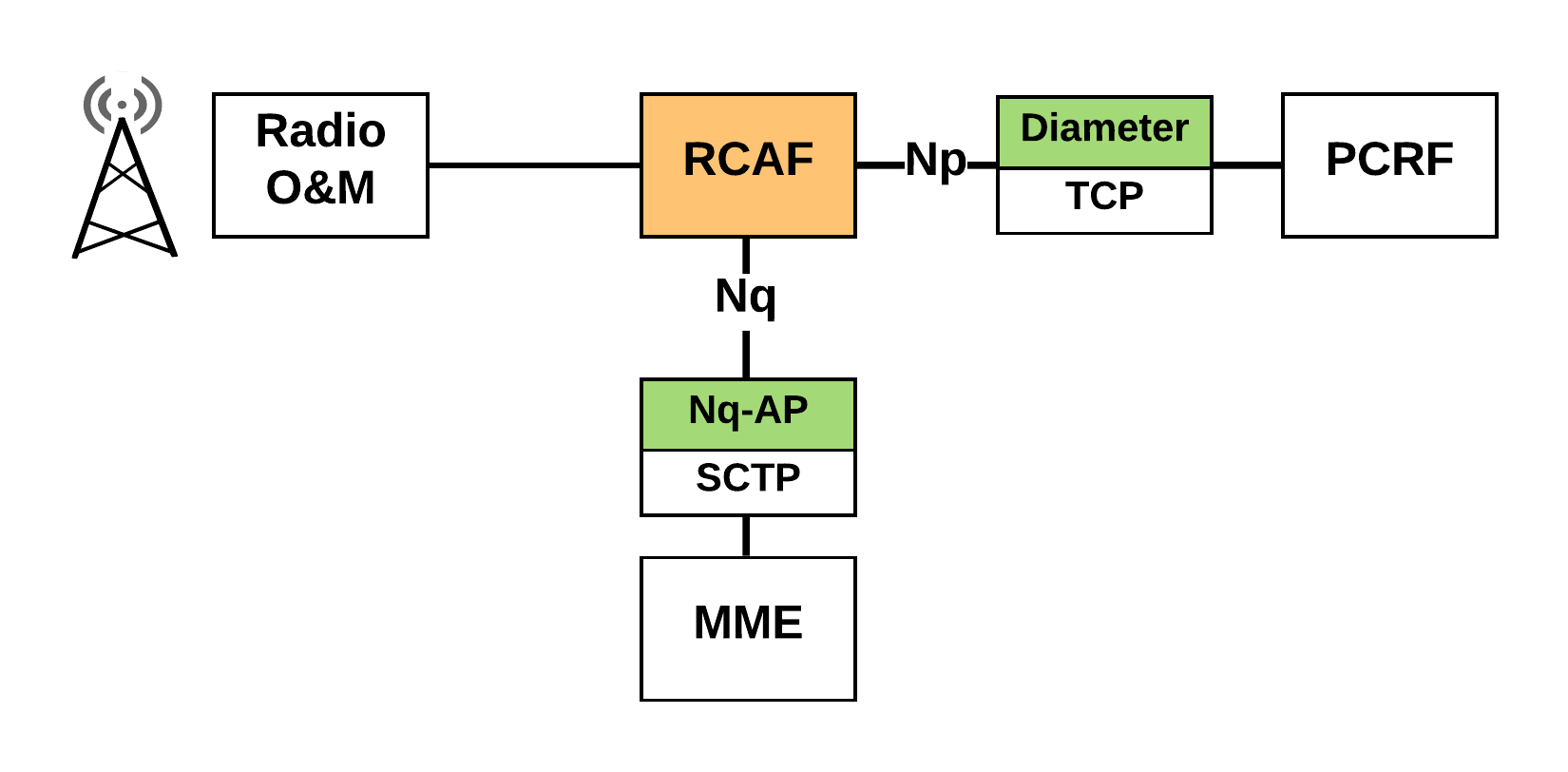 For M2M/IoT, RCAF is to integrate with SCEF, Service Capability Exposure Function enabling the network to inform the 3rd party AS (IoT Platform) of a cell congestion status that may posses a potential risk to data transmission. While same process can be interrogated via the AS, Application Server through the SCEF.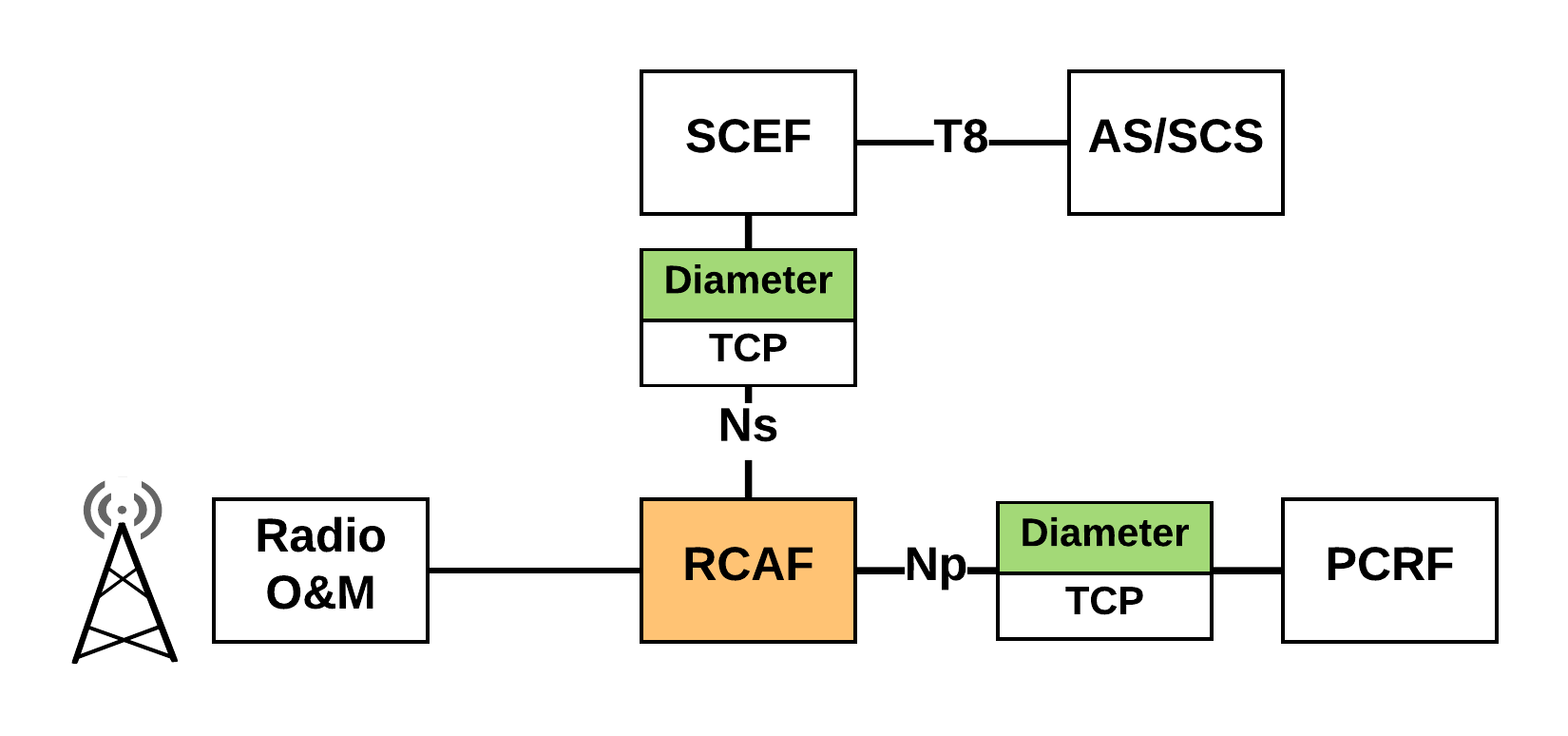 T8 is API-based interface.
Packet Flow Description Function (PFDF)

The Packet Flow Description Function (PFDF) is a repository which stores Packet Flow Descriptions (PFDs) that can be managed, i.e. added, updated, or removed, by the SCS/AS (can be 3rd party AS) via the SCEF.
Let's me first explain what is a PFD. In simplest form, PFD consists of PFD id, 3-tuple including protocol, server side IP address and port number. (Also this can be URL, Hostname, Domain name, etc.)
So for example, An IoT platform handling certain corporate may need to add a new PFD allowing sensors (traffic) to pass to a new Server. So PFD Installed might be <PFD-id>, <Server-ip-address>, <protocol>, and <port-number>.
This ultimately need to be enforced in PCEF (PGW in our case) so PFDF handles this function. In a nutshell, PFDF enables 3rd party AS to provision/modify/remove PFDs via the SCEF into the MNO network. PFDF in return may store the PFDs or provision it to PCEF via JSON interface (Gw).
Below is a call flow that gives an overview of the basic use case.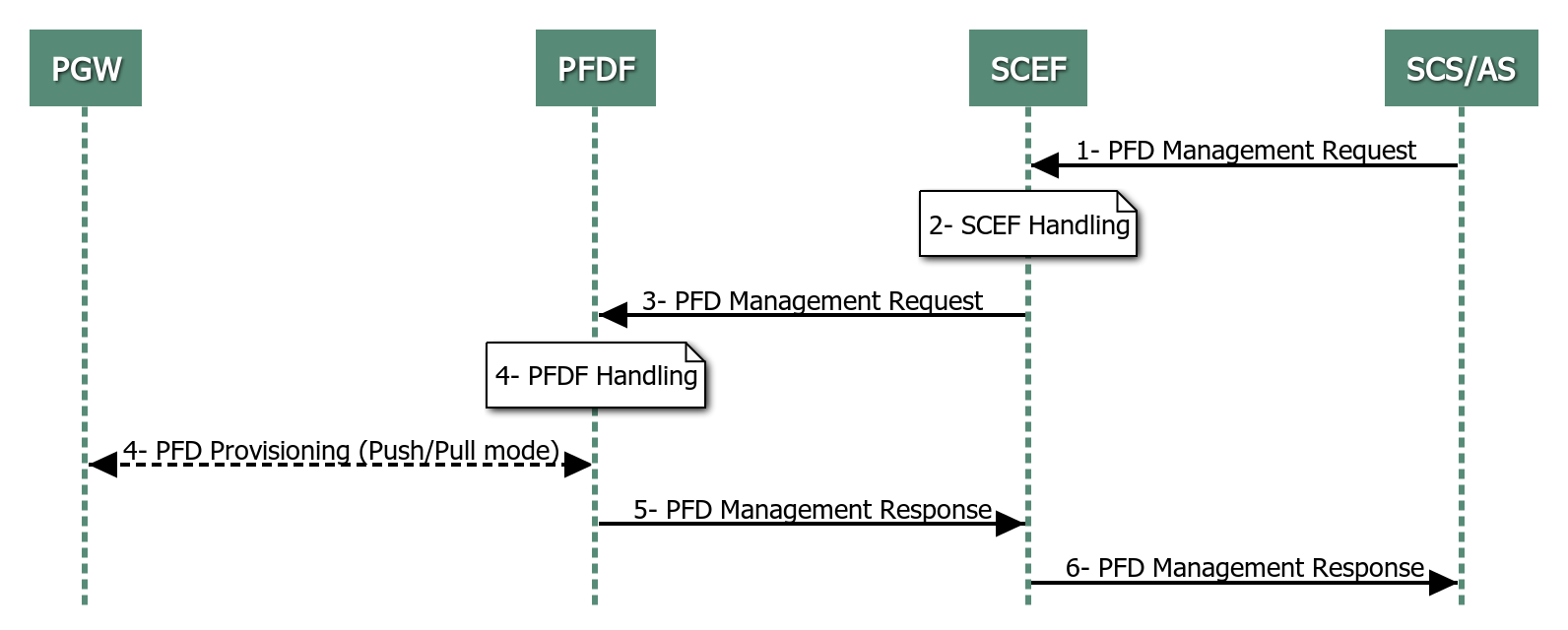 PFDP Reference Points
Nu and Gw interfaces are all standard 3GPP interfaces. Nu and Gw are both based on REST/JSON interfaces.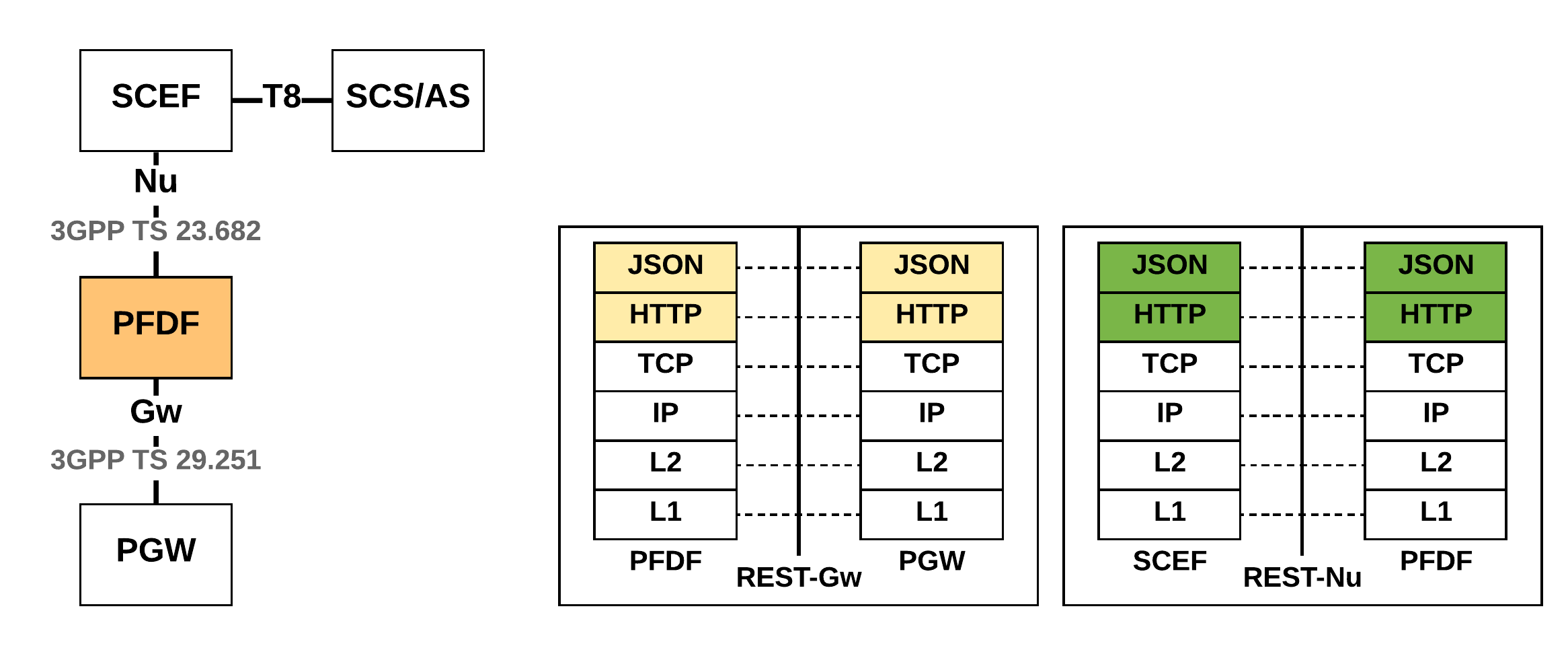 Traffic Steering Support Function (TSSF)

The TSSF is a function that receives traffic steering control information from the PCRF and ensures that the related traffic steering policy is enforced in the Gi-LAN.
A traffic steering policy is locally configured in TSSF and can be used for uplink, downlink or for both directions. To ensure that the traffic steering policy is enforced, the TSSF performs deployment specific actions as configured for that traffic steering policy.
With St Specific JSON attributes such as flow-information, ts-policy-identifier-dl, ts-policy-identifier-ul, ts-rule-name, etc; PCRF is able to activate a specific Traffic steering policy in TSSF.
These Policies can have a local action defined in TSSF. I assume that one of these actions might be NSH (Network Service Header) insertion and in that case, this would be a cooperation between IETF and 3GPP to realize the Service Function Chaining (SFC) use case but this not confirmed. The deployment is not clear till now, though it looks very interesting.
St Interface is a REST Interface based on JSON. Below is the position of TSSF in PCC Reference Architecture (Source: 3GPP TS 23.203 R14). However, It is a candidate functionality to be embedded in PGW.
Though these new network functionalities look interesting but the market adoption is not guaranteed. Especially with the tailored vendor-specific solutions available in the market that nearly fulfill the same job but with different protocols or techniques.
I hope the article fulfilled the goal to give an overview of the new EPC Network Functions RCAF, PFDF, & TSSF.
I will be happy to reply to the comments and join any relevant technical discussion.
Relevant articles