The Rise of Private 5G
With the digital transformation fever of enterprises, the establishment of 5G standards (eMBB, uRLLC and mMTC) minding enterprise services and the emergence of private 5G spectrum (Industrial private 5G spectrum, CBRS), industries are opening up the era of digital transformation by building private 5G networks.
The private 5G network is an enterprise-dedicated network built using 5G technology in enterprise-owned buildings or sites. Public 5G networks can only be built and serviced by MNOs, but the private 5G networks can be built directly by enterprises, or MSOs, SNOs, PNOs, hyperscalers and vendors can build and operate for them.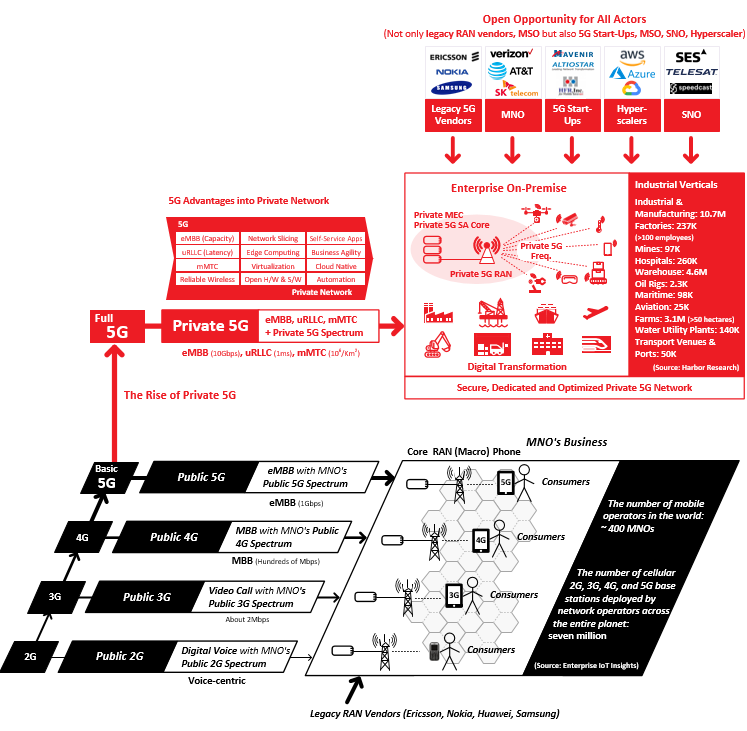 The Rise of Private 5G
The on-premise private 5G network is an independent 5G network built in the enterprise without leveraging MNO's public 5G network.
5G RAN, core and edge computing are built as a full set within the enterprise. In the case of 5G radio, the shared/unlicensed/private 5G frequency is used when an enterprise builds its own private 5G network, and the public licensed frequency of MNO can also be used when the MNO builds the private 5G network.
Security is inherently strong because 5G device information and user data inside the enterprise are always processed and stored only in the local area.
Communication between 5G devices in the enterprise, edge computing and the existing intranet is performed within the enterprise, minimizing delay.
In addition, since the private 5G network does not interwork with the public 5G network of MNO, it can be built immediately even if the optical cable of MNO is not installed inside the enterprise, and it operates normally even if the public 5G network of MNO fails or the backhaul is cut.
With network slicing technology, a key feature of 5G, it is possible to build and operate an independent network (i.e. slice) logically separated for each application and department within the enterprise. For each slice, different QoS is guaranteed and traffic between slices is isolated, providing strong security.
Since the enterprise directly builds and operates its 5G network and edge computing, the enterprise can directly control and manage the traffic within the 5G network, and can create and manage a sufficient number of network slices according to the needs and demands of the enterprise itself, and has full control over network management.
In other words, the enterprise's requirements can be reflected in a timely manner, thereby optimizing the private 5G network for the enterprise's business to improve business agility.
Barriers to the Spread of Private 5G: Customer's Perspectives
Although private 5G has attracted attention from many enterprises, there are several hurdles that are obstacles to the deployment of private 5G network for enterprises.
Buy from MNO
Service Availability: Deployment of MNO's private 5G services will inevitably start with urban areas and spread gradually to rural areas over many years.
Opex Concern from Usage-based Charging: Enterprises want to use private 5G network for free for onsite traffic like Wi-Fi. However, MNO's private 5G service using the public 5G network and expensive licensed spectrum charges for the data usage generated by onsite devices.
Security and Information Control Sovereignty: Enterprises want to implement their own security and QoS policies as they want, but MNO's private 5G service has limitations in customizing each enterprise's need.
Build by themselves
High Initial Deployment Cost: 5G is a carrier technology for public mobile service, so it is very expensive compared to legacy LAN technologies such as Wi-Fi and Ethernet.
Difficult to Operate: When operating a private 5G network, a high level of technical knowledge and expertise in operation is essential.
Difficult System Integration: It is difficult for enterprises to integrate products (5G Core, 5G RAN, 5G CPE, MEC, OSS, etc.) from different vendors.
HFR can overcome the barriers to the spread of private 5G and accelerate the adoption of private 5G by enterprises.
HFR's my5G Solution
HFR's my5G solution is a private 5G infrastructure that will realize the digital transformation of enterprises. my5G solution is a purpose-built, end-to-end private 5G solution developed for on-premise private 5G service.
HFR's my5GTM Solution
Success Factors of HFR's my5GTM

Enables Rapid Deployment: HFR builds and service private 5G networks completely independently of MNO by using private 5G spectrum allocated by the governments and pre-integrated whole private 5G network provided by HFR. This empowers the industries to rapidly deploy their private 5G networks throughout the country.

Eliminates CAPEX Concerns: HFR offers a dedicated, secure and optimized 5G network, including 5G base stations, 5G core/SIM and MEC, on a monthly basis to achieve a launch that will require a minimal initial investment.

Eliminates Operational Concerns: HFR provides cloud management for enterprises. HFR's in-house experts will remotely manage and operate the private 5G network. This model greatly reduces the operational burden on the enterprise's IT administrator.

Micro Network Slicing for Security and Information Sovereignty: Security and QoS policies can be designed and controlled within the enterprise, allowing enterprises to customize the network the way they want.
Empowers Vertical Applications: HFR provides enterprise-specific application services to assist in an enterprise's digital transformation. These applications are managed by the my5G business platform and provide various billing policies, SLA assurance, usage, and quality monitoring for each application.

Free Onsite Usage – 5G Used Like Wi-Fi: The 5G network is used onsite and provided using private 5G spectrum, enabling enterprises to use it for free and as commonly as they would Wi-Fi.
Business Platform: Self-Care Portal and Admin Portal: offers customer management, service management, resource management, various billing features, and usage & quality monitoring.

Smart Contract Management: FYDENATM is a business platform for XaaS using Blockchain technology developed by HFR. FYDENA smartly and fairly manages contracts including SLA from completion to settlement.
More Information