Currently, of all 3 IPTV service providers in Korea, KT is the only one offering UHD channels, three of all: SkyUHD, the world's first UHD, launched in September 2014, and SkyUHD2 and UXN, both launched in June 2015. SK Broadband and LG U+ are currently offering UHD VoD service only, but are working hard for UHD channel launch in the second half of the year.
KT has been using Elemental's UHD live encoders for its commercial service while SK Broadband is conducting inter-operability test with PP using encoders from Pixtree, a Korean vendor.
KT's all 3 UHD channels have the encoding rates of around 21Mbps, and network bandwidths of 27.1Mbps.
Table. KT IPTV UHD Channel Information
PP

Channel No.

Resolution

Codec

Encoding Rate

Streaming Rate

Network BW

SkyUHD1

KT

001

3840x2160

H.265

4:2:0,10-bit

21.3Mbps

26.3Mbps

27.1Mbps

SkyUHD2

KT

202

3840x2160

H.265

4:2:0

,10-bit

21.3Mbps

26.3Mbps

27.1Mbps

UXN

CJ

203

3840x2160

H.265

21.3Mbps*

26.3Mbps

27.1Mbps
* For UXN, the encoding rate (content rate) was not displayed at VLC, but the streaming rate was measured to be 26.3Mbps, same as SkyUHD. When measured with Wireshark, the measured network BW was 27.1Mbps, again same as SkyUHD. So, the encoding rate of UXN was assumed to be 21.3Mbps, same as SkyUHD.
KT's UHD VoD channels also have the network BW of 25Mbps in case of some contents, but 18Mbps in case of most contents.
Then, does that mean it only takes about 30Mbps of Internet access line to watch a UHD channel?
The answer is no. It takes more than that.
KT is offering 4-channel multiview service, which allows users to select 4 channels to watch simultaneously - one in the main screen in the left, and three in the sub screen in the right as seen below. For the service, a total of 4 multicast streams (one per channel) are sent to STB (STB sends 4 IGMP Join messages).

When tested back in May, the measured network BW (by Wireshark) of the main and sub screens were 11~13Mbps (Full HD) and 3.6Mbps (SD), respectively. That means the network bandwidths of multicast streams for all 4 channels were around 22~24 Mbps, and thus 30Mbps of network BW is not required, either.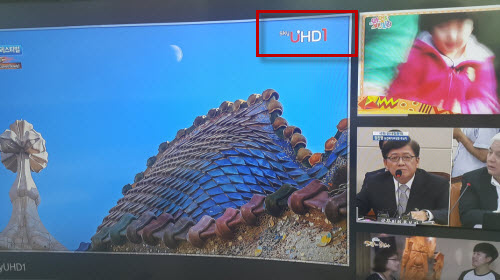 When tested again in August, 4-channel multiview service featuring 'a UHD channel in the main screen' (see the figure in the right) was available. As announced in March, it seems KT added a UHD channel in its 4-channel multiview service in June or July.

As seen above, displaying a UHD channel in a single-view mode requires a bandwidth of 27.1Mbps. We conducted a test to see whether or not KT, when displaying a UHD channel in a multiview mode, attempted to reduce the network bandwidth of the channel by lowering its encoding rate.
In a 4-channel multiview mode, we selected SkyUHD1 to be displayed in the main screen, and MBC, KBS and SBS in the sub screens. Network BW was measured to be 40Mbps.
Figure. Pattern of delivering multicast streams in 4-channel multiview mode of KT's UHD IPTV
As we can see, even the current 30 fps UHD service requires 40Mbps of bandwidth, and the upcoming 60 fps UHD service would require 80Mbps. Two units of UHD STB would mean 160Mbps. Obviously, giga Internet will be a must pretty soon.
For now, it would be interesting to watch what new services, based on giga Internet and UHD IPTV, KT, SK Broadband, and LG U+ would come up with, and how IP network would evolve in line with those new services.