SK Telecom to present NUGU, AI service powered by voice recognition, in September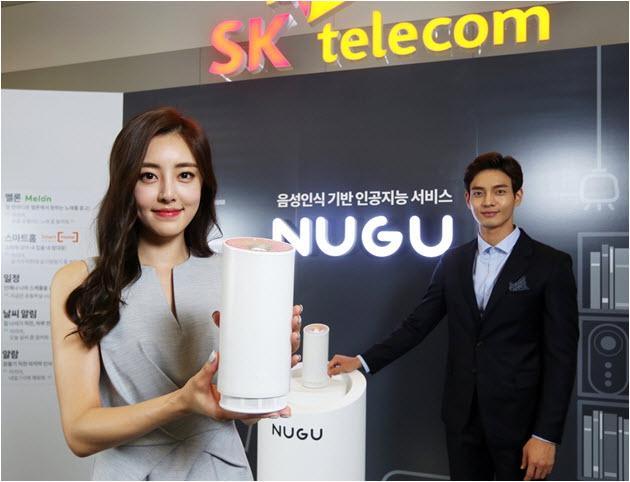 SK Telecom unveiled NUGU, AI service powered by voice recognition along with a device specifically designed for the service last week (on August 31st).

■ What's NUGU?
NUGU, which means 'who' in Korean, can be anyone the user wants it to be, friend, lover, family, assistant, and more. NUGU consists of an AI platform that can understand the Korean language and a specially designed device capable of voice input/output. When commanded by users, NUGU's voice recognition technology and AI engine interprets and performs what is commanded. The service will become available on September 1.

■ NUGU device
For now, NUGU comes as a cyliner-shaped WiFi speaker (21.5 cm high and 9.4 cm wide). Anyone who purchases a NUGU device can enjoy the service at no extra charge regardless of their operators. Soon, the operator will also provide new NUGU-enabled devices like in-vehicle gadgets, wearables and humanoid robots. Because AI pocessors are driven by Cloud, not by the devices, device costs can be kept pretty low.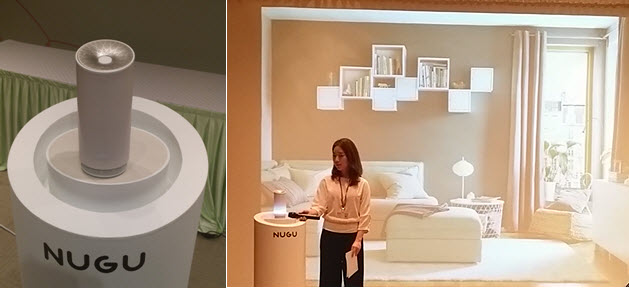 NUGU device shown during demonstration

■ What services are offered?
Initially, main services available will be music streaming (from Melon, a music store run by SK Telecom) and smart home. NUGU will be able to play requested music and control home appliances like light, air washer and plug, through interworking with Melon and Smart Home services, respectively. The operator will expand to a wider and more advanced service areas like commerce (food delivery, online shopping, etc.), information service (real-time navigation service linked with T Map, information search, etc.) by leveraging customer experience accumulated over time. New features can be easily added through AI platform upgrade without having to purchase a newer version of the device, which makes the service highly scalable.

■ NUGU's API to be open next year to expand AI platform
The operator has been making its representative platforms like T Phone and T Map public, and will further open the key APIs of the platform (NUGU) to the public next year to bring in third-party developers for expansion.

■ Great potential with deep learning feature
Equipped with deep learning feature, NUGU is has great potential to evolve further by leveraging data to be accumulated over time. The more users it has, the better its voice recognition become.

--------------------------
To attract and engage more users, the operator is offering NUGU devices at highly discounted rates for customers - at KRW99,000 (60% off) by October and then at KRW149,000 (40% off) by December before it gets back to the regular rate - KRW249,000 next year.

Il-hwan Park, VP at Device Supporting Division of SK Telecom, said "With NUGU, we will open a new 'AI era' where voice recognition and AI technology can help make our everyday life easier." He added, "NUGU will become a turning point that empowers us to graft our daily lifestyle value to our platform and service."