Plans to interoperate SK Telecom's Quantum Key Distribution (QKD) System with Nokia's optical transport system
SK Telecom envisions to turn Internet of "unsecure" Things into Internet of "secure" Things using ultra-small Quantum Random Number Generator (QRNG)
---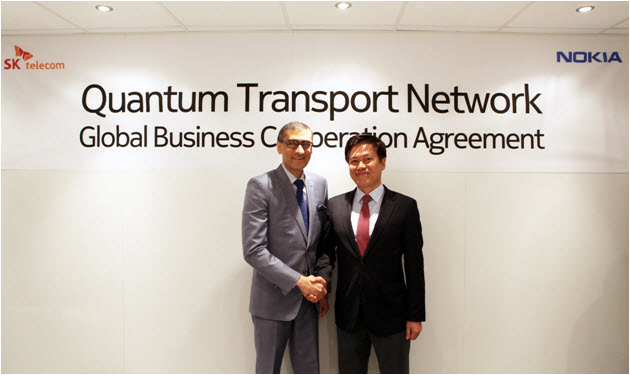 SK Telecom today announced that it entered into an agreement with Nokia to cooperate in the quantum cryptography business.
Under the agreement, SK Telecom and Nokia will conduct joint research and development activities to achieve interworking between SK Telecom's Quantum Key Distribution System (QKD) and Nokia's next-generation optical transport system by the second half of this year.
SK Telecom and Nokia have been working together closely from 2016 for interoperation of SK Telecom's quantum technologies with Nokia's optical transport system. The first prototype of this collaboration, also known as Quantum Transport System, is being demonstrated at Nokia's booth (Hall 3, 3A10) during the 2017 GSMA Mobile World Congress.
The quantum cryptography communication is known as the most secure form of communication encryption that cannot be broken with any existing hacking technology. Quantum cryptography is expected to replace the existing security solutions in all areas at risk of data hacking, including national defense, finance, autonomous vehicle and the Internet of Things (IoT).
Under the agreement, the two companies will also cooperate in the area of Quantum Random Number Generator (QRNG), a technology necessary for applying quantum cryptography technologies to IoT devices.
SK Telecom's QRNG is the world's smallest 5x5mm CMOS Image Sensor (CIS) based all-in-one, single silicon (ASIC) providing non-deterministic true random numbers on demand from quantum-shot noise. SK Telecom plans to tape out engineering samples of QRNG chip (ASIC) in the second quarter of 2017 and commercial launch is planned by the year end. SK Telecom envisions using QRNG for Internet of "secure" Things (IoT).
"Since opening Quantum Tech Lab in 2011, SK Telecom has been making constant efforts to develop quantum cryptography technologies," said Park Jung-ho, CEO and President of SK Telecom. "Based on the cooperation with Nokia, SK Telecom will create a new paradigm and ecosystem in the field of ICT."
"With SK Telecom's quantum cryptography technologies, we have secured the basis for building the most secure network security solution," said Rajeev Suri, CEO of Nokia. "We will respond proactively to rapidly growing demands of the cyber security market with these technologies and solutions."