Busan Transportation Corporation (BTC) has begun on setting up LTE-R in their subway. LTE-R is railroad network based on long term evolution (LTE) that the domestic research team has developed. It is being evaluated as exportation worth business. The Public Safety LTE(PS-LTE) that is used by National Disaster Safety Communication Network has similar requirements as LTE-R and therefore they will accepting orders at a transition and bit of skirmish for the business is expected.
According to the business on the 26th, BTC has announced of setting up LTE-R in extension of Busan subway line (Shinpyung~Dadaepo). They will be posting request for proposal (RFP) in the early May. If early, they will select the licensee by end of May and finish setting up by August of 2016. The business scale is about 17.7 million USD.
The area that LTE-R will be set up is the whole subway line 1, which is about 41km long, and that includes the new 6 stations. Communication network system that allows the engineer, station employee, and central control room to have mutual communication of information exchange will be set up.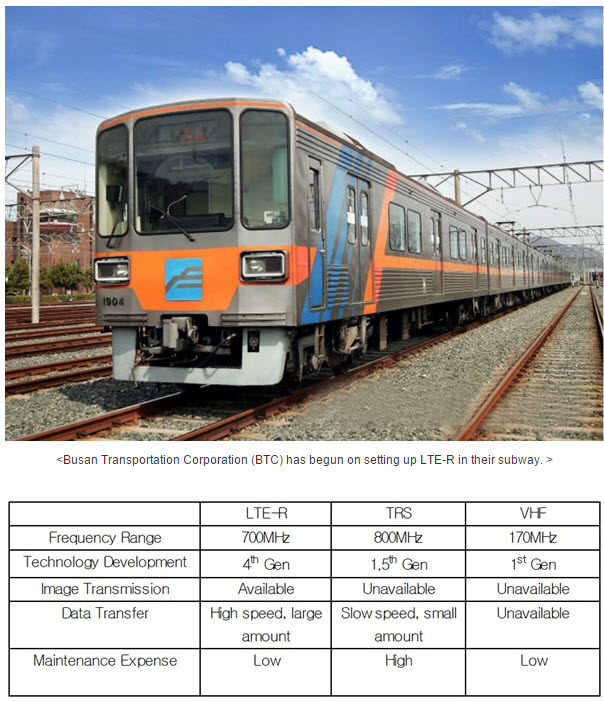 LTE-R is a railroad communication network that had been developed since 2010, centered around Korea Railroad Research Institute (KRRI). It has high-speed movability and data communication such as video call is possible. It is used as main technology of Korean Train Control System (KR TCS). Currently, all the domestic railroad is using outdated technologies such as very high frequency (VHF).
Busan Transportation Corporation official said, "LTE-R is 4th generation wireless communication technology that allows high speed data transfers. It is comparably less costly than TRS, which will be a benefit in management." LTE-R will be set up and installed in Wonju and Gangneung area where Pyungchang Olympic will be held in 2018.
According to KRRI, the government is planning to set up and install LTE-R over all the railroads in South Korea by 2025, which is about 4800km long in total. The total business cost is 1.7 billion USD. Europe is looking forward and planning to commercialize by 2020 as well and LTE-R development is underway.