During the 2018 Pyeongchang Winter Olympics, 5G pilot service will be offered by means of 8-band CA that combines 8 100MHz carriers, supporting over 10Gbps on devices - more than 33 times faster than the current LTE's maximum 300Mbps. The drastic speed improvement will make features like 360 degree realistic videos, realistic content services powered by VR and AR, etc. a reality. In addition, omniview service like multi-view streaming, remote-controlled drone racing, and more will become available for users to try.
The '4th 5G Strategy Committee' that was held recently discussed standards for the 5G pilot service, including 800MHz-wide 8-band CA, MIMO, hybrid beamforming, etc. in addition to previously discussed 28GHz band. Other solutions like dynamic TDD, subcarrier spacing 75KHz, etc., will also be used for the service.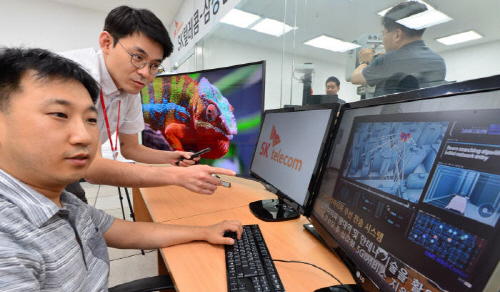 <5G pilot service will be launched and offered during the Pyeongchang Winter Olympics in 2018. A SK Telecom engineer is demonstrating 5G technology at the company's Bundang office on the 31st.>
CA, currently used in 4G LTE, is a solution that combines multiple carriers in a band to enhance speeds. Standardized CA, so far, could aggregate up to 5 20MHz bandwidths (a total of 100MHz), achieving 750Mbps, but this time it will be 8 100MHz bandwidths (a total of 800MHz).
As 10MHz in LTE can give 75Mbps, up to 6Gbps can be achieved, theoretically. Practically it is impossible to secure such a wide bandwidth in a low frequency band. That's why 28GHz, an ultra-high frequency band with short radio propagation distance and low diffraction ratio, is chosen for the pilot service.
8x8 MIMO will be used, increasing data transmission by 4 times more than the current 2x2 MIMO that uses 2 antenna. This naturally means 4 times faster speeds, 24Gbps (4 x 6Gbps), which is by far faster than 20Gbps set by ITU.
To implement 8×8 MIMO, base stations and software capable of supporting the solution must be in place first, and 8x8 MIMO-compatible devices have to be developed too. There is a system that uses 8 antenna, but not all of them can be used at once. The success of the pilot service lies on whether these pre-requisites can be secured by the end of next year or not.
Subcarrier spacing, which can be explained as spaces between radio signals that carry data, will be 75KHz - 5 times wider than LTE's 15KHz. Dynamic TDD can adjust traffic in UL and DL flexibly depending on traffic conditions as opposed to the conventional TDD which has fixed traffic transmission ratio in UL and DL, resulting in poor flexibility and interference issues. Beamforming is designed to control the amount of frequency generated according to demand. For the pilot service, a hybrid beamforming architecture that combines an analog beamforming and a digital precoding will be used.
Korean operators and global companies participating in preparation of 5G pilot service are planning to finalize detailed standards for the service by the end of the month. Device development and network testbeds will be completed by Q3 and Q4 next year, respectively. Network testbed will be deployed in the Olympic villages and venues, Incheon international airport, Kwanghwamoon in downtown Seoul, etc.
Director Oh Seong-mok of KT's Network Division said, "By February 2017, a year before the event, we are planning to offer the same preliminary pilot service that we had offered until the end of last year." "A timeline of device and chip development will have to be confirmed before we know for sure, but we will try our best to eliminate any possible setbacks in advance to ensure the service becomes available in time."
All of the Korean big 3 mobile operators announced their plans to offer pilot service in Pyeongchang and Seoul. KT will introduce features like live streaming service from athlete's point of view, 3D venue maps, omniview service like 360 degree multiview streaming, etc. And 5G bus by KT will let passengers experience VR hologram at their seats.
What SK Telecom will offer includes 360 degree video-based realistic media, realistic content service powered by VR and AR, and more. LG U+ will present drone racing, ultra-multiple viewpoint content playback, network testbed cluster infra capable of over 20Gbps.
<Standards for 5G pilot service in 2018 (source: MSIP)>