Last month, KT, on its website, announced 'KT 5G-SIG specifications' as official specifications for 5G trial service to be launched during the PyeongChang Winter Olympic event, and shared its 5G strategies.
All ten 5G radio access specifications shared were co-developed with KT's partners, Samsung, Ericsson, Nokia, Intel and Qualcomm. With the world's first common specifications for 5G, KT began a journey to PyeongChang where the world's first 5G trial service will be launched, and then on to the final destination – making them as global standards.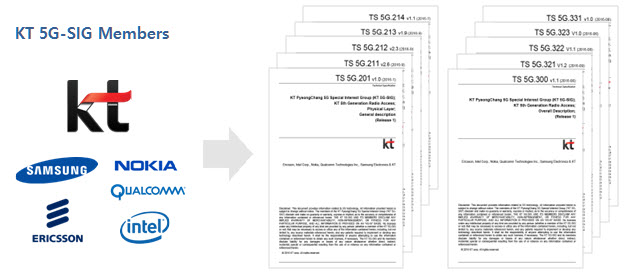 <KT 5G-SIG specifications>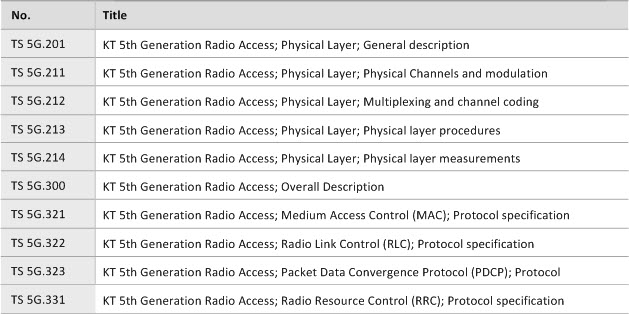 Below, we will explore what KT's 5G strategies are, how much progress has been made, what challenge it is facing now, etc., and briefly review relevant technologies and services based on what was shared.
■ KT's 5G strategies
The operator's ultimate goal is to lead the coming 5G era by making its 5G-SIG technologies developed for the trial service during the PyeongChang event 'global 5G standards' with the following timeline:
Establish common 5G specifications (i.e. KT's 5G-SIG specifications) agreed by global vendors;
Launch commercial-level, 5G trial service based on the 5G-SIG specifications during the PyeongChang Winter Olympic in 2018;
With the experience to be obtained from the sports event, make the 5G-SIG specifications a strong candidate for 3GPP 5G standardization;
Upgrade the 5G trial network to a commercial network by adopting 3GPP 5G standards; and
Launch the world's first 5G service in 2019
■ Progresses made by KT 5G-SIG
To meet the timeline:
[5G-SIG]

KT formed 'KT 5G-SIG' with global vendors including Samsung, Ericsson, Nokia, Intel, Qualcomm in November 2015;

[Specifications]

It finalized 'KT 5G-SIG' specifications, the world's first common specifications for 5G, in June 2016;

[Development]

Based on the specifications, it began development of base station, device and core network equipment, be completed by the end of the year;

[Test]

Performed a 5G e2e First Call test using the 'KT 5G-SIG' specifications in October 2016 in cooperation with Samsung;
Began a 5G virtualized core network verification process with Samsung and Nokia in October 2016; and
Launched interworking tests between 5G base stations and devices in cooperation with Nokia in early November.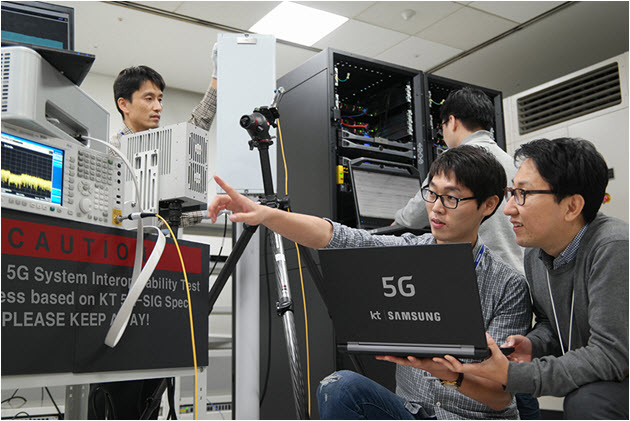 KT - Samsung: 5G e2e First Call demonstration

KT's key milestones on the path to 5G commercialization based on 5G-SIG
■ Challenge
The PyeongChang Olympic event is scheduled in 2018 while 3GPP 5G standardization is one year away from that. The biggest challenge for KT is to have the KT 5G-SIG specifications accepted as a global 5G standard and ultimately adopted as a dominant 5G commercial technology.
As witnessed in cases of WiMAX and UMB, even after successfully developed and standardized, solutions have to be adopted as global standard solutions first to survive and lead in the market.
Well aware of that, KT has exerted its efforts to make its 5G-SIG specifications common specifications supported by tier 1 global network operators and equipment vendors (system and device), taking an active part in global standardization activities.
KT's 5G-SIG, already joined by global tier 1 system/device vendors like Samsung, Ericsson, Nokia, Intel, Qualcomm, has also teamed up with Verizon for establishment of common specifications (Verizon 5GTF web page).
3GPP's first 5G specification will be defined in Release 15 to be released in June 2018. This year, 3GPP decided to include next generation core as well as new radio in the Release 15. The decision was partly, if not entirely, attributable to activities like KT's 5G-SIG and Verizon's 5GTF. KT's 5G-SIG specifications, participated by tier 1 global network operators and equipment vendors, are believed to take the lead in 3GPP 5G standardization efforts. The specifications are to be actually adopted in the actual network during the PyeongChang event, which will allow the operator to stay ahead of the pack in 5G battle.
Below, we will briefly review KT's 5G technologies and services.
■ 5G-SIG Frequency
The frequency used in the KT's specifications is 28 GHz band that can support 20 Gbps speeds. But, because of its poor cell coverage, the band cannot serve a nationwide network alone. So, the operator plans to use 3.5 GHz as well as 28 GHz for nationwide deployment. Dual connectivity for both 5G and LTE will be mandatory.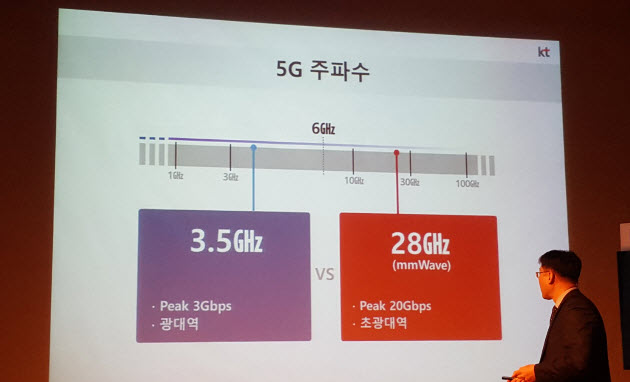 ■ 5G-SIG System
At the exhibit, a 5G system (with base station and devices) that Samsung developed based on the KT's specifications was presented.
KT, since its formation of a 5G Development Forum ('KT 5G-DF') in May, has entered into partnerships for development of 5G-SIG solutions. It launched a 5G Center equipped with 5G base stations, antennas, devices, etc. in PyeongChang in mid November, actively conducting interworking tests between base stations and devices, and performance tests at sites. By February 2017, the construction of a 5G trial network, where the trial service will be demonstrated, will be completed.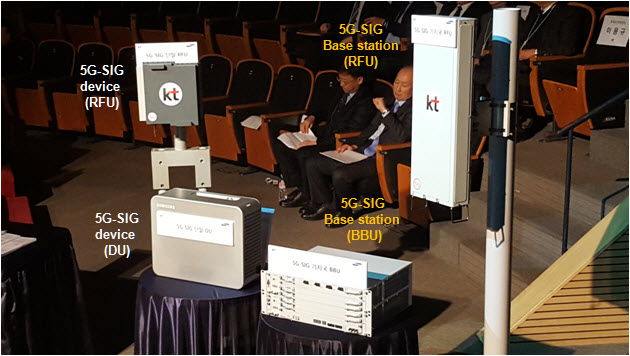 Samsung's KT 5G-SIG system

Ericsson 5G UE and BBU (left) and Nokia RFU (right)
<KT 5G-SIG's key specifications and requirements>
​
Intel is using a 5G mobile trial platform to support 5G devices. Currently, 5G devices, based on the KT's 5G-SIG specifications, are being tested for interworking with base stations.

Last month, Qualcomm also introduced Snapdragon X50, a 5G modem chipset solution, designed for testing both KT's 5G-SIG and Verizon's 5GTF specifications. Test samples will be available in the second half of 2017. It supports 28 GHz mmWave band (for up to 800 MHz using 8x carrier aggregation (8x100 MHz)), 2x2 MIMO antenna array, adaptive beamforming and beam tracking, and can achieve up to 5 Gbps download speeds.

■ Service developments and demonstrations so far
In February, KT shared the progresses it had made with respect to 5G trial service for the PyeongChang Winter Olympic games. In the first test event, it introduced 5G trial services (see the article, How ready is KT for 5G Olympics?, in the Netmanias blog).
Sync View
360° VR
Hologram Live
5G Safety
Time Slice
In the second test event scheduled in February 2017, broadcasting, real-time VR and IoT services will be introduced.
Live VR: Real-time VR streaming of large-volume video powered by 5G radio access. While 4K HD-class videos so far needed 4 Mbps, real-time VR videos require 100 Mbps. Once 5G arrives, supporting 100 Mbps at any time anywhere, real-time VR services will become a reality.
Live VR | Large-volume real-time VR service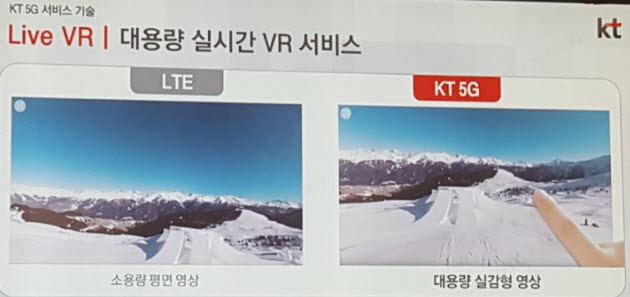 Multi-streaming and 3D video analysis: Shows sports games and arenas in 3D. As opposed to conventional broadcasting where viewers can only watch whatever is delivered, this solution enables viewers to watch from whatever degree they want. To provide videos in different angles (i.e. multi-streaming), 5G-class broadband is needed.
Time Slice | 3-dimensional multi-streaming videos
Precision positioning - GiGA Geo-fencing: Calculates very precise positions up to feet (0.3 meter) level, making it possible to even check the lane a car is in, or the distance from the car in the front, etc. This solution can be useful in self-driving cars, drone delivery, etc.
Precision Positioning | GiGA Geo-fencing technology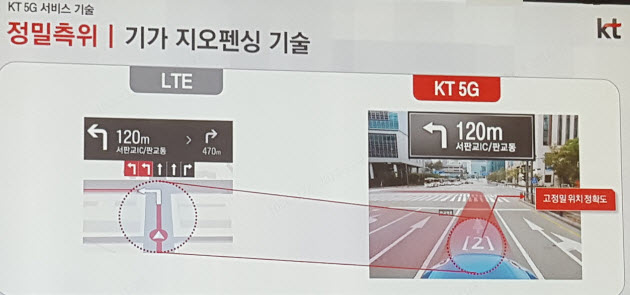 ■ Key 5G-SIG technologies
Some of KT's 5G infra technologies including radio access are outlined below.
mmWave
5G-SIG system operates in 28GHz mmWave band using up to 800MHz bandwidth (through CA of eight (8) 100MHz channels). mmWave band has smaller cell coverage, but shorter wave length. This makes it possible to mount more antennas in the same footprint, allowing multiple antenna solutions to be adopted.
mmWave | mmWave band-based ultra wideband transmission technology
Beamforming
mmWave , capable of using many array antennas, supports adaptive beamforming, thereby leading to enhanced capacity and coverage. This also improves the radio quality of devices near cell edges, offering guaranteed speeds of 100Mbps anywhere.
Beamforming | Multiple antenna-based beamforming technology
New Frame
KT's 5G-SIG comes with new frame structure of a lean design that minimizes the control signals and thus maximizes the efficiency of radio resources. It also has self-contained structure that supports 1ms or less latency (from the time control signals are received from DL until an Ack message is sent to UL), and dynamic TDD structure that allows downlink/uplink (DL/UL) resources to be effectively allocated depending on traffic conditions. Such ultra-fast responses lead to improved connectivity in cars, automated devices, robots, etc., consequently helping letting communication service expand to other business sectors like self-driving and factory automation.
New Frame | New frame architecture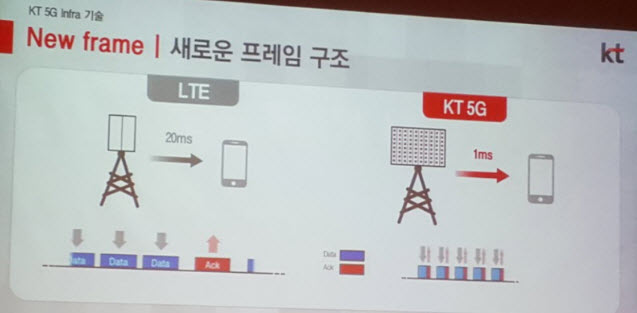 SDI & Edge Cloud - Network Virtualization
Conventionally, mobile networks and services so far required installation of dedicated equipment. But in 5G, all functions are provided and controlled as software installed on universal servers.
So far, all dedicated networks, like emergency network, IoT network and traffic network, have been individually built using dedicated hardware designed to serve a specific purpose only. However, in 5G, these networks can be virtualized through SW solutions deployed on to general-purpose hardware equipment. That is, operators can transform an existing network into a new dedicated network that better fits their business needs faster when needed, and introduce application services in more flexible ways, by means of software-defining methods that modify the configuration of the network.

SDI & Edge Cloud - Distributed Network and Software-based Control
Previously the traffic across the nation was controlled in one central location. However, in 5G where each cell has up to 20Gbps of capacity, traffic data is processed in distributed locations across the nation. Servers (i.e. edge clouds) are distributed across the nation through SW virtualization, and network functions are placed on to the servers, effectively distributing traffic data. Edge clouds are built leveraging existing central offices across the nation, and resource allocation for virtualized network functions and services on the edge clouds are controlled by the orchestrator in the central location through software.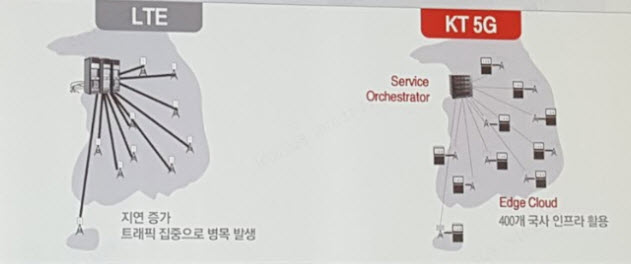 LTE : Bottleneck caused due to increasing latency and traffic concentration
KT 5G : Leveraging the established infra of 400+ central offices