On June 20th, SK Telecom unveiled its strategies for utilizing the frequencies in 2.6GHz that it acquired at the last auction, and for developing more evolved next-generation network.
The company has become an operator with most frequency in 2.6GHz band in the nation after acquiring additional frequency at the auction held earlier this year. Once new network utilizing these wider bandwidths is deployed, the operator will become capable of providing faster and more reliable service than its competitors.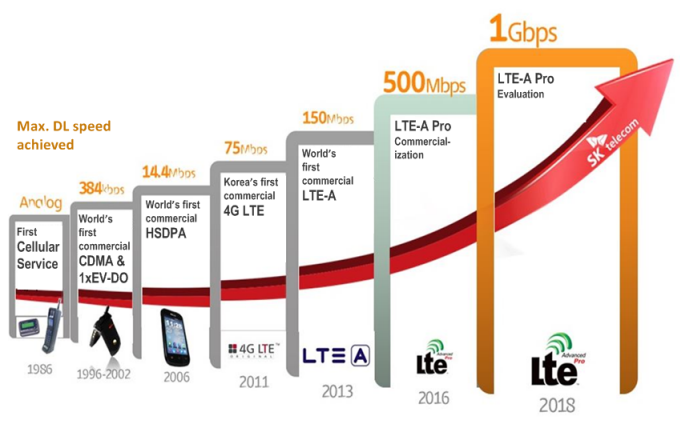 2.6GHz network in 85 cities by 2019, offering up to 1Gbps (DL) via 5-band CA
SK Telecom will start deployment of 2.6GHz network utilizing the newly acquired frequency in Seoul and other major metropolitan cities first by the end of 2016, and then go nationwide by adding more than 90,000 base stations in 85 cities across the nation to cover over 90% of the nation by the end of 2019. Particular attention will be paid to improve service quality in typical shadowing areas like inside buildings and undergrounds through conducting checkups on a regular basis, installation of small-size repeater, etc.
Once the new network in 2.6GHz band is successfully deployed and begins running, the company will be able to offer up to 525Mbps (DL) by means of 5-band CA that connects the new network with its legacy network.
What's even better, when combined with technologies like 256QAM, 4x4 MIMO, etc., the network can support up to 1Gbps. It will allow a HD movie (about 1.7GB) to be downloaded in just 13 seconds – more than 13 times faster than the current LTE.
According to the company, a single base station in the new network should be able to offer ultra-wideband service using 30MHz (DL).
Leveraging the legacy base station infra., the operator plans to build efficient and easy-to-deploy ultra-wideband base stations. This, the operator believes, will make its LTE network, which is already the world's best, even better, providing faster service in a more reliable way.
※ Ultra-wideband service: LTE-A service that uses 30 MHz, wider than the current 20MHz, in a single band (DL).
500Mbps LTE-A Pro to launch in June 1, 2016
Recent years saw soaring consumer demands for giga-class wireless communication like UHD video streaming, live broadcasting, etc. And the advent of immersive multimedia like Virtual Reality (VR) has made transmission speed matter more than ever. All these, and fast-growing IoT service offered via a set of connected devices like sensors, are accelerating network expansion in terms of scale and coverage.
Besides, 3GPP, a global organization responsible for defining LTE standardizations, has approved LTE-Advanced Pro (LTE-A Pro) as the next technology that would follow LTE and LTE-A. In line with the decision, it has shared its vision on how networking should evolve, allowing smooth transition from 4G to 5G.
In response to such changes, SK Telecom will be implementing 3-Band CA of 50MHz and 256QAM (LTE-A Pro key technoloy) in its network starting from June 1st. The 3-band CA will support up to 375Mbps (DL), and 256QAM will give extra 33% boost, consequently achieving a total of 500Mbps. 256QAM has already been adopted in many newer smartphone models including Samsung Galaxy S7 and S7 Edge, and LG G5.
500Mbps LTE-A Pro will be launched in Pusan, Ulsan and Daeku first in June. Then it will gradually expand to major cities across the nation over the next two months.
The company plans to use HetNet technolgies along with LTE-A Pro employed in the latest LTE systems and devices. LTE-A Pro is designed to enhance the efficiency and speeds during data transmission in DL and UL by leveraging 256QAM, 4x4 MIMO, 4/5-Band CA, etc. So, it is expected to improve LTE-A data rate by 33% in DL and about 50% in UL, and also data transmission and speeds by 100% or more
In addition, SK Telecom will modify MPTCP (Multi-Path TCP), a solution that can use both LTE and WiFi networks simultaneously, to achieve better WiFi performance, and apply it in the company's commercial network. Once successfully deployed in the wireless network, these new wireless solutions are likely to realize wireless data communication that outperforms wired communication.
The operator predicts that 5-band CA, if used along with LTE-A Pro, will be able to almost double download speeds from the current 525Mbps to 1Gbps by 2018, or even more up to 2.7Gbp if used with the MPTCP technology.
Paving a way for a thriving IoT ecosystem through accelerated deployment of IoT network
The operator aims to complete construction of the nation's first Long Range (LoRa)-based, IoT-dedicated Low Power Wide Area (LPWA) network by June - a lot earlier than originally scheduled.
SK Telecom has already been poised to commercialize LTE-M specifically designed for IoT since March. LTE-M is known for excellent real-time responsiveness and mobility. So, the operator plans to use LTE-M for high capacity/speed IoT service while using LoRa for low capacity/speed service, which will likely be a major focus of IoT eventually.
The company was pretty content in that, by operating two different types of networks, it successfully secured an environment where a variety IoT services can be introduced.
It is committed to continue to develop various solutions, for example for monitoring/controlling/maintaining facility conditions, collecting/managing location information for automobiles, measuring/collecting energy usage data in facilities, etc. to help more IoT services to be introduced in the market.
Last year in October, the company, in conjunction with global IT companies like Ericsson, Nokia, etc., opened '5G Global Innovation Center - Playground for 5G Experience' in Network IT Convergence located in Bundang. To be a lead in competition for the world's first 5G commercialization, it has been persistent in developing innovative technologies, for example, through conducting the world's first 5G network slicing demonstration, verifying 5G system outdoor performance, etc.
While actively participating in a wide range of development initiatives with global leaders in the industry, SK Telecom is exerting its efforts to develop 5G technology that can provide its users with experience that is more efficient, safer and fun. Utilizing the 5G Global Innovation Center as its base camp, the operator will stay committed to putting efforts into presenting new, differentiated solutions for a thriving 5G ecosystem, through close partnership with small & medium size vendors as well as major leading network equipment vendors.
<LTE-A Pro key technologies (Source: SK Telecom, 3GPP)>