The big 3 operators in South Korea, ST Telecom, KT and LG U+, each with a global standard oneM2M-certified IoT platform, are now aiming for global market.
There is much attention in the industry towards which platform provider can build more partnerships with SMEs and startups, which is essential to present new, distruptive ideas and services. In order for the operators to expand the market, they have to have 'players' in place who can actually play in the IoT platforms they are building. This is why the operators are actively participating and investing in oneM2M and many other global standard organizations that mushroom.
Recent oneM2M certification made South Korean big 3 more IoT-compatible than ever
With more attention is being paid to IoT technology globally, there have been a series of disagreements over the standardization of the technology as, of course, all interested parties are aggressively seeking ways to have their own technologies be selected as standards. To address this issue, a global initiative called oneM2M was born in 2012 with the goals of facilitating the global expansion of the IoT market and keeping things fair and consistent in discussing standards.
Participants of the oneM2M global initiative include major standard organizations around the world like TTC and ARIB (Japan), ATIS and TTA (the USA), TTA (South Korea), CCSA (China), ETSI (Europe) and TSDSI (India). The effort of all participants to have all countries and companies work together, instead of working on their own individually, has led to establishment of IoT/M2M standards. So far, 235 global IT leaders and players, from around the world including Korea, have joined the initiative.
Last month, the big 3, having successfully completed testing of oneM2M server platform and middleware, became oneM2M-certified by TTA for the first time in the world. A person at TTA said, "The big 3 operators have their IoT platforms certified by the same global standards, and this indicates that their products and services based on oneM2M technology can interwork with each other on a platform made by any of the three." "This has clearly formed the foundation for their expansion to global market through partnership with global IoT players," he added. So, potential compatibility issues among products and services to be offered by over 200 global IT players complying with oneM2M standards are proactively taken care of.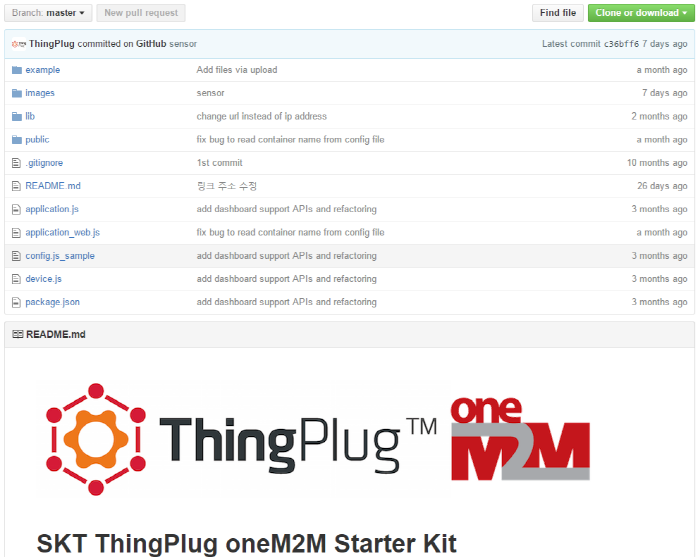 <SK Telecom's IoT platform registered at GitHub Project>
The big 3's IoT platforms: Development and Interworking
SK Telecom is offering an IoT platform called 'ThingPlug', along with software development kit (SDK) to the public, encouraging anyone to develop IoT apps and services.
ThingPlug provides step-by-step instructions to implement IoT service. Even at GitHub, there is an active ThingPlug project going on, joined by developers around the world who are eager to design ThingPlug-compatible solutions.
In addition to server platform, a device platform by SK Telecom has been oneM2M certified as well. A SK Telecom employee confirmed, "The key of IoT service development is to secure compatibility between server platform and IoT devices for seamless connection between them." "SK Telecom, now with both of the platforms certified by oneM2M for the first time in the industry, is ready to get into IoT business and move fast."
KT and LG U+ have obtained oneM2M certification with their own IoT platforms. A person familiar with the industry noted, "KT chose to stay more flexible by specifying oneM2M standards as just 'recommended', instead of required." "Additional steps, including API interworking, etc., are to be taken," he added.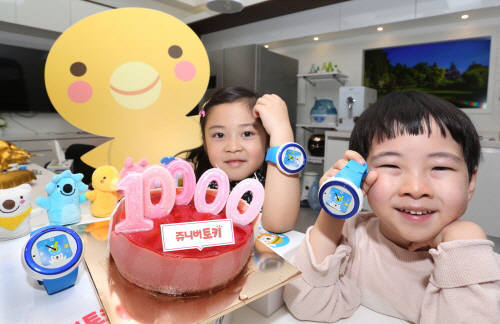 <LG U+'s smart watch for kids with oneM2M-certified IoT platform>
LG U+ was quick to release a smart watch for kids with oneM2M-certified IoT platform, of which hardware was supplied by ZTE, a member of oneM2M. The smart watch was introduced in Japan by a Japanese operator KDDI, also a oneM2M member.
This was considered as an exemplary partnership where IoT members cooperate with each other in utilizing oneM2M standard technology. A person familiar with this analyzed, "Once the watch is released in global markets like Japan, it will serve as a model that made successful debut in the global market through IoT platform standardization."
Bridge, GiGA IoT, AllSeen: Another IoT battle fields
In addition to oneM2M, the major IoT battle field, there are other battles where the big 3 are individually in, like SK Telecom's Bridge M2M Alliance, KT's GiGA IoT Alliance, LG U+'s AllSeen Alliance, and more.
Bridge M2M Alliance has over 35 members, mostly major operators in Asia-Pacific region, including India's Airtel, Hong Kong's CSL, Australia's Optus, Taiwan's Taiwan Mobile, etc. It offers technologies that can bundle services and technologies from different operators into a single IoT solution.
<KT supports SMEs in Korea in their globalization efforts through GiGA IoT Alliance.>
GiGA IoT Alliance has been led by KT since its launch late last year. It has over 100 members of global IT leaders, like Samsung Electronics, Nokia, China Mobile, etc. as well as many Korean SMEs. A person at KT said, "We are planning to deploy a wide selection of business models developed by our partners, mostly SMEs and ventures in the industry." He went on to say, "It is a true win-win strategy for us and our partners to team up for globalization of Korean IoT technologies."
LG U+'s Allseen is known as more manufacturer-oriented IoT alliance. Currently, it is focusing on discovering solutions to make communication in limited areas like smarthomes, facilities, etc., more efficient by means of gateway technology standardization. A person familiar with the industry said, "Operators are all knocking global markets, each with their own differentiating IoT-based technology and service." "As global IoT standards are selected and finalized, we will see who will be the leaders in IoT service," he added.
<IoT subscriptions and market share of the Korean big 3 in Korea as of April 2016 (source: MSIP)>