According to the recently amended Telecommunication Business Act (Article 56-2), telecommunication service providers now are required to release information needed for their subscribers to select wired and wireless Internet service, including which areas are covered, how service is provided, etc.
To comply with the regulation, on the 28th of July, the South Korea's big 3 operators have made their coverage maps for wired and wireless communication service public for the first time ever. Now subscribers can check coverage of the service they want, from wireless Internet services like LTE, 3G, Wi-Fi, WiBro, to wired Internet.
The service coverage maps show service availability across the nation when divided into areas of 75m x 75m, which follows the guidelines of the Ministry of Science, ICT and Future Planning (MSIP). Radio propagation radius were determined based on actual measurements by each operator in sampled areas, and service areas were identified through simulations based on communication facilities operated by each operator.
Communication service quality, obviously affected by various factors like network operation conditions, landforms, device types and settings, etc., can be different from what users are actually experiencing. The MSIP and operators will keep the maps updated with their actual measurement data to make them more accurate. The accuracy of the maps will be assessed annually by the MSIP and National Information Society Agency (NIA).
A brief overview of the big 3's coverage maps is provided below.
1. LTE Coverage
For LTE service, the coverages of its three subcategories, LTE, Wideband LTE-A and 3-Band LTE-A, are measured.
Currently the LTE service is available nationwide from all three operators. KT, using a wideband (20 MHz@1.8 GHz) as its primary frequency, serves the entire nation with wideband LTE service. However, LTE-A services are not quite nationwide yet, and mainly available in crowded areas like cities, counties, etc.
3-Band LTE-A, launched most recently (Jan. 2015), has not expanded the coverage much because there are not many compatible devices to serve (and so not much demand) in the market yet. Of all the three, SK Telecom has the best coverage for the service.
For LTE, Wideband LTE-A and 3-Band LTE-A, KT and LG U+ are offering speeds of up to 150, 225 and 300 Mbps, respectively. However, SK Telecom, with 2 x 10 MHz more LTE frequency than the other two, is offering faster speeds, 150, 300 and 375 Mbps.
More specifically, both KT and LG U+ use a total of 40 MHz in three bands, a wideband (20 MHz) and two regular bands (10 MHz) in DL, while SK Telecom uses a total of 50 MHz in three bands, two widebands and one regular band. This gives SK Telecom an advantage when it comes to CA-based LTE-A services, like Wideband LTE-A and 3-Band LTE-A.
2. Wired Internet Coverage
As far as 'wired' Internet coverage is concerned, KT remains unbeatable. KT has been offering wired Internet service as an almost 'universal service', guaranteed to be available for anyone in the nation, like landline phone service. Also, what is notable is it provides the same coverage for both 100M and GiGA Internet service. KT has over 8.43 million wired Internet service subscribers, which corresponds to 49% of market share, the highest of all three. Of all the subscribers, 21% (1.73 million subscribers) are GiGA Internet service (up to 500 Mbps and 1 Gbps) subscribers.
LG U+'s wired Internet service is restricted to some major cities of the nation, like its Wi-Fi service. Of the operator's 3.5 million Internet service users, 1.9 million are LAN subscribers. This apparently indicates the operator has managed to serve its primary customers living in large-scale apartment communities connected with LAN in big cities, with the least investment.
3. Wi-Fi Coverage
KT boasts unbeatable coverage in Wi-Fi as well. In addition to home Wi-Fi, the operator has over 200,000 Wi-Fi zones, including over 40,000 GiGA Wi-Fi zones, across the nation. In accordance with its 3W (WCDMA, Wi-Fi and WiBro) strategies, KT has long been aggressively and constantly deploying Wi-Fi zones even from before the arrival of LTE, leveraging its well-established wired infra. Now, it is reaping the fruits of such efforts.
With the most Wi-Fi hotspots across the nation among the big 3, KT will likely give easy-to-connect Wi-Fi and benefit the most from GiGA LTE service, which is aggregation of LTE and Wi-Fi.
SK Telecom has not provided a nationwide Wi-Fi coverage map, but offers an option to check the coverage only regionally. The operator is operating over 100,000 T Wi-Fi zones across the nation.
LG U+'s Wi-Fi service is only available in major cities, through over 80,000 U+ zones (hotspots) deployed.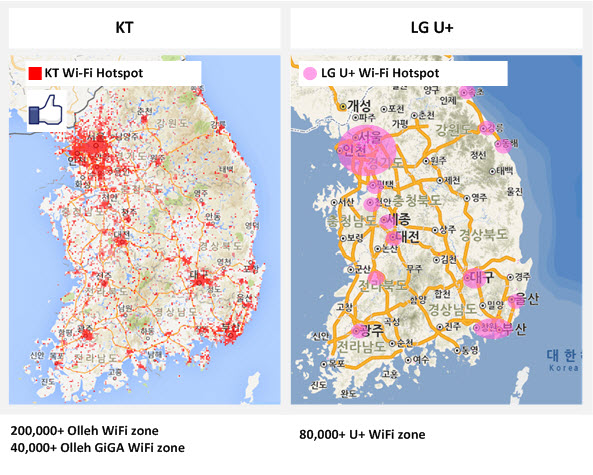 With the coverage maps made public, checking the coverage by each operator becomes easier than ever. This will probably give a good reason for the operators to innovate further to survive the competition. Service coverage can tell us service availability, but cannot guarantee service quality like data speeds, transmission/call success rate, web browsing time, etc.
The release of coverage maps is expected to help operators to realize better service quality as well as expand service coverage.