Ten years ago, there were around 7-8 telecom network equipment makers in the market e.g. Ericsson, Nokia, Huawei, Siemens, Motorola, Alcatel, lucent, Nortel etc. That was the time when third generation networks were getting deployed and the focus was shifting from voice to data across the globe.
In the past decade, we've seen lot of mergers, acquisitions, and collaborations across telecom network equipment manufacturers (e.g. Alcatel and Lucent, Nokia and Siemens, Motorola network equipment unit was acquired by Nokia, Nortel sold its businesses to a number of companies including sale of its CDMA and LTE assets to Ericsson, ALU takeover by Nokia, and growing collaboration between Ericsson and Cisco.)
As of writing this article, it's a tripartite race between Ericsson, Nokia, and Huawei. While Huawei has been posting staggering results and has grown rapidly during the last decade, both Ericsson and Nokia have seen slow or stagnant growth and undertook rounds of restructuring to cut costs and jobs. Huawei is now the single biggest supplier of technology and related services to the global communications service provider (CSP) sector by sales, having overtaken Ericsson, Nokia, and other rivals in 2015. I am leaving out Cisco and ZTE as their share in CSP sector is relatively small as compared to the big three.
Figure below depicts the effects of mergers in telecom equipment vendors market: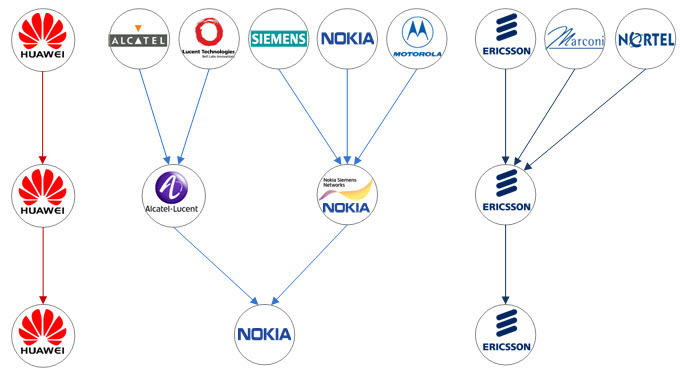 Figure 1: Consolidation of telecom equipment vendors
There are several factors which contributed to these mergers, takeovers, cost cuttings, and declining sales for telecom network equipment manufacturers, primary being disruption caused by Huawei. Huawei came up with cheaper equipment in comparison to its western rivals putting lot of pressure on them. Few of the bigger and established players didn't respond to the changing market conditions in time and some were plagued by poor management decisions. Huawei also focused on offering end-to-end service portfolios for the operators instead of just focusing on being a RAN, Core, or IP player. Huawei sensed the convergence between telecom and IT, and quickly became an ICT company.
Let's have a look at Ericsson, Nokia, and Huawei's past and current performance, and future outlook:
Ericsson
The Swedish behemoth still remains one of the oldest telecom companies in the world having completed 140 years of operations earlier this year. Ericsson has long been a leader in the global mobile infrastructure market, holding a market share of over 30%. However, its share has declined over the past 2-3 years as operators have reduced network spending. Much of the infrastructure (2G/3G/4G) to connect 90% of the world's population is already in place, so there is not much left to build out. Ericsson's core telecom business is not growing and sales have been stagnant for the last 4-5 quarters to say the least.
After disappointing Q2 2016 results, Ericsson's CEO Hans Vestberg has stepped down facing pressure from major shareholders. During his last few years, Mr. Vestberg invested in new areas such as media, cloud etc. although these investments are yet to bear fruit for Ericsson. The incoming CEO (most likely to be an external candidate) has multiple challenges of turning around the company amid the cost-cutting program along with generating revenues from non-telecom businesses and lead Ericsson's progression towards a true ICT company. Late last year, Ericsson collaborated with Cisco to offer an end-to-end service portfolio and counter a threat posed by the Nokia/ALU merger. Ericsson has also forged an alliance with Amazon Web Services to accelerate cloud transformation for telecoms service providers.
With a weak macroeconomic environment and tough telecom market for next 1-2 years, the road is not easy for Ericsson. The new CEO will also take time to formulate his/her strategy so it won't be a surprise if Ericsson continues to report not so impressive numbers for the next few quarters. Although I believe that Ericsson hasn't done that badly, it's just the overall telecom market is not growing and should be able to bounce back given its robust fundamentals and past track record!
Nokia
Finland's Nokia has seen it all: rise, dominance and epic fall, sell off, and back to stability. For the uninitiated, Nokia is a 150-year-old company started out as a paper mill in the year 1865. Since then, it has made rubber, tires, TVs, communication cables and even military equipment before settling down in telecom. Once the world's largest mobile phone maker for more than a decade, Nokia is now much leaner and fully focused on telecom network equipment business. It has been an action packed last one year for Nokia.Last year, its €15.6 Billion deal to buy Alcatel-Lucent was considered as a master stroke by analysts enabling Nokia to become an end-to-end telecom service provider covering all infrastructural aspects (RAN, Core, IP, optical etc.)
Having sold its HERE mapping unit to German car makers last year, Nokia is cautiously moving up. This year it acquired Withings, a French company with focus on digital healthcare products. Nokia also acquired Gainspeed, to enhance its offering in cable access solution for MSOs (Multiple System Operators). Last month, it signed a deal with Samsung to expand its patent cross-licensing deal boosting its licensing sales. Apart from this, Nokia signed a ten year deal with HMD global to create Nokia branded phones and tablets. Nokia will receive royalty payments from HMD for sale of Nokia branded products.
But as with any big merger, the ALU deal also has its own side effects. Cost savings from the deal will now reach €1.2bn a year by 2018 against a target of €900m announced in May. Nokia is expected to cut more than 10,000 jobs, having already announced 1,300 losses in Finland, and 1,400 in Germany. Still, Nokia seems to be better positioned to withstand challenging market conditions after years of restructuring and job cuts. Nokia is relying heavily on the ALU deal to become a powerhouse in the lucrative US market in the near-term and leverage the maximum benefits out of it.
Huawei
In less than 30 years since it was founded, Huawei has become the world's biggest telecommunication equipment vendor. Huawei has three lines of business: the consumer business group that makes mobile devices and accounts for 33% of the company sales, the enterprise business group which accounts for around 7% of the sales, and the carrier business group (taking on the likes of Ericsson and Nokia) which accounts for ~60% of its global sales.
Overall Huawei's 2015 revenue was $60.8 Billion out of which the carrier business group generated US$35.8 billion, up 21% YoY. In comparison, Ericsson's has revenue of about $30.4 billion, and Nokia/ALU (combined) had revenue of $28.5 billion in 2015.
While both Ericsson and Nokia remains publicly traded companies, Huawei still remains a private company – rare for a company of its size. Huawei has given itself the luxury of making its own path, expanding its business and developing technology more boldly with little or no scrutiny from investors. Huawei's critics are convinced that there's more to its success than strategy, innovation, and pricing. Huawei had been often accused of wrongly copying intellectual property rights of other companies. Some reports also suggest that it received subsidies from the Chinese government in order to expand overseas by undercutting competitors on contract bids. Huawei rejects all such allegations.
Huawei still remains blocked out of network infrastructure opportunities in the vast US market. The US government considers it – along with ZTE – a security risk because of its close ties with the Chinese government. Despite these restrictions, it has managed to make inroads into rural areas with smaller US carriers, cable, and broadband providers. If in the future Huawei manages to get into one of big four US carriers, it would be a big blow for the Nordic rivals along with other manufacturers.
Conclusion
Overall, telecom equipment market outlook remains sluggish for 2016 with worldwide telco investments are expected to decline 6 percent in constant currency terms. With 5G deployments still at least a couple of years away, there's already huge pressure on Nokia and Ericsson to turn the tables.
Both Ericsson and Nokia need to win big contracts in new telecom technologies like NFV, CEM, IoT, smart cities etc. before next phase of network deployments starts. But, with both Ericsson and Nokia hinting at consolidation and cost cutting as part of Q2 2016 results, they will not be able to challenge Huawei in the next few quarters.
Even though Nokia is poised to win big contracts after the ALU deal – and Ericsson's collaboration with Cisco and Amazon has renewed hopes that these companies will put pressure on Huawei and take back some market share – the next year is extremely important for both European companies. If Huawei's juggernaut picks up the pace during this time; it will seize an unbeatable lead for the years to come.
Do you think Huawei can be toppled from its position? Let us know in the comments.

This article was originally published at http://www.telecomstechnews.com/news/2016/aug/23/opinion-can-nordic-rivals-stop-chinese-juggernaut/