Overview
While making a voice call may seem simple, largely depends on the scenario where the user is, and alternatives available for its completion. So it is necessary to understand well what are all the possibilities and the most important concepts of these key scenarios.
In the first generation of cellular networks, the communication through voice calls was the main goal, and was based on a circuit switched topology or 'Channels' (CS Circuited Switched).
Over time, the need for data services has emerged. Voice calls also have come into existence with these new services. As demand increased, these new services were supported by a new domain, the IP-based Packet-Switched (PS). The following figure shows how these two domains work.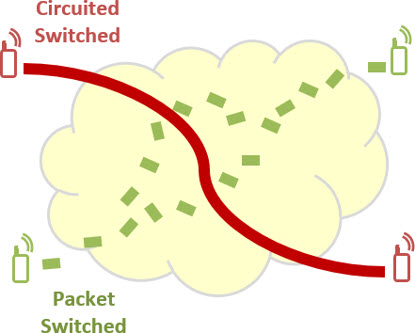 In LTE (4G) system we had another great change: the CS domain has been extinguished! (Ruled Out/ No CS domain). LTE networks are based exclusively only on the PS domain, and voice services should be carried out in other ways (as we shall see).
But as we mentioned, regardless of network topologies, voice services are still needed. (Of course, they slightly decreased compared to a few years ago, but are still significant, i.e. their demand continues).
With the continued growth of LTE networks, let's try to understand a little more the concepts, alternatives and solutions for any user to make a voice call on an LTE network?
How, When and Where?
First of all, we need to understand how, when and where voice calls can occur.
In the 2G legacy networks, voice calls are made practically only on circuits - for each call (CS domain).
In 3G legacy networks, voice services can use the CS domain, but can also be made through OTT (Over The Top) solutions, applications that encapsulate the voice and transport via an IP domain (PS), but who lack the QoS requirements needed to ensure good communication - with the Non-GBR type of services (no bit rate guarantee).
For Example: Skype.
Note: It is very unusual, but it is also possible to make OTT voice calls on 2G networks.
In fact, there may be OTT solutions in any technology - it can be used in legacy networks,
and also in others such as Wi-Fi - which are already commonly used for VoIP.
And in LTE networks, voice calls can be fully IP-based, can use OTT solutions via 4G, or be transferred to the legacy 2G/3G.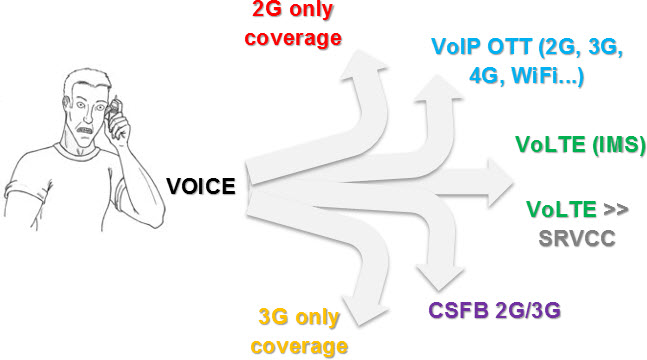 As we begin to see, there are many alternatives. As usual, we will easily see each one.
Note: We will always refer to voice calls (Mobile Originating (MO) and/or Mobile Terminating (MT));
However, SMS services are also included.
Alternative to voice calls in a generic 2G-3G-4G Network Topology
And the best way to understand the alternatives or possibilities of making voice calls in LTE network (4G), it is to start from a 2G-3G-4G network topology very simplified - considering only the main elements involved.
As we can see in the following figure, the LTE (EPC) has no direct 'link' to the CS network - as we have seen, it is designed to take care of purely IP (PS) calls. It has no Media Gateway directly connected, so no CS call is supported by the MME.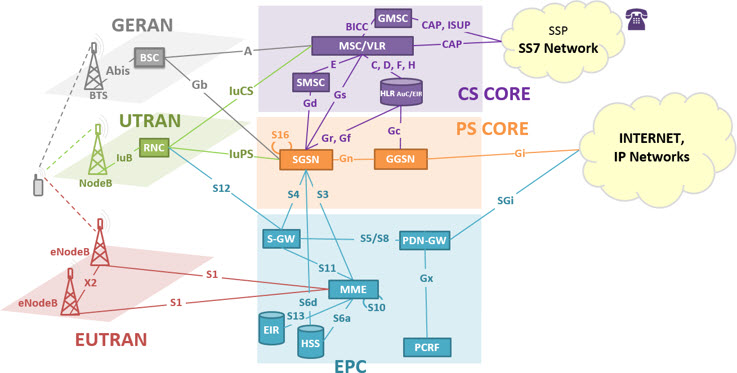 In other words, if the user or UE (User Equipment) is on a LTE network, as shown in the topology above, we cannot make a voice call.
Note: As mentioned before and according to the topology above, the only way to have voice services in LTE would be through OTT services such as Skype. However, this solution is not discussed here.
If we understand this, it is also easy to realize that in order to have voice services in LTE, changes need to be made. There are some alternatives, and below we have the main ones:
VoLGA (Voice over LTE via Generic Access): Use legacy 2G/3G as a generic access, 'packaging' voice services, and delivering via LTE.
CSFB (CS Fall Back): Whenever the UE need to place a call, make it revert (fallback) for legacy networks 2G or 3G.
VoLTE (Voice over LTE): Make voice over LTE itself. In this case, the voice is pure IP - VoIP LTE.
SRVCC (Single Radio Voice Call Continuity): Ensure that purely LTE (VoLTE) calls are transferred (via handover) to the legacy networks in a transparent manner.
Note: Notice that the SRVCC is an option when the voice call has been established in LTE.
I.e. it is a conditional alternative - considering that VoLTE option has been used.
Even without knowing very well the options presented, it is easy to imagine that the 'best' solution would carry voice over their own LTE network. But like everything in life, it also has the other side, the pros and cons.
To deliver voice services in LTE network is necessary to have an infrastructure that support it. In other words, there needs to be exist an IMS (IP Multimedia Subsystem or IP Multimedia Core Network Subsystem). If an IMS is available, then the voice over LTE may be provided as long as a minimum set of IMS functionality and entities also are present.
Note: IMS is much more complete, and have more other purposes than the voice.
The voice is just one of the 'applications' of IMS, as we'll see soon.
This minimum set of features and entities of the IMS (called VoLTE or One Voice) was standardized to enable LTE operators to provide voice services without having to make very radical changes in the network (without having to invest in a complete IMS, with all entities and functionality).
In any case, it requires investment.
And therefore the first two alternatives become attractive based on legacy network CS infrastructure. But if on the one hand such alternatives require less investment in LTE network, these alternatives depend on the existing 2G/3G networks.
Let's talk a little more about each of these possibilities, but always trying to maintain the overview, in the simplest possible way to understand. Remember that our goal is to learn the concept, in order to enable a deepening on the subject, if desired, more easily.