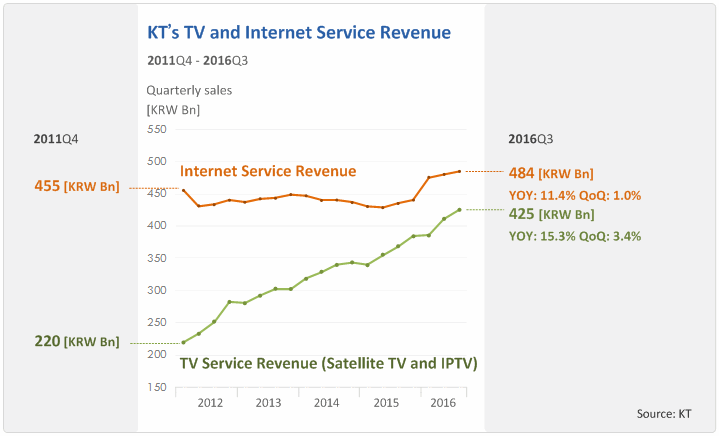 [KT's TV Service Revenue quickly catching up with Internet Service Revenue]
High-speed Internet, once South Korean wired network operators' best performing sector, has long been experiencing stagnation in sales. To overcome this, the operators introduced IPTV services (live channels, VoD) that take advantage of the broadband Internet networks in 2009.
They began with no more than a few dozen channels that offered not very impressive SD quality video content. But now KT, SK Broadband and LG U+ are offering 244, 211 and 175 channels (most of them in Full HD) respectively, and even UHD channels - four, five and one UHD channels, respectively - for the first time in the world since 2014.
When IPTV was first introduced, there was controversy on whether it should be seen as a complementary good or substitutional good of existing broadcasting services or cable TV services. But, now seven years later, it has become one of the fastest growing sectors in the telecommunication industry, with sales almost as high as the Internet sector, the biggest income source of wired network operators.
KT's TV service subscription
KT offers two types of TV services (or media services as referred by KT): IPTV (through the broadband Internet network) and satellite TV services. The subscription of the satellite TV service has stagnated, showing only 11% of growth from 2.05 million in Q4 2011 to 2.28 million in Q3 2016. However, IPTV has shown steady growth, by 125% from 3.07 million to 6.93 million during the same period of time, driving the sales growth in the operator's overall TV service.
KT has been taking the maximum advantage of being the nation's biggest broadband service provider, attracting more IPTV subscribers by offering discounts to existing Internet subscribers if they opt to bundle with IPTV. Of its 8.48 million Internet subscribers, 6.93 million (81.7%) are subscribing to IPTV service now, making it make less sense for Internet subscribers not to subscribe IPTV.

| | | | | | |
| --- | --- | --- | --- | --- | --- |
| | Product | Live TV provider | VoD provider | Video Delivery Network | Subscribers (2016 Q3) |
| IPTV | KT OTV (Olleh TV) | KT | KT | Broadband | 4.85 M |
| IPTV | KT OTS (Olleh TV Skylife) | KT Skylife | KT | Broadband | 2.08 M |
| Satellite TV | KT Skylife-only | KT Skylife | - | Satellite | 2.28 M |
Sales in TV service
The quarterly sales in the Internet service sector increased by 5% from KRW460 billion in Q4 2011 to KRW484 billion in Q3 2016 while the sales in TV service more than doubled from KRW 209 billion to 425 billion during the same period of time. If not for GiGA Internet service launched in the end of 2014, the TV service sales must have exceeded the ultra-fast Internet service sales by now.
In Q3 2016, the operator's TV sales recorded 15.3% YoY and 3.4% QoQ growth while the Internet sales showed 11.4% YoY and 1.0% QoQ increase. If the trend goes on, TV sales will soon catch up with the Internet service in sales by the end of the next year - unimagined circumstance.
I remember, at a meeting with KT's personnel in mid 2000, a few years before IPTV service was launched, that the KT guy mentioned "KT will become a broadband media company, instead of broadband company". And all relevant figures now prove that the prediction has come true.

The sales growth in TV service is attributable to steady increase of IPTV subscribers and the increasing popularity of paid-in VoD service, which accounts for more than half of the monthly subscription rate.
For KT, IPTV is no more a star, but a cash cow.

Then what do we expect next?