"NB-IoT Deployment – What it Takes" briefly outline the architectural aspects of NB-IoT, this article will focus on the choices MNO has available for NB-IoT in terms of frequency band, deployment mode and their impact on coverage.
1. Frequency Band Choices
3GPP Rel13 defines NB-IoT profile for 14 different frequency bands, 10 of which are in sub-GHz range, reflecting the need to leverage better coverage performance of low frequency bands. However, the list is growing, with (so far) band 11, 25, 31 and 70 had been added in Rel14 specifications.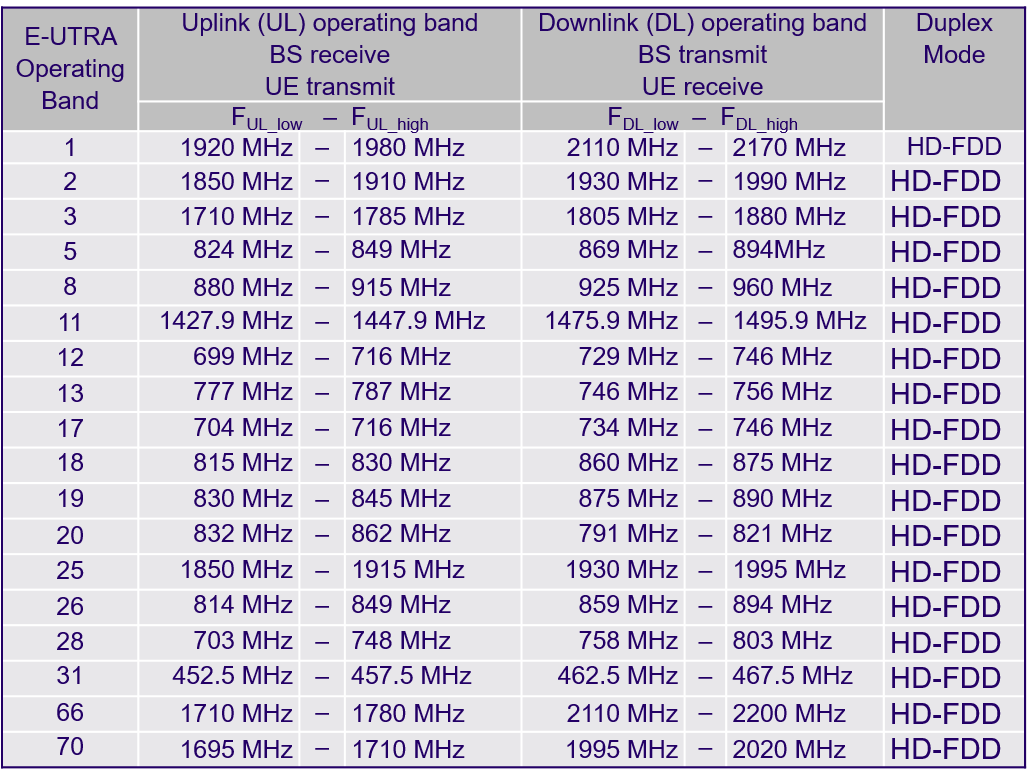 On one hand, NB-IoT exhaustive band support offers flexibility to MNO based on spectrum availability while on the other hand, it may lead to market fragmentation. The initial NB-IoT module seems to be targeting single frequency band (e.g. ublox Sara-N2 series, Quectel BC95), one may expect to have support of multiple frequency bands in later modules (2018/2019) with higher BOM and power consumption.
Will the growing NB-IoT band support and incompatibility with other Cellular technologies such as eMTC, EC-GSM, LTE/UMTS/GSM leads to market fragmentation and patchy islands of coverage? It seems so, at least for next few years.
2. Choice of Deployment Mode

NB-IoT can be deployed in 3 different modes; namely In-band, Guard-band and Stand-Alone.

The choice of the deployment mode is critical, has impact on network dimensioning, QoS as well as total cost of ownership (TCO).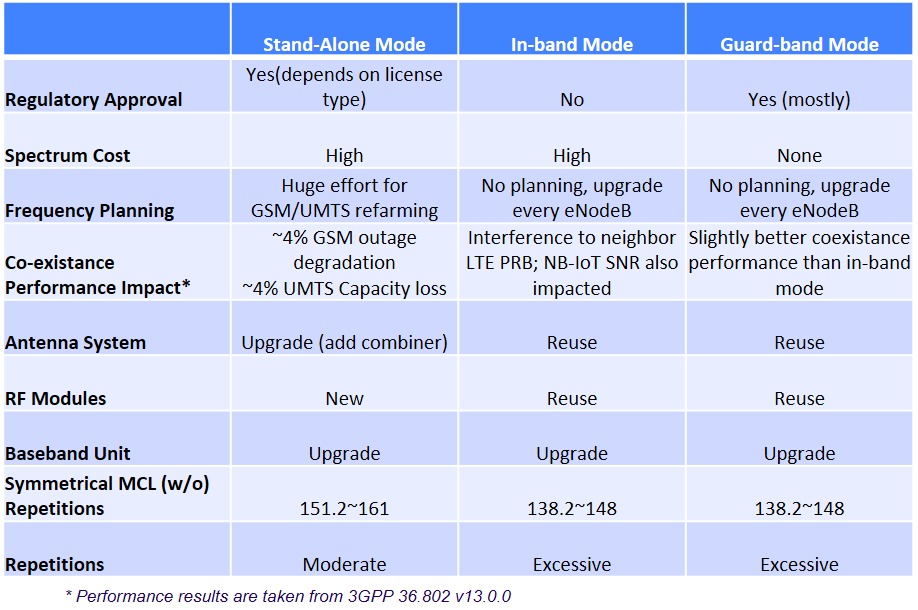 Deployment Mode impact on Coverage
NB-IoT is centralized system like LTE, where eNodeB controls the scheduling in downlink as well as in uplink, thus the need of symmetrical link budget.

The common perception that NB-IoT offers 20 db symmetrical link budget enhancement is not without a compromise. Max coupling loss (MCL) for in-band and guard-band modes is not symmetrical and much below the target 164dB.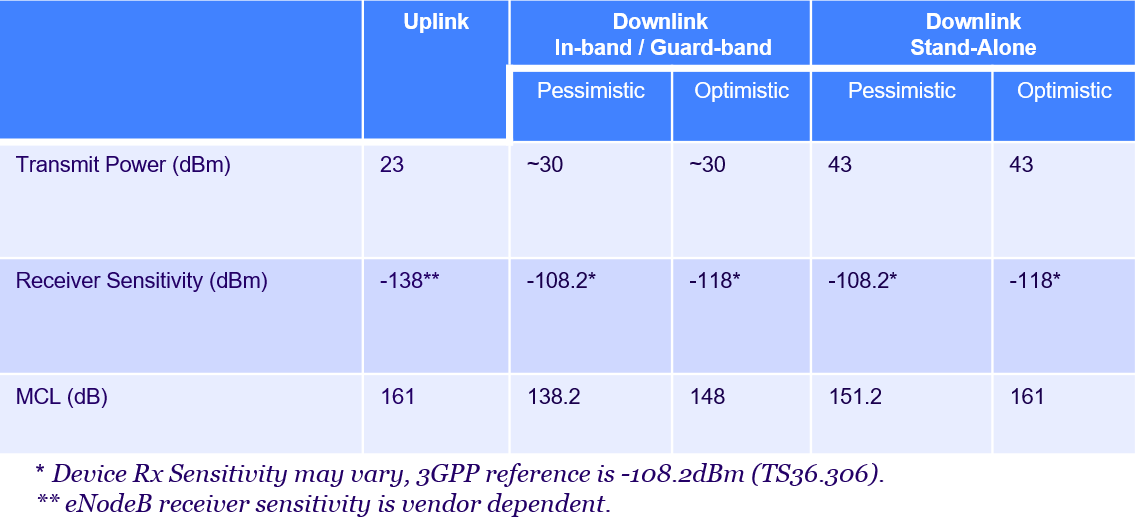 The major source of link budget imbalance (in-band and guard-band mode) is RF modules power sharing between LTE and NB-IoT. Typical RF modules in 700/800 MHz band have 2x30W output power, and it is not possible to reserve 43dBm (20W) power for NB-IoT as it will impact the existing LTE coverage drastically.
In order to balance and enhance the link budget, NB-IoT allows excessive repetitions (up to 2048 repetitions in downlink, up to 128 repetitions in uplink). Yes 2048, it's not a typo. MME may configure up to 3 coverage enhancement (CE) levels, CE level 0 to CE level 2. The main impact of the different CE levels is that the messages have to be repeated several times depending upon UE location.
What it means for MNO? Each eNodeB need to be upgraded to support continuous NB-IoT coverage e.g. Vodafone Spain is upgrading 1000+ eNodeBs (in-band mode) to cover just 6 cities of Spain (which translates into high CAPEX as well as OPEX).
What does it mean for solution provider/end consumer? Battery will be depleted much quickly on account of excessive re-transmissions, and replacement cost impact need to be considered. Further it will not be possible to predict the battery life as it is highly dependent on device location within the coverage area.
How MNOs take it
While Vodafone, T-Mobile and others are committed for NB-IoT rollout, the other camp of leading MNOs from US/Europe/Asia are backing the deployment of eMTC (a.k.a LTE-M) which is not compatible with NB-IoT.
| | |
| --- | --- |
| | MNOs are evaluating NB-IoT business case, and waiting for maturity of NB-IoT ecosystem. |
Market fragmentation and

high cost of device/solution is a BIG concern.
Proposals are already surfacing from leading players to work on harmonization and convergence of NB-IoT and eMTC.