Often times I'm approached with questions like: where should I start if I want to be in DevOps or learn about Cloud computing? Which languages to learn? Which tools to get my hands dirty on? Which process or concepts I need to be aware of or master? Which certification to pursue and so on.
But Why?
Fine you want to adopt and learn DevOps because you understand what outcomes it can drive for you. Not because everyone and their uncle is on the same band wagon (nothing wrong if that's your fore either). And it's fine everyone is going the AWS certification route and ain't nothing wrong with that either. But understand why organizations (and your potential employers and customers) are adopting AWS/Azure technologies and stacks. What are they using it for?
Do understand DevOps is a means to an end: Get your applications realize business benefits faster and efficiently. Plain and simple. Those applications could be the healthcare iOS apps or cutting edge integration of IoT with Augmented Reality/Virtual Reality/Mixed Reality or perhaps digitally transforming your existing customer interaction processes. Most certainly DevOps methodology can help you accelerate the outcomes faster.
So the important thing is to understand Why and What. How can be figured out, at least theoretically, right?
.. and How?
There are no silos anymore. There's no hard separation between compute, storage and networking. And by extension there is no separation between relevant skills. A cloud engineer or architect is not a compute or server person or just network person anymore. It's all inter related. The network guy needs to be aware of the storage iops and CPU utilization by the apps traversing the network. And the app guy needs to be aware of network as well.Yes you can build redundancy in your code but the fact that an entire AWS region can go down where you've hosted your apps still requires you to build a transit VPC network with replication to another AWS region (or perhaps to Azure) to ensure business continuity. And that will require you to have at least some knowledge of the underlying infrastructure requirements not just your app in it self. Don't forget you'll have to secure it too.
Know that majority of DevOps concepts, tools and technologies are open source. Case in point take a look at the Xebia Labs periodic table of DevOps tools (referenced above). Or the Cloud Native Computing Foundation's Cloud Native Landscape.
It is a lush landscape. Rich set of choices and avid user bases. And that posses another challenge: Choices. Yes having too many choices can be bad sometimes:
Do you use Cloud Formation or Terraform to provision your Infrastructure as Code environment
Should you chose SaltStack over Ansible? - Where would you use Puppet vs. Chef?
How would you select workflow oriented tools which allow you to do software, build and test process seamlessly. In that regards, is Travis CI a better option vs. Bamboo or Jenkins?
And that's just scratching the surface. So Where do you start. Cutting to the chase, here's a suggested roadmap: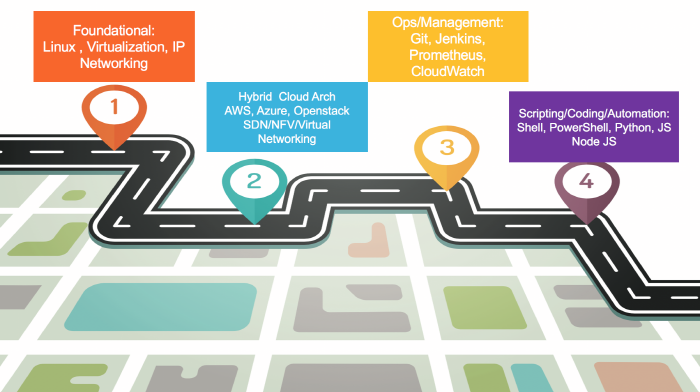 Get your foundational capabilities straight: Learn and understand Linux, Virtualization and basic IP Networking. Can't emphasize enough the importance of these three. Learn what it means to have a software defined infrastructure and SDN/NFV in particular if you're coming from a traditional networking background. Bonus Points: build up on these foundational capabilities and learn about Docker and Containers.
Understand the platforms: Understand what it means by Hybrid Cloud and what capabilities it offers. Learn AWS/Azure and why enterprises are adopting it faster than any other platform of choice. Pick one or the other but don't stop there. Bonus Points: Understand which container orchestration mechanisms are being used to develop containerized applications. Good place to start is minikube.
Understand the Ops/Management of platforms (The Ops Part): That's where majority of DevOps tool chains come into place. Absolute minimum requirement is to learn code versioning, branching, configuration management and monitoring. Good place to start are Git, Ansible, Cloud watch/Prometheus respectively for each of those categories.
Understand the processes: Learn the concepts of Agile development and Lean development. You don't have to master them but understanding the implications of Agile vs. Waterfall development models can make your life a bit easier. Use that knowledge to grasp the continuous integration/continuous delivery (CI/CD) models and process.
How are applications developed (The Dev Part): At minimum learn Shell/PowerShell scripting. Python is an excellent starting choice. Then build up capabilities with Java/JS and PHP. Bonus Points: If you want to further develop competencies in application development than venture into learning the frameworks such as Node JS or Angular.
Number 3 and 5 can be interchangeable depending on your existing skills and background.
One thing that I've learnt in working with and mentoring numerous engineers, architects and thought leaders is that your existing experience is not a 'baggage' rather an 'asset'. Use your existing domain's knowledge that you've built in past to integrate with DevOps concepts and tools in your existing job and see yourself flourish.
What's the take away:
The purpose of this reading is to help you tie all the building blocks together and understand the grand scheme of things.
Separate the day to day churn and noise from bigger picture. Know the why and what and use the roadmap above to get started. Get the foundation right and build it from there.