5G Standards have not yet defined 5G requirements, but various groups are analyzing the possibilities of what might constitute 5G for network deployments in 2020 or beyond. Regarding that, ITU IMT-2020 has defined technical requirements for 5G, and 3GPP is developing specifications.
This Vision of 5G could be seen from 2 perceptions, Next Generation Radio Access Technology when we talk about the enabling keys which will empower the existing wireless services. Those keys could be summarized in only one-word New Radio.
New Radio have the following technical key features: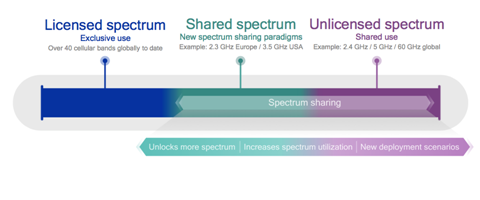 | | | |
| --- | --- | --- |
| | | Spectrum Bands, Ability to operate in any frequency band, including low (beow 1 GHz), mid (1-6 GHz), and high bands (above 24 GHz). |
| | | |
| --- | --- | --- |
| | | Using Massive MIMO to overcome dead spots, to optimize the beam fingerprint, increase the data rates, and redundancy. |
| | | |
| --- | --- | --- |
| | | Beamforming, using Directional Antennas empowered by Intelligent beams search and tracking algorithms. |
Software Defined Network (SDN) Extend Network supports to Virtualization by using Open Stack implementation where networks will become easier to manage, maintain and upgrade.
mmWave New Frequency Bands by the using of higher frequencies, such as above 30 GHz, which drive 5G towards higher throughputs and higher capacity. This benefit derives from the potential availability of ten times the amount of spectrum as is currently available, with multiple GHz of contiguous spectrum.
Spectrum Sharing, e.g. by Enhancing existing deployments like LTE-U (LTE Unlicensed) Based on 3GPP Rel. 12 and LAA Defined in 3GPP Rel. 13, LAA (Licensed Assisted Access), and deploy new MulteFire™ which opens up new opportunities for operation in unlicensed spectrum such as the global 5 GHz Wi-Fi channels. Spectrum sharing provides more efficient utilization of existing resources, and access to, scarce resources.
The Minimum Technical Requirements/Stated Goals of 5G which could be achieved based on NR can be highlighted as follow:
1. Practical Speed, 1-10 Gbps connections to endpoints in the field
2. Latency, 1 millisecond E2E round trip delay
3. Bandwidth, 1000x existing bandwidth.
4. Connectivity, 10-100x number of connected devices.
5. Power Consumption, 90% reduction in network energy usage.
6. Battery Life Optimization, Up to ten-year for low power, machine-type devices.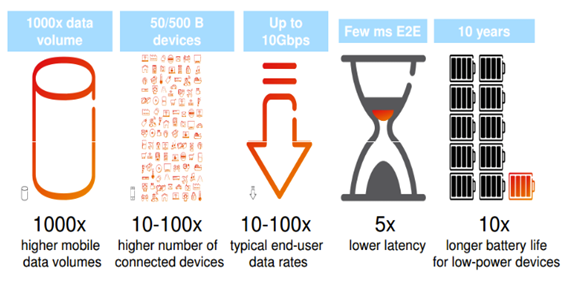 The second vision is mainly empowered and driven by the first vision which is the hyper Connectivity.
Where 5G NR will empower New Services/Technologies.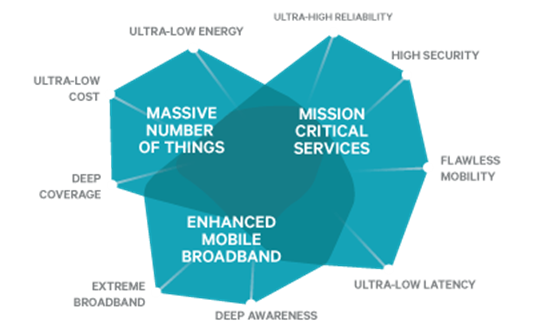 Massive Internet of Things, Where massive machine types communications wirelessly connect to the internet and to each other with efficient, and low-cost communication with deep coverage e.g., Smart Grid, Smart Cities. eMB (Enhance Mobile Broadband), Where faster and better services delivered to satisfy users demands to rich their experience e.g Online Gaming, UHD streaming, 3D videos. Mission Critical Control, which depends on ultra-low latency which is achieved by 1ms E2E (End to End) latency e.g Autonomous Cars, Public Safety Applications.