Since the launch of cable TV service in 1995, its first pay TV service, Korea saw more pay TV services joining the market - satellite TV in 2002 and IPTV in 2009.
As of June 2017, there are 15 cable TV service providers - five multiple system operators (MSO) like CJ, t-Broad, D'LIVE, HCN and CMB, and ten individual system operators (SO).
Satellite TV service is provided by Skylife, a subsidiary of KT, and IPTV service is provided by three Korean network operators (i.e. KT, SK Broadband and LG U+, commonly called 'Big 3' telcos).
As of June 2017, the nation has a total of 30,828,645 pay TV subscribers up by 5.7% from the same period last year, after steady increase by 6.6% on average per year from 2009 through 2016. Since the arrival of IPTV in 2009, cable TV subscription has steadily declined as more customers began to churn to IPTV, leading to the market share in subscription being held by three platforms - 45.3% by cable TV, 44.2% by IPTV and 10.5% by satellite.
Although it was a late starter, IPTV is apparently closely trailing cable TV, which has long been unbeatable. Certainly closely enough to outpace cable TV by the end of 2017.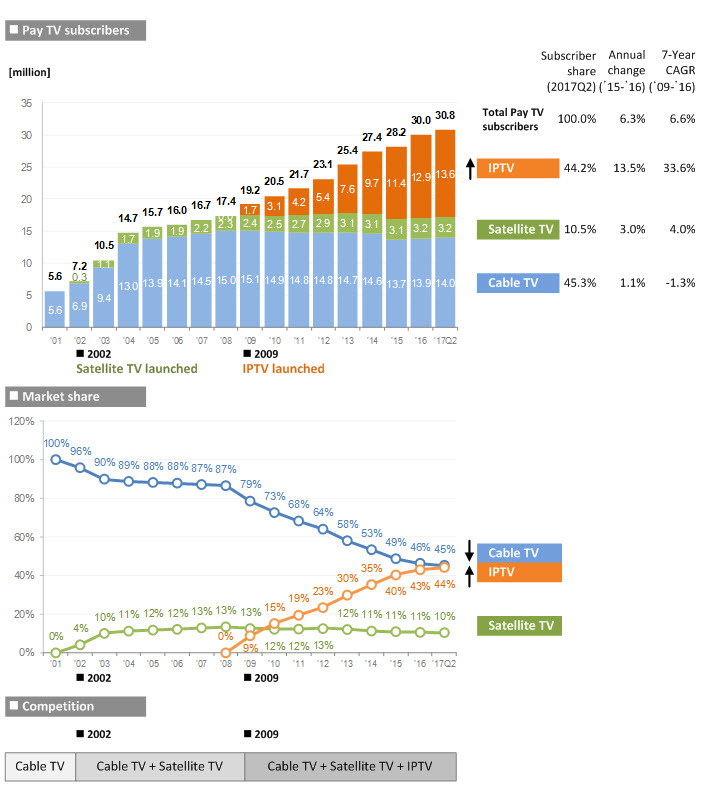 Sources: Korea Communication Commission (KCC), Ministry of Science and ICT (MSIT)
The total revenue of pay TV in the nation last year reached KRW5,163bn up by 9.4% from the previous year, thanks to the outstanding performance of IPTV service providers. Last year, IPTV recorded a market share of 47.0% in sales, outstripping cable TV at 42.0% (and satellite TV at 11.0%) for the first time in eight years since its launch in 2009.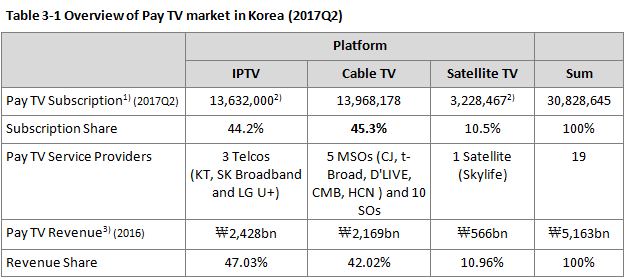 1) Source: Ministry of Science and ICT (MSIT)
2) In accordance with "Notification on verification of subscriber number of Pay TV service" by MSIT, of all Olleh TV Skylife (OTS: a product that combines KT's IPTV and Skylife's Satellite TV) subscribers, a half of them was considered as KT IPTV subscribers while the other half was counted as Satellite TV subscribers.
3) Source: Korea Communications Commission (KCC)
Table 4-1 shows pay TV service providers in Korea and their services. Currently, there are three IPTV, one satellite and five MSO service providers. Of all the providers, KT's basic plan offers 249 live broadcast TV channels, unlike other basic plans that only offer about 200. Each provider also offers about ten paid channels at extra monthly charge, like Catch on, Playboy TV, etc. When it comes to UHD, SK Broadband and Skylife serve the most channels, which is 5.
Each pay TV provider also carries about 17 home shopping channels, which have been a cash cow for the providers primarily thanks to monthly subscription charges paid by subscribers and then home shopping channel commissions.

Personal Video Recorder (PVR) service is provided by Skylife, CJ and D'LIVE, but not from any of the three IPTV service providers who do not want to risk potential decline in VoD sales.

Both IPTV and cable TV providers are offering some kinds of plans that bundle pay TV and 'fixed-line' service. On the other hand, bundles of pay TV and 'mobile' service are available from the three IPTV providers only. The only exception will be CJ, the only cable TV provider and also a Mobile Virtual Network Operator (MVNO), who offers a bundle plan of cable TV and mobile service. But the subscription base is quite meager.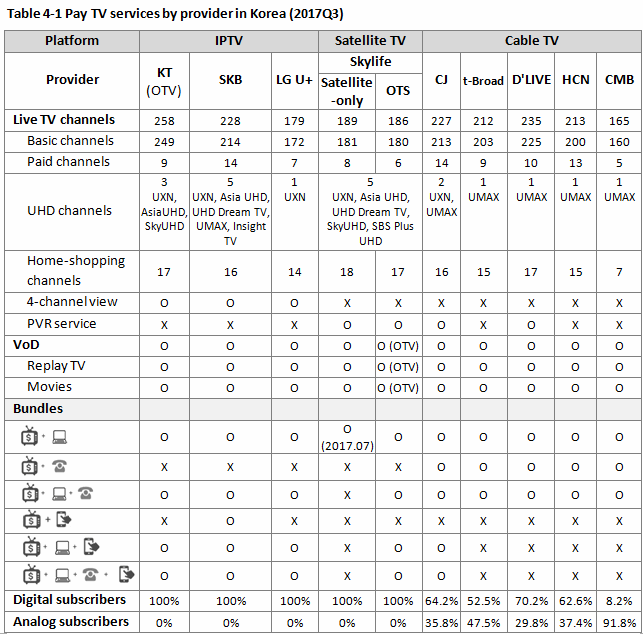 Source: Data made available by providers. The digital subscription rate of cable TV providers is based on data from KTCA (as of 2017 Q2).
Notes: Audio channels were not included when counting channels. Only digital cable TV channels were counted in the number of cable TV channels.
Figure 4-1 compares monthly subscription charge per household between IPTV and cable TV found in a survey conducted by the Korea Communication Commission (KCC) in 2016. In the survey, pay TV subscribers were asked how much their monthly payment was in the previous month, including subscription charge for basic channels, paid channels, VoDs, additional services, etc. The highest percentage of IPTV users (21.9%) responded that they paid KRW30,000~40,000 per month. For cable TV, on the other hand, the highest percentage of users (40.7%) said they paid KRW5,000~10,000 per month. This indicates that IPTV providers are making a greater profit from each household, compared to cable TV.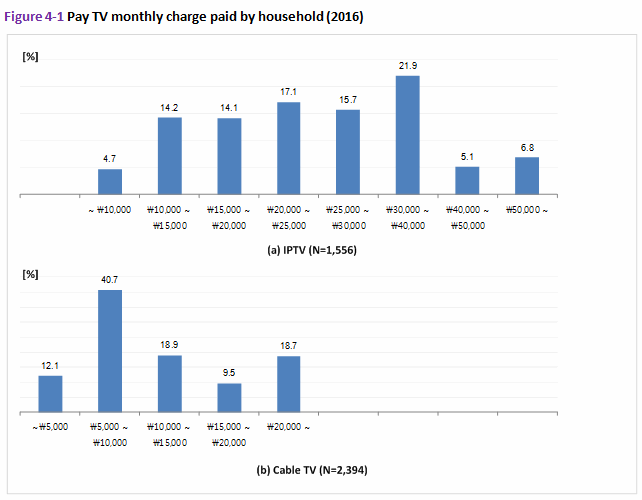 Source: Korea Communication Commission