3GPP 5G standard (NSA) has been enacted and 5G smartphones will be launched in 1H09 with the launch of 5G devices in 2H08. In addition, users are experiencing a 5G Immersive service such as Time Slice and Sync View, which were introduced at the PyeongChang Olympic Games, and feel that 5G has come to reality.
KT said that the world's first 5G is a mobile 5G service that guarantees mobility through handover, which is intended to distinguish between Verizon and AT&T's 5G service, which will be commercialized in the second half of this year.
Verizon is piloting the 5G Fixed Wireless Access (FWA) service to replace the fixed broadband line (for Internet / IPTV service) with 5G FWA and plans to commercialize it in the second half of this year.
AT&T plans to commercialize a 5G network this year using a puck-shaped portable hotspot. Though AT&T calls it mobile 5G, KT considers them as Pre-5G that does not support mobility, and KT will commercialize mobile 5G, which provides seamless mobility, for the first time in the world.
In Korea, the Ministry of Science and ICT (MSIT) decided to commercialize 5G in March 2019, and all three mobile operators, including KT, are aiming for March 2019.
KT aims to "fully commercialize 5G," which provides sufficient mobility based on accumulated skills and capabilities in preparation and provision of the PyeongChang 5G pilot service.
Based on KT's announcement on March 22, we will look at KT's 5G commercialization strategy.
The 5G service, which KT introduced at the PyeongChang Olympic Games, focused on immersive media based on high-capacity data transmission. However, 5G provides ultra-low latency and ultra connectivity in addition to high-capacity transmission and supports various service areas.
5G services that KT is commercializing based on 5G are Immersive media, smart factory, connected cars, drone, and safety.
Immersive media - KT opened its VR theme park 'KT VRIGHT' in March of this year. KT works with 'Dragon Fly' to provide 'Special Force VR' (first person shooting game) and showcase various VR contents. KT aims to achieve sales of 100 billion won in immersive media service by 2020.
Smart factory - Combines factory, manufacturing facility and 5G network to ensure productivity improvement and operational stability. KT will pursue pilot business this year and push forward full scale expansion in 2019.
Connected car - KT is carrying out an autonomous vehicle demonstration project in Pangyo Zero City and Daegu Technopolis using 5G network.
Drone - KT used the 5G drones for the Olympic Torch Relay this year and developed the Skyship, a maritime integrated monitoring device in 2017. Drones can be used for 360 degree VR camera broadcasting.
5G as a Platform
In the above 5G services, the 5G network can be seen to combine with various industries besides traditional communication service. KT plans to evolve the 5G network into a unified platform that can quickly and efficiently implement various types of services, not just the transport network.
To this end, KT applied virtualization technology to 5G network and completed development of E2E Infra Orchestrator, a network virtualization integrated control system, last December. The 5G platform is based on this E2E orchestrator.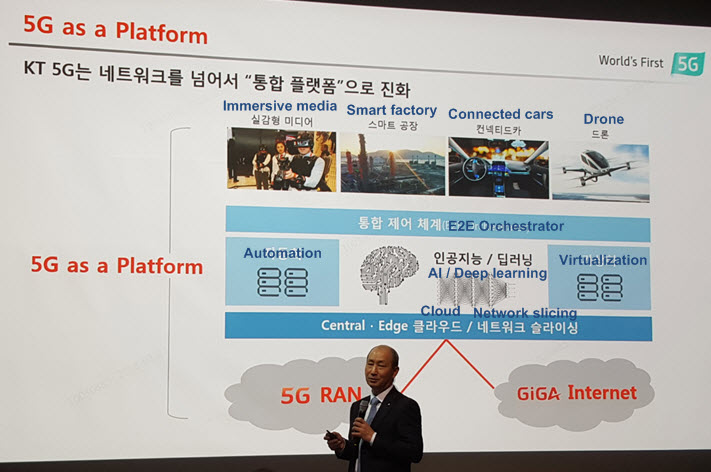 The E2E orchestrator can construct an optimized virtual network for each service (eg immersive media, autonomous vehicles, IoT) with different characteristics on one physical network by using network slicing technology.
A dedicated network for each service is provided which logically separates the E2E section including the terminal, the base station, the transmission network, and the core network.
When introducing a new service, it is possible to quickly build a network for that service and easily change the network configuration to meet the demand fluctuation of a specific service. KT can organize and provide dedicated networks tailored not only to the services provided by KT (eg immersive media, autonomous vehicles, IoT), but also to the services the enterprise customer wants.
5G Network Solutions
Service coverage and network performance are essential for market expansion. KT is developing 5G network solution for 5G commercialization. These are technologies for expanding service coverage and maximizing 5G network performance. KT has completed the development of the solution by 80%, and plans to complete it in the third quarter of this year.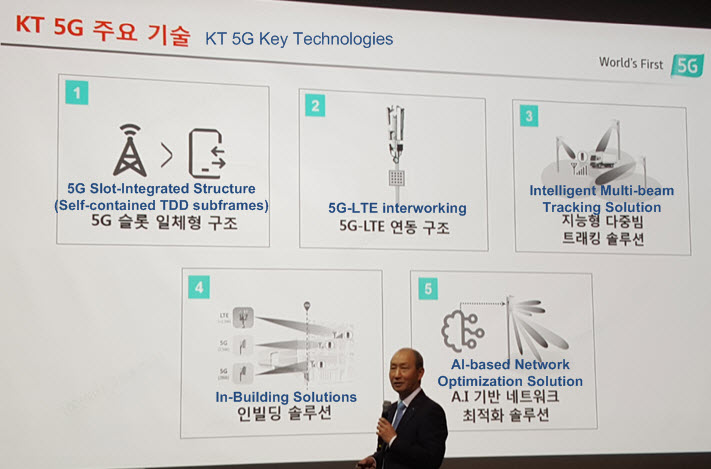 5G Slot-Integrated Structure (Self-contained TDD subframes) - UL Ack can be transmitted in the same subframe after DL data reception by including DL and UL channels in one subframe, thereby minimizing the delay.
5G-LTE Interworking - In case of shadow areas due to discontinuous coverage in initial 5G network, it automatically switches to LTE network and provides seamless service.
Intelligent Multi-beam Tracking Solution - The user terminal is connected to the auxiliary base station (s) in addition to the main base station, and if the main base station is disconnected, the 5G service can be seamlessly used through the auxiliary base station.
In-Building Solutions - 5G frequency has very high transmission loss. KT secures 5G quality by installing 5G repeater in buildings such as office, home, underground parking lot.
AI-based Network Optimization Solution (self-organization network) - 5G network optimization technology using remote and automation function enables engineer to perform antenna optimization remotely even if it is not on the spot.
5G Ecosystem Composition - 5G Open Lab (Open Lab)
The 5G Open Lab will be introduced in the second quarter of this year in order to revitalize the 5G ecosystem. The Open Lab will be open to the 5G ECO Alliance, which consists of a variety of small and medium-sized venture companies, including immersive media such as AR, VR, mobile terminals, connected cars, smart cities, security, drone and 5G equipments. Through this, KT plans to promote the development of 5G services and terminals, and promote ecosystem building through technology cooperation between heterogeneous industries.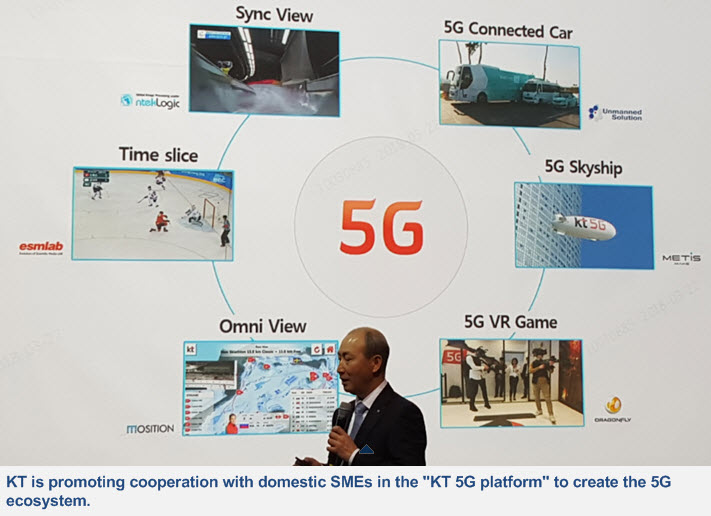 5G Commercialization in March 2019
In Korea, the first 5G frequency auction will be held in June this year. 300 MHz bandwidth will be allocated in the 3.5 GHz band and 1 GHz bandwidth will be allocated in the 28 GHz band. From the second half of this year, mobile carriers will begin building 5G networks.
KT estimates that 5G base stations will be three times more than LTE, and 5G CAPEX will be 3-5 times more expensive than LTE. KT said that in the early days of commercialization, 5G services will be provided in major cities.

The biggest concern is the launch of 5G commercial smartphones. Qualcomm has developed 5G modem, Snapdragon X50 and Huawei Balong 5G01, but 5G smartphone is expected to be available in Q2 next year. Given the release of the next strategic phone at MWC every year, the 5G phone is expected to be unveiled at MWC next year and released in Q2.
Mr. Sung-Mok Oh, the head of Network Division at KT, said that the first commercial 5G service to be offered in March 2019 will be a B2B service, and B2C service will begin in 2Q.
This is due to the availability of 5G terminals, and for commercialization in March, 5G B2B services will be launched with M2M devices or modules that support mobility.
B2C service for general users will begin in 2Q 2019, when commercial terminals including 5G smartphones begin to be launched.