Here 's a question if you are in telco/service provider industry. You know about virtualization and its usage in packet core but do you know what cloud native is? Rakuten's recent announcement at MWC19 to deploy industry's first cloud native 5G evolved packet core is a game changing disruption for the traditional telecom industry.
This sets a new precedent for other service providers/Telcos. There are new business models being created, incumbents being challenged and newer type of services will soon be offered.
But what is Cloud Native anyways ?
Cloud native is a term rooted in enterprise software development. And is used to develop software apps built with services packaged in containers, deployed and orchestrated as microservices and managed on elastic infrastructure through agile DevOps processes and continuous delivery workflows. This also means that the apps are no longer monolithic, are now distributed and loosely coupled.
And why do we need Cloud Native ?
One of the challenges with the current IoT infrastructure is that, sometimes, data needs to be available immediately, in real time. Imagine a connected/self driving car is slowing down to stop at a red light and someone walks in front of it. If the sensor in the car needs to shift the data to the Cloud to make a decision to move forward or not and there's any lag, it can become a life or death issue. This method of sensor picking data & cloud making decisions certainly isn't scalable.
Instead, emerging architectures like Fog and Edge computing would rely on a more decentralized compute layer providing cloud to things continuum to help reduce the latency that exists today. In other words, decision logic is moving closer to end points/ things at the distributed street and neighborhood level locations. That's in contrast to previously centralized Data Centers and Cloud.
As a result we are heading towards a completely distributed, massively scalable multi-vendor and flexible system of systems that can be grown and modified over time. And we can not achieve this with a monolithic set of applications and need cloud native architectures.
How would it look like: The packet core functions the PGW, or 5G AMF, UPF, SMF etc. now become distributed apps and start getting rolling container upgrades running on an OpenStack/VmWare clusters . . Let's do a double click and take the example of 5G network slicing function below: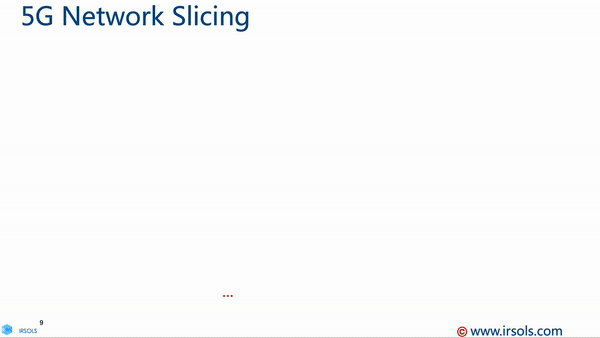 Standard dictates that we start out with specifying a network slice (Enterprise Slice, MVNO slice, NB-IoT slice etc. ) as a combination of physical/virtual resources that is defined in software.
These slice requirements are then realized by allocating VNF's, PNF's and packet core interfaces. With that you are going to need the knowledge of container orchestration,
CNI's and the underlying multi-vendor cloud infrastructure that all of this will get provisioned onto.
This also means that we are going to need a scale out architecture. Scale up means that we add more compute capacity to the existing nodes, so essentially for servicing more users we added more compute capacity in the same location .
How do you serve 75B devices give or take (as estimated by the analyst firms ): With a scale out architecture. With Cloud native and Fog native architecture there will be far greater number of dynamic packet core devices both virtual and physical which could be rapidly provisioned and deprovisioned.
So what are we saying here : What got us here won't take us to the future. For 3G/4G we immensely benefitted from Servervr virtualization ( eg. Cisco UCS/N9k fabircs ).
Telcos had leveraged Red Hat, Mirantis, Ubuntu OpenStack on servers and it was all in the data center . With 4G+ and 5G it is getting more decentralized , more cloud native and scaled out.
All of this dynamic provisioning/de-provisioning will require a different type of skill sets. So what are those at least from ?
Open Source Software. Not just Linux knowledge but a plethora of Open Source tools and platforms for monitoring, logging and provisioning purposes. The list is too extensive to cover here but please do reach out.
Containers & Container Orchestration. D'oh. But knowing just spinning up or down a container wont cut it , you'd need more than that . e.g. there are atleatst a dozen different type of CNI's out there and newer types of containers like Kata that are more suited for Service provider environment.
On Prem Cloud platforms like OpenStack or more increasingly VmWare. Somebody's got to operate the underlying service provider cloud infrastructure, no?
DevOps. Cloud native means rolling upgrades, continuous deployments and Infrastructure as Code which is key to maintaining sanity and operational stability specially in service provider operations.
Automation & Orchestration. What we outlined earlier is simply not possible at scale without Automation and Orchestration. And at that we'd need different types of automation skills including Ansible , Terraform , Fuel, Puppet/Chef, Salt Stack and good ol' Python.
SDN/NFV and API driven Infrastructure. Goes without saying that all the VNF's/PNF's need a software defined approach. Another aspect will be more east-west traffic within the SP's and micro-segmentation as well as segment based routing will be key sought after skills.
Bottom Line:
Cloud Native is the future of service provider / Telco industry.You would need a different set of technology skills and DevOps frameworks knowledge. And how they are applied within a service provider context. These fundamental list of skills is just the starting point.
Learn more:
Irsols is helping drive this open source cloud native based transformation with our customers. Contact us today to learn more about these new developments as well as how we can put our deep industry expertise and resources to keep you ahead of competition through trainings and consultations. info@irsols.com