1. Private Network
A private network is an enterprise-dedicated network that provides communication connections to people or things belonging to a specific enterprise and provides specific services necessary for the business of the enterprise.
The enterprise operates its own network and uses it exclusively. Unlike public networks, only allowed people and devices can access this network, and data generated within the enterprise is processed locally only within the enterprise's dedicated network, ensuring high security and data privacy.
The traditional private network was built with wired Ethernet or Wi-Fi, and PCs and smartphones were mainly connected.
Recently, many businesses are just beginning their digital transformation. In addition to existing PCs or smartphones, various devices with different communication connection requirements such as robot, drone, senor, AR/VR device, and autonomous vehicle are connected to the private network. The edge cloud processes data generated by these devices and controls the behavior of them.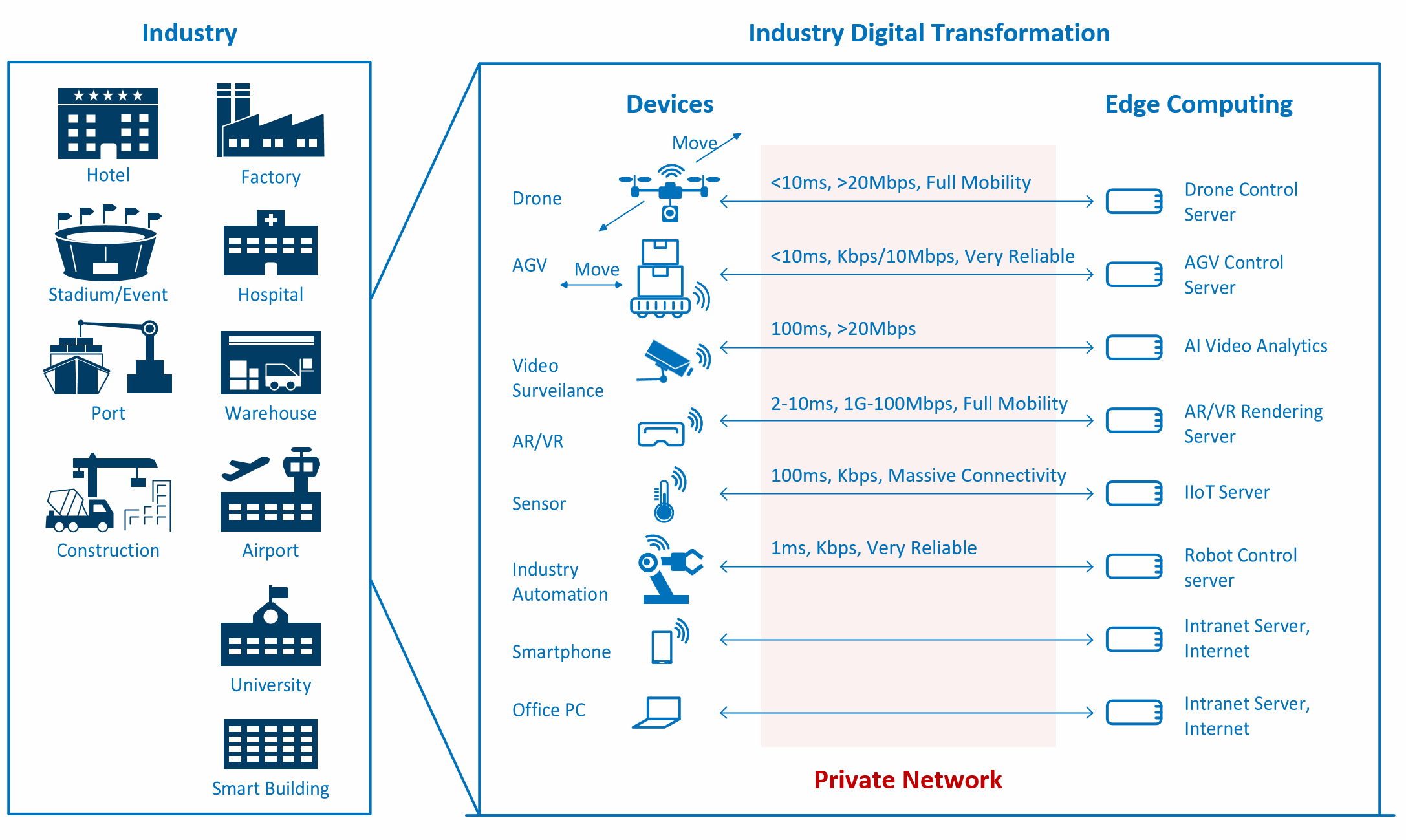 ​
Figure 1. Industry Digital Transformation and requirements for the communication connection
These devices require high mobility, wired-class reliable communication connection, latency of several ms, privacy of data generated by the device and stored on the server, traffic isolation that prevents traffic from being mixed by application, and guarantee of different QoS to the private network.
To cope with this digital transformation, there are limitations in traditional private networks to meet the new demands occurring in the enterprise field.
Wired Ethernet is very cheap and provides stable communication quality and performance, but it cannot provide mobility because it is wired, and wiring construction cost is high and construction time is long.
Wi-Fi is easy to deploy and operate, and its network cost is low (frequency free, cheap AP price), but its communication connection is unstable, its communication distance is short, its latency is longer than tens of ms, it is vulnerable to security, and its mobility is limited. For home or general office environments, there is no major problem, but there is a limit to responding to the Industrial Digital Transformation.
This makes it desperate to introduce a new wireless network technology.
2. Private 5G Network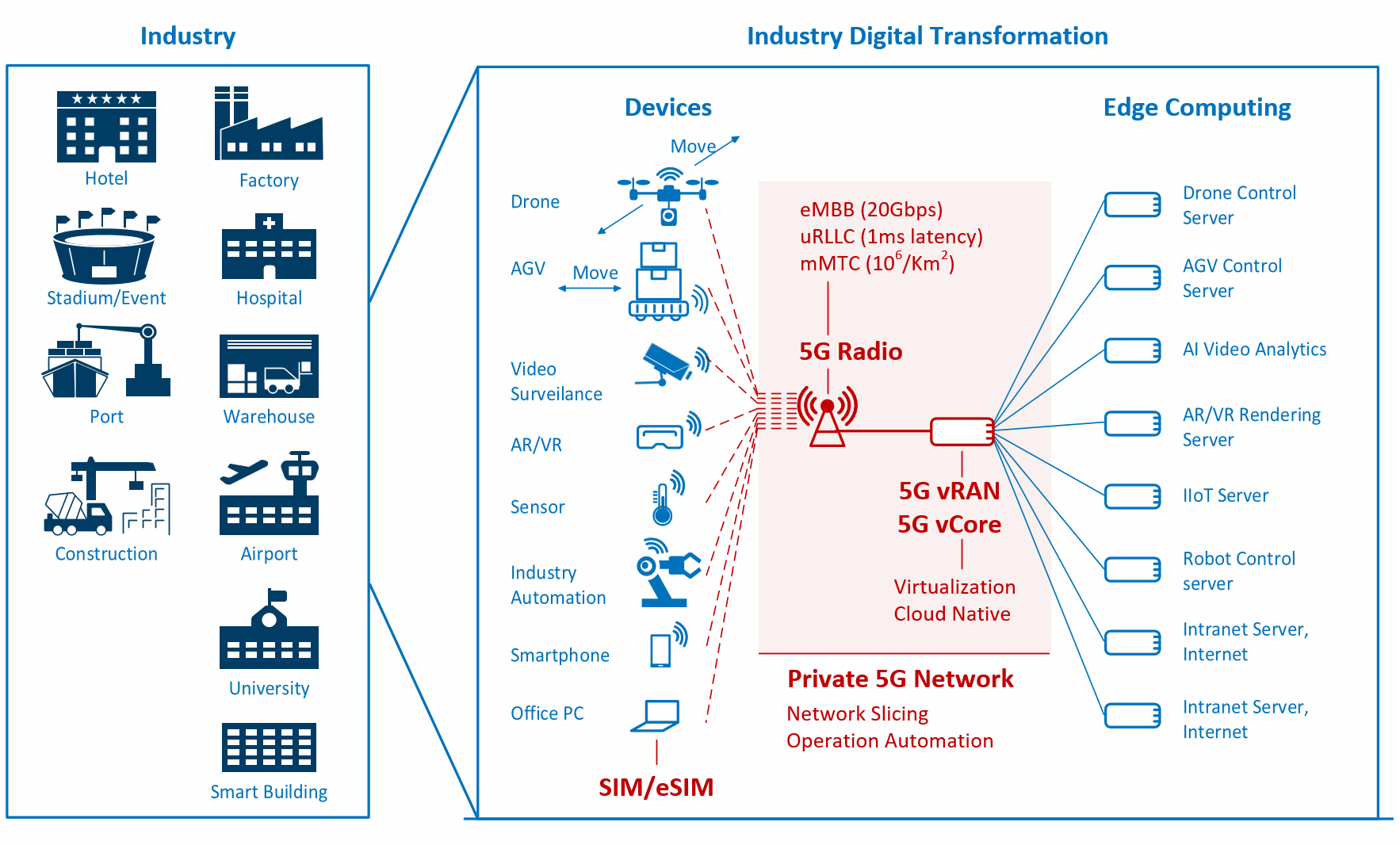 Figure 2. Private 5G Network
The private 5G network, which has recently been spotlighted by the digital transformation of enterprises and the emergence of the 4th industrial revolution, is an enterprise-dedicated network built using 5G technology in enterprise-owned buildings or sites.
Private 5G network is an enterprise-dedicated network that is built using 3GPP technology (i.e., mobile carrier technology, cellular technology) rather than using IEEE technology (LAN technology, wired Ethernet, wireless Wi-Fi) to establish a private network in a specific building or site.
Because 5G is a cellular technology, it provides full mobility, highly reliable wireless and quality of wired grade, strong security by 5G SIM, and wide coverage for devices in the enterprise compared to wired Ethernet or Wi-Fi.
Unlike 4G (MBB), which mainly targets B2C that speeds up smartphones, 5G radio provides not only ultra-high speed (eMBB, hundreds of Mbps-Gbps per device) but also ultra-low latency for real-time service (uRLLC, several ms) and ultra-connectivity (mMTC, 106/Km2) to connect a huge number of small things like sensors.
Besides, the 5G network provides network slicing that creates virtual independent networks logically separated through a single physical network.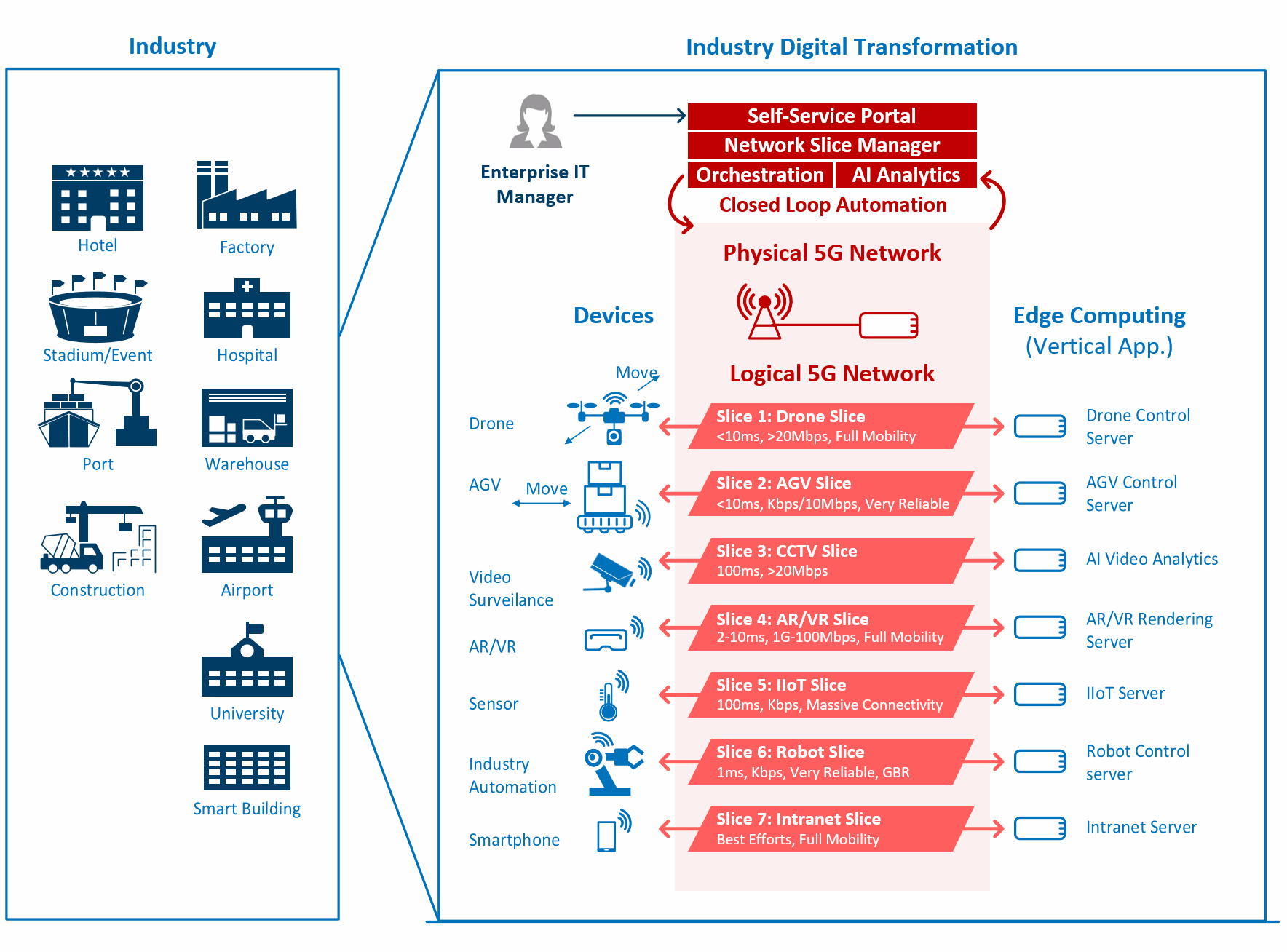 Figure 3. Network Slicing for Private 5G Network
For these reasons, 5G is ideal for creating multiple dedicated networks, i.e. private networks, for each application with different communication characteristics (AR/VR, Autonomous Vehicle, IIoT, etc.) or each enterprise through a single network.
Private 5G network can quickly and dynamically provide application services customized/optimized for enterprise business using edge computing, which provides low-latency∙high-reliability communications and high-performance services by processing data near the device.
Also, operation automation technology such as AI/ML-based self-healing, which has recently been applied to 5G networks, minimizes the intervention of private 5G network operators, e.g. fault recovery and scale-out/in of resources, significantly reducing the operational burden of IT staff in the enterprise.

In addition, 5G networks are virtualized and cloudized, which provides network resources (network infrastructure, network functions/services, etc.) on-demand according to the demands of the enterprise as in web-scale IT services, thereby contributing to improving the business agility of the enterprise and reducing network investment and operation costs.
As such, the Private 5G network is a digital enablement infrastructure that combines cutting-edge communication technologies (5G radio, network slicing) with cutting-edge technologies (edge computing, operation automation, and cloud-native architecture) in the IT field, and it is emerging as an excellent cornerstone to achieve enterprise digital transformation.
Currently, mobile carriers and enterprises in each country are starting to test the private 5G network, and in the future, many industries and enterprises will build a private 5G network to open the era of digital transformation.
Mobile carriers in each country are trying to provide private 5G services to enterprises by building a public 5G network for B2C services, slicing the public 5G network into multiple virtual end-to-end networks, and providing MECs for enterprises in the slices. In addition, there are many interests in how the enterprise directly builds and operates a private 5G network, or secures a private 5G network by being offered building and operation management services by a specialized company.
For how to build a private 5G network, refer to the following blog post.
Netmanias Tech-Blog, 7 Deployment Scenarios of Private 5G Networks, 2019.10.18

The private 5G network must be able to respond efficiently and quickly to the business needs and changes in the enterprise. For this, it is designed as follows; Cost Efficiency - the cost of building and operation is low, Full Control - access control and operation policies are applied according to the enterprise strategy, Security and Privacy - security and privacy are guaranteed, High Availability - always available without affecting the external environment, High Performance - maintains service performance, Operational Efficiency - convenient and efficient operation, Network Flexibility - deployment and configuration are flexible according to changes in the enterprise environment, and Business Agility - rapidly reflects changes of business needs).