Executive Summary
The MetroEthernet Forum (MEF) has defined and promoted Carrier Ethernet, a set of Ethernet-based carrier services. These services allow subscribers such as enterprises, research institutions, schools, and wireless carriers to achieve Ethernet-based connectivity over a wide-area network.

Network Interface Devices (often called NIDs) are becoming the norm at the User-Network Interface (UNI) between Customer Equipment devices and the Carrier Ethernet network. The NIDs provide many important functions necessary for successful management and operation of the Carrier Ethernet service.

It is becoming increasingly common and desirable to use 10G Ethernet at the UNI and this calls for a new breed of 10G capable Network Interface Devices that can provide all of the necessary NID functions with 10G interfaces as reasonable cost.

Ethernet has gone on a wild ride over its 30 year history. In 1981, when commercial Ethernet products were first introduced, Ethernet was a 10Mbps Local Area Network (LAN) running over a shared coaxial cable. With repeaters, an Ethernet could span 500 meters—farther if you added Ethernet bridges, but they were not invented for another five years.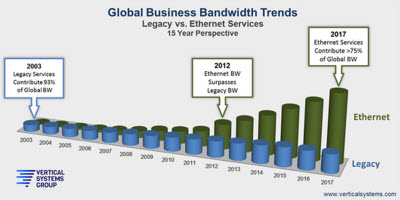 Ethernet was an up and coming technology but few people believed (at that point) that it would be the technology that would rule the networking world. Over the ensuing years there have been competititors, most notably Token
Ring (IEEE 802.5) and ATM. But those technologies have gone the way of the punched card, and Ethernet continues to go strong.

In 2013, Vertical Systems Group (www.verticalsystems.com) estimated that Ethernet Services bandwidth exceeded legacy bandwidth (legacy is the common term for PDH and SONET/SDH) in 2012 and would constitute 75% of business bandwidth by 2017.

Full Duplex Ethernet Changed Everything
One of the major inflection points in Ethernet technology was the introduction of point-to-point, full-duplex Ethernet. This started with 10BASE-T and progressed through all of the twisted pair speeds (100, 1000) and moved into the fiber realm. Full-duplex Ethernet eliminates the shared medium and the complexity of channel arbitration and collisions. Each side of the connection has its own transmit path. This eliminates the distance limitation on Ethernet (which was necessary for the collision protocol). Now, a single Ethernet segment can run as far as the physical media can carry it. For a 10Gbps Ethernet over fiber this is 80 kilometers! Ethernet is now a WAN as well as a LAN.

Carrier Ethernet Services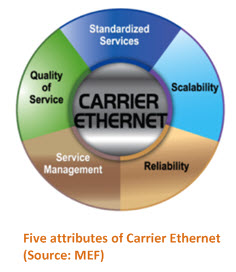 The MetroEthernet Forum (MEF) has been working since 2001 to create an industry-wide framework that fosters the deployment of carrier-based Ethernet services.

With over 200 members, split between carriers and equipment vendors, the MEF has focused on five attributes that are needed to enable Carrier Ethernet.

Carrier Ethernet is based on a set of subscriber services, E-Line (point-to-point), E-LAN (multipoint-to-multipoint), E-TREE (rooted multipoint) that are delivered to the subscriber at a reference point called the User-Network Interface or UNI. The subscriber (customer) side of the UNI is called the UNI-C and the network operator side of the UNI is called the UNI-N.


10G Is Now Where It's At!
Now, 30 years later, Ethernet is the datalink of choice for all LANs and an increasing number of WANs. 10Gbps Ethernet (one thousand times as fast as the original 10Mbps Ethernet) is fast becoming the client/UNI connection of choice driven by the need for increased bandwidth and the fact that 10G is the most cost effective wavelength on a DWDM fiber.

1G wavelengths can go farther than 10G wavelengths (roughly 150km vs. 80km), but the facility cost is the same—the cost of a single wavelength (color) on a fiber that can carry 80 or 96 colors. 10G transceivers and 10G switch interfaces cost a little more than 1G but this difference is a one-time cost and it is shrinking. There is no recurring cost difference. Electrical power used by a 10G interface is only a few percent more than the power used by a 1G interface.
Then there are 40G and 100G Ethernet. 40G Ethernet appears to have a home inside the datacenter but not in the wide area. 100G is becoming increasingly popular for connections inside carrier networks but is still too expensive for client connections.

Ethernet Service Providers are deploying switches with 10G interfaces as the cost differential drops. In many contemporary switches a 10G interface can also be configured to support a 1G interface so they are both future-proof and flexible.
Clearly, there are many client services that have very small bandwidth requirements, e.g. 10Mbps or 50Mbps. For those, it doesn't really matter what the UNI physical interface is. But if bandwidth requirements exceed 100 or 200Mbps, and are growing, then using a 10G UNI makes a lot of sense and will avoid a reconfiguration down the road.
Many providers such as Verizon, AT&T, Comcast, Windstream, etc. have been offering 10G UNIs. They are reacting to the explosion in Ethernet Service deployments and the increasing bandwidth required by these services.
In 2013, OVUM (www.ovum.com) estimated Carrier Ethernet service revenue to be approximately $35B. They projected growth to $62B in 2018, 35% at 1G and 25% at 10G.
Customer Equipment Requirements
The challenge for subscribers is that most Customer Equipment (CE) does not support the functions necessary for successful connection to the Carrier Ethernet network. Three important functional requirements are:

1. Link OAM (from IEEE 802.3)
2. Service OAM
3. Traffic shaping

Link OAM is a low-level protocol defined by IEEE 802.3 for link-level monitoring on a point-to-point physical Ethernet channel. It provides procedures for information exchange, reporting of critical Ethernet link events, and loopback. Link OAM support is a requirement for UNI type 2.2 (MEF20).
Service OAM is a broad set of processes for Fault Management and Performance Monitoring. The protocols are defined in IEEE 802.1Q(ag) and ITU-T Y.1731 and their application to MEF-based Carrier Ethernet services is defined in MEF17, MEF30, and MEF35. The CE is required to support multiple maintenance sessions, one for the UNI itself, one for each Ethernet Service that terminates on the UNI. Also, a TEST session that can be setup from the UNI-C to any point in the network, when needed, to isolate/debug faults. Service OAM support is a requirement for UNI types 2.1 and 2.2 (MEF20).

Traffic shaping is a traffic management function that smooths out bursty traffic so that the network operator's traffic policer will accept more of the traffic as conforming to the specified bandwidth profile. The traffic shaper builds a queue of packets and schedules the transmission of each packet to match the traffic parameters specified in the provider's bandwidth profile. Although not a requirement, traffic shaping is a recommended function and is discussed in an appendix to MEF10.3.


If the CE does not support these functions, the Ethernet Service can be deployed, but it is much harder to guarantee the reliability and performance of the service.

NIDs to the rescue!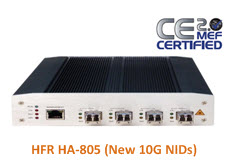 Network Interface Devices (NIDs) solve the problem. They serve the dual purpose of providing the demarcation point between the subscriber and the network operator, and at the same time they act as an extension of the Customer Equipment to provide the important OAM and shaping functions. New 10G NIDs such as the HFR HA-805 provide these functions and each interface supports both 1G and 10G Ethernet. They can be used to provide 10G access to the Carrier Ethernet network even if the CE device has only 1G interfaces.

These devices provide important benefits to the subscriber. They are monitoring the end-to-end Ethernet Service both for faults and for performance, so they can provide fast reporting and response to both connectivity and performance problems.
And since they reside at the subscriber's location, their domain includes the access connections to the provider's cloud. The new generation of 10G NIDs are powerful enough to handle the demanding job of forwarding tens of millions of packets per second, and at the same time these quiet/fanless devices are physically small, and draw a small amount of power.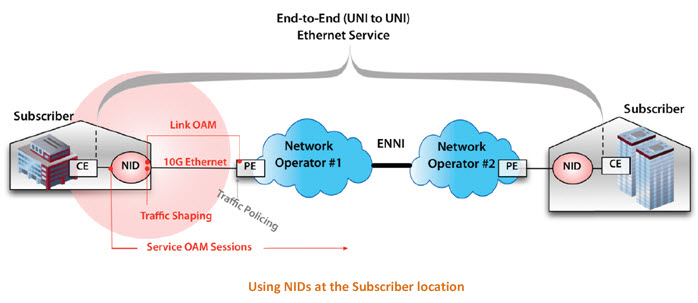 In addition to the required functions, NIDs can provide additional functions that are not normally available in enterprise devices including:
• Support for timing and synchronization (synchronous Ethernet and IEEE-1588)
• Support for protection using ITU-T G.8032 and G.8031
Summary
MEF-based Carrier Ethernet services are broadly available. As of mid-2014 there are 135 CE2.0 certified services available across 20 countries. Traditional enterprise applications such as file storage and backup and database access are requiring more and more bandwidth. New applications such as document imaging and medical imaging require even more. Therefore, there is a strong move to deploy 10G Ethernet for access connections. The additional investment is small and the growth potential and peace-of-mind is great.

Ethernet Access Devices not only provide the necessary functions to ensure a reliable Ethernet Service deployment but the new generation of 1G/10G EADs can also ease the migration to 10G Ethernet, offloading both the functionality and the performance requirements from the Customer Equipment.
About HFR (www.hfrnet.com)
HFR has been actively responding to the Cloud RAN market under LTE environment. We expect that our front-haul solution will become representative product in global equipment market. Also, HFR has been leading the high-speed internet equipment with the development for Giga Internet service area. Based on its competitive solutions in the wire and wireless communications fields, HFR is determined to become Korea's leading network equipment company.
 Location and Contact Information
5th floor, Hana EZ tower,10, 43gil, Seongnam-daero, Bundang-gu, Seongnam-si, Gyeonggi-do, Korea
TEL 82-31-712-7768 | FAX 82-31-712-7948 | E-MAIL resonant@hfrnet.com
 For more information, please visit us at http://www.hfrnet.com