For the rest of the Q1 2015 issue of Korea Communication Review magazine please click here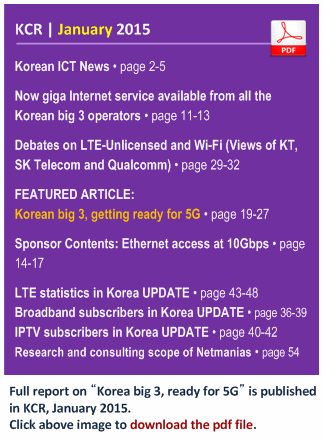 In Korea, LTE service began back in July 2011. Then in June 2013 when LTE subscription exceeded 40% of the nation's total mobile subscription, LTE-A was commercialized for the first time in the world. Here are some facts about Korea's LTE. As of December 2014, i) Korea recorded an LTE subscription rate of unbeatable 62% as LTE is reaching maturity, and ii) LTE traffic - about 108,792 TB - accounts for 94.5% of the total mobile data traffic of the nation. By 2016, the LTE subscription rate is expected to reach 80%, and the LTE traffic, is also expected to grow drastically. In response, the Korean big 3 operators are making efforts to increase network capacity through LTE/LTE-A optimization and small cell introduction, and to achieve a goal of commercializing 5G by 2020.

Definition of 5G has not been clarified yet, but there are some general criteria that makes 5G. First, 5G can support 1,000 times more network capacity than 4G, and provide speeds of 1 Gbps anytime anywhere. These tremendous improvements in capacity and speed make services for new media like UHD streaming or hologram possible, and require new radio access technologies. Second, 5G can support a "massive connectivity" technology which would require not high speeds, but enormous connection. New architecture and technology that can improve efficiency of processing control signaling and support IoT are needed.

In Q4 2014, there were many events in Korea that gave us chances to see how the big 3 see the new 5G era, and how they are getting ready for it. We will discuss their strategies and technologies for 5G based on the presentations and demonstrations they have given so far in relation to it.
5G Strategies by the Big 3
1. 5G Strategies by KT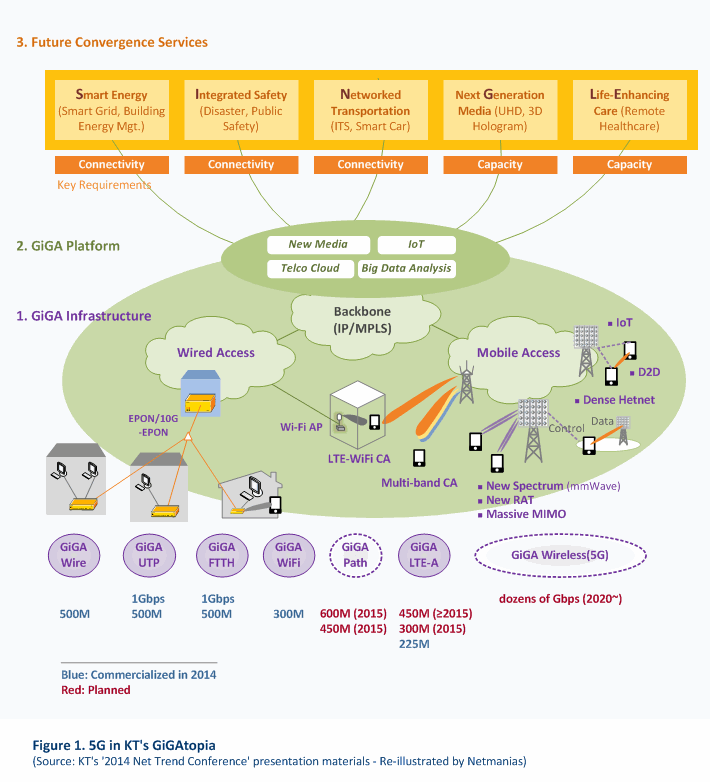 KT is the No. 1 wired and No. 2 mobile operator in Korea, and has the most powerful wired and wireless integrated networks. The company does not see 5G network as its next generation network itself, but as just one of the components that comprise its GiGA infrastructure required in GiGAtopia, its newly presented vision. That is, it sees 5G network as a wireless GiGA infrastructure in the future. So, KT's presentations on 5G have been, from the perspective of GiGAtopia vision rather than 5G technologies, focused on convergence services to be provided when GiGA infrastructure (wired and wireless) is secured. It looks like KT, without a clearly established concept of 5G available yet, wanted to first develop 5G platform and convergence services based on the wired GiGA infrastructure, and then expand them to the wireless infrastructure once 5G becomes commercialized.

The Chairman Chang-gyu Hwang, newly appointed in May 2014, declared "GiGAtopia" as KT's new vision, which consists of the three layers: GIGA Infra, GiGA Platform, and Future Convergence Services
To transform the existing wired and wireless infrastructure into GiGA infrastructure for provision of giga-class speeds1
To build an open GiGA platform by standardizing the existing platform features
To provide various future convergence services on the new platform
We will discuss how KT defines 5G and 5G infrastructure based on GiGA infrastructure.
1.1 GiGA Infra
GiGA speeds available in wired infrastructure since 2014, and 5G to be available in wireless infrastructure
Mr. Seong-mok Oh, the head of the Network Business Division at KT made a note on GiGA infrastructure at a forum titled "the 20th Anniversary of Commercialization of the Internet in Korea and the Giga age", saying "The goal of KT is to deliver UHD streaming contents through wired/wireless networks capable of supporting 1 Gbps-class speeds. So, we aim to accelerate wireless access speeds to 1 Gbps, and to make all the wired access 100% giga-class by 2018 (revised to by 2019 according to KT's presentation at 'Network Korea 2014' conference in December).

The GiGA infrastructure consists of wired and wireless GiGA infrastructures. In the wired infrastructure, the giga era has already begun when GiGA Internet service was commercialized in Oct. 2014. GiGA Internet now provides 1 Gbps through GiGA FTTH network, and up to 500 Mbps still through copper cables even for old houses. KT plans to expand GiGA Internet to other major cities and areas by 2016, and to build a fully-fledged wired GiGA infrastructure by achieving 100% GiGA Internet service in 2019.

In the wireless infrastructure, on the other hand, the maximum speed as of Dec. 2014 is just 225 Mbps, provided through 2-band CA2, an LTE-A technology. But it will be improved up to 300 Mbps through 3-band CA3 commercialization next year. To evolve into a wireless GiGA infrastructure, KT is planning to i) continue to improve LTE-A performance, ii) offer multi-RAT CA that combines LTE and GiGA WiFi, and iii) ultimately provide 1 Gbps through 5G radio access technology in 2020.
Mobile speed and QoE are to be improved continuously through further advancement of LTE until a nationwide 5G network is finally launched.
KT's 2015 plan to make LTE more advanced includes i) implementing new features in 3GPP Rel.12, and ii) reinforcing the current network capacity. For developing new Rel.12 features, KT will implement features such as Uplink CA (50 ~ 100 Mbps), LTE-Direct (Device-Device, Device-Device-eNB), and dual connectivity for seamless communication environment. And for reinforcement of its current networks, it will i) commercialize and expand 3-band CA to achieve higher maximum speeds in high-density areas, ii) improve weak electric field coverage for minimized VoLTE shadowing using 900MHz band and repeaters, iii) install more small cells (outdoor femto cells) for enhanced QoE, and iv) commercialize Multi-Path TCP (MPTCP)-based LTE-WiFi aggregation for better QoE.
5G Requirements and Target Value
At a KRnet 2014 panel session, Hyun-pyo Kim, a Vice President at KT, defined the company's 5G network requirements and target values as seen in Table 1 below. Also, noting that the existing architecture cannot satisfy "Flexibility/Low-cost" requirements in 5G networks, where small cells operating at several ~ dozens of GHz will be deployed, he emphasized the necessity of employing SDN/NFV to introduce an innovative wireless network architecture.

5G Infrastructure Architecture
KT's 5G network will be migrated from its LTE network with SW-based control and new 5G radio access technologies. Its 4G will co-exist with 5G for a long time, and in the 5G network, various access technologies such as D2D, IoT and mmWave will be integrated.
5G radio access: 5G radio access technologies refer to innovative technologies, based on mmWave and a new type of HetNet, designed to provide satisfying 5G performance. mmWave 5G access is used at small cells operating at new higher frequency bands (i.e., mmWave bands). And the new HetNet-based 5G access will allow for hybrid access - enabling devices to access not only the small cells operating at higher frequency bands, but also the macro cells operating at existing lower bands. Table 2 lists 5G radio access features.
Flexible mobile network (SDN/NFV): For better economic feasibility and faster service launch, NFV/SDN is used.
NFV: 5G core network nodes implement core features and services by using SW on virtualized HW resources.
Cloud: Nodes in 5G core network and RAN all have cloud capabilities sharing resources.
SDN: Nodes in 5G core network and RAN are all controlled by SDN.
Various access network integration: Supports interworking between 4G/5G and D2D and IoT networks.
1.2 GiGA Platform
KT is pushing forward a plant to build an open GiGA platform to provide various future convergence services on GiGA infrastructure. The GiGA platform will be based on IoT, new media, cloud and big data analysis, and designed to integrate various radio accesses.
1.3 GiGA Service (Future Convergence Service)
KT has identified key services that can create synergy between communication and other industry by taking advantage of GiGA infrastructure, and defined them as the "5 future convergence services": smart energy, integrated safety, next-generation media, life-enhancing care, and networked transportation.
Pre-5G Displays and Demonstrations
At '5G Global Summit 2014', KT demonstrated vEPC and vIMS, virtualization technologies for mobile core network and services, by using prototype. And at 'World IT Show (WIS) 2014', it conducted demonstrations of GiGA Infrastructure technologies like 1G/10G GiGA Internet, LTE-A 3CA, and GiGA WiFi technologies. And it presented ICT convergence services like KT-MEG (ICT+Energy), GiGA lab (ICT+BT), eyewire game (ICT+Healthcare), GiGA baseball (ICT+Sports) and GiGA island, GiGA safety, GiGA home, and also hosted a K-live concert featuring hologram as a next-generation media service.