For the rest of the Q1 2015 issue of Korea Communication Review magazine please click here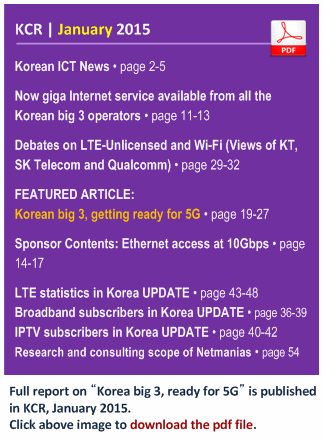 2. 5G Strategies by SK Telecom
Immediately after KT announced its new vision GiGAtopia in May, 2014, SK Telecom, the No. 1 mobile operator in Korea, also presented ICTnomics (ICT + Economics) designed to integrate ICT into a wide range of industries as the core concept of its 30-year growth plan. The company announced its plan to i) commercialize 5G network in 2020, and ii) develop services in which ICT technologies and industry are converged. To this end, the company will:

i) secure 5G network that can take care of ultra high speed and massive connectivity (IoT).
ii) build an intelligent SW platform based on real-time analysis of big data and virtualization.
iii) provide ICT convergence services by taking advantage of innovative UIs and HD multi-media.
SK Telecom, while focusing on 5G network, is taking the first step for realizing ICTnomics. It disclosed its plan to take a lead in developing 5G technologies, and to commercialize 5G network in 2020 for the first time in the world, pursuing technology differentiation strategy in 5G access technologies realizing 'giga mobile' speed.

Previously (in 2G, 3G and 4G), existing networks have been replaced when new next-generation networks were introduced (i.e. 3G network replaced 2G network). 5G network, however, is expected to co-exist with LTE network through cooperating, instead of replacing, with it. In 5G, even when new innovative technologies are introduced providing mobile giga speeds and massive connectivity, LTE technologies are expected to continuously evolve, allowing 5G revolutionary technologies and various access networks to be integrated based on LTE networks. Figure 2 shows the company's evolution and revolution paths toward 5G.
SK Telecom commercialized the world's first LTE-A network by introducing carrier aggregation (CA) back in June 2013. In 2014, small cells were introduced in the LTE-A network, which made the network begin to evolve into one with C-RAN based HetNet architecture. SK Telecom plans to commercialize 3-band CA in 2015, and 'SUPER Cell' technology featuring inter-cell coordination in HetNet in 20164. Key features of 'SUPER Cell' like Elastic Cell are expected to be further optimized, and employed as fundamental technologies in 5G as well. The company is planning to demonstrate 5G network during Pyeongchang Winter Olympic in 2018, and launch the world's first 5G network by 2020.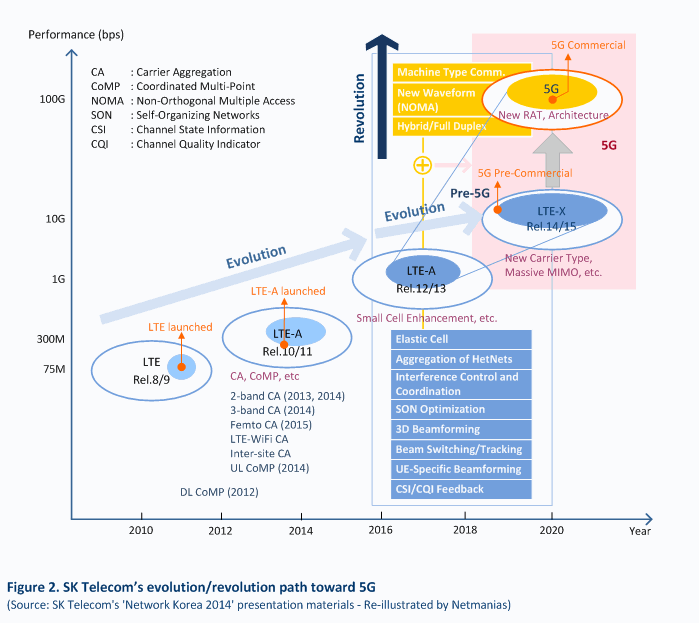 5G Requirements and Target Values
SK Telecom presented requirements for 5G in terms of user, performance, structure, operation and management. According to the requirements:

i) in terms of user, for better user experiences, 1 Gbps should be available at cell edges, and data delivery between user and base station should be less than 1 ms.
ii) in terms of network, the network should have 1,000 times higher capacity, be more intelligent and SW-based, provide sufficient reliability to allow no hacking, and require low maintenance costs.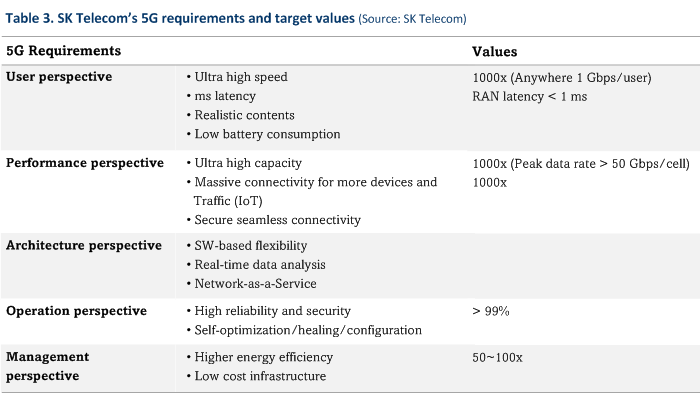 5G System Architecture
SK Telecom's 5G system architecture consists of the three layers: Service, Platform, and Infrastructure.
Hyper-Connected Infrastructure: This network infrastructure can serve various types of devices and support ultra-high-speed data delivery. To realize this high performance 5G infrastructure, SK Telecom aims to enhance capacity and frequency efficiency, expand frequency bandwidth, and improve operation efficiency. Up to 4G, communication between device and base station was 1:1 communication. In 5G, however, network connectivity has been enhanced, allowing for communication between devices, base stations, or between licensed and unlicensed bands.
Enabling Platform: 5G platform i) features Network-as-a-Service (NaaS) which allows for configuration and change of telecommunications and service functions by using virtualized SW on programmable HW, ii) provides open API to use SK Telecom's services, and iii) is an SW-based platform, with a built-in intelligent engine capable of big data analysis, that is managed through orchestration and SDN control.

Innovative Service: SK Telecom, pursuing a differentiation strategy through 5G technologies, is focusing on provision of visual experience that has no burden of time and space restrictions and on IoT. Services like mobile UHD, AR/VR, remote healthcare, mobile hyper-cloud, immersive communication (e.g., hologram), and massive connectivity-based IoT service are defined as key 5G services.
5G Major Technologies
Table 4 lists the major 5G technologies defined by SK Telecom. It includes evolutionary technologies that can be commercialized in LTE-A as well and revolutionary technologies that can only be commercialized in 5G. New radio access technologies (e.g., advanced IoT and new waveform/duplex) are two of the most representative 5G-specific technologies.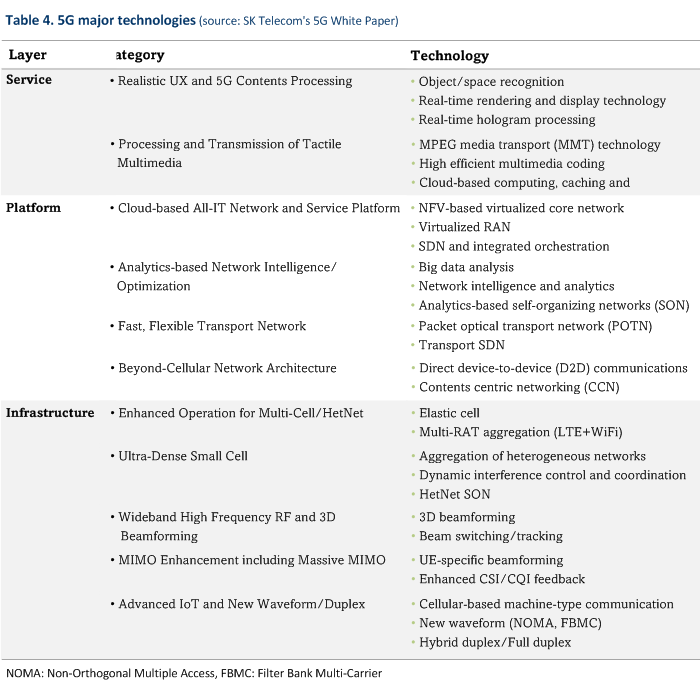 Pre-5G Displays and Demonstrations
SK Telecom presented pre-5G technologies like Pre-5G testbed, LTE FDD/TDD CA, vRAN, SDN and NFV, and distributed 5G white paper at '5G Global Summit 2014'. At 'WIS 2014', the company demonstrated 5G technologies like mmWave communication and quantum cryptography technology, and presented
various ICT convergence technologies. Pre-5G testbed (co-developed with Ericsson) and mmWave system (co-developed with Samsung), both operating at high-frequency bands, demonstrated 5 Gbps at 15 GHz band and 3.7 Gbps at 28 GHz band, respectively.