For the rest of the Q2 2015 issue of Korea Communication Review magazine please click here
As a sequel to the previous post (KT's demonstration of LTE-H and LTE-U), this post will introduce another pre-5G/5G technology, LTE-TDD, showcased by KT at MWC 2015, covering three relevant demonstrations: 9-carrier CA, LTE-UL/DL CA, and triple mode cell.
3. LTE-B (LTE-Beyond)

Figure 5. Intra-band CA demonstrated by KT and Samsung
KT, in cooperation with Samsung, implemented LTE-B that aggregates 9 LTE-TDD carriers, achieving 1Gbps (≈ 9x110Mbps) at the event. 3GPP has defined in Rel. 10 that up to 5 carriers across up to 5 bands can be aggregated, and now it is working on CA enhancements to expand LTE CA up to 32 carriers in Rel. 13 that is currently under review.
Earlier in January, KT commercialized 3-band CA that combines 3 LTE-FDD bands (Band 1, 3 and 8), supporting up to 300Mbps. Now, with this demonstration, the company proved itself capable of supporting 1Gbps through TDD CA (as claimed through its marketing brand GiGA).
This time, multiple (9) carriers within one TDD band were aggregated (intra-band CA). But, once capable RF transceivers become available in the market, multiple carriers can be aggregated across multiple TDD bands (inter-band CA).
CA certainly is the most effective way of improving user speeds and system capacities through extension of radio transmission bandwidth. The only downside is that it requires more frequency to give higher speeds and better capacities.
So far in Korea, LTE service has been commercialized using FDD frequencies only. But, over the next few years (by 2018), not only FDD frequencies but also TDD frequencies are scheduled to be allocated. Given that, the demonstration seemed to serve well as an opportunity for KT to show its readiness for provision of giga-class service through TDD frequencies as well.
4. LTE-DL/UL CA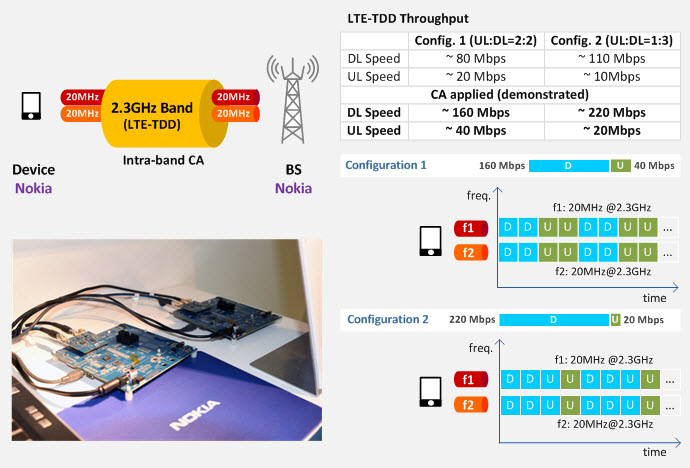 Figure 6. LTE-TDD DL/UL CA demonstrated by KT and Nokia
KT also showcased LTE-DL/UL CA, another LTE-TDD technology, capable of aggregating not only downlink (DL) but also uplink (UL). This demonstration, conducted in cooperation with Nokia (China), was the world's first "UL" CA demonstration.
Unlike FDD, LTE-TDD system uses only one carrier for both UL and DL transmission. The ratio of UL to DL transmission in one radio frame (UL:DL) is determined based on ratio configurations. For example, in case of 20 MHz bandwidth:
with configuration 1, UL:DL=2:2 and max. UL/DL speeds are about 20/80 Mbps.

with configuration 2, UL:DL=1:3 and max. UL/DL speeds are about 10/110 Mbps.
In the demonstration, two 20 MHz carriers in 2.3 GHz (Band 40) were aggregated (intra-band CA), doubling maximum speeds in both UL and DL, compared to one carrier transmission (UL: ≈40 Mbps, DL: ≈220 Mbps).
In general, TDD has an advantage in that it allows for optimized frequency utilization through efficient handling of load balancing by dynamically controlling UL-DL ratios. So, it can be very effective especially when there is traffic burstiness, or when providing service of which DL ratio is quite higher than UL.
It seems KT through this demonstration wanted to make itself become more responsive to traffic variation by taking advantage of TDD CA in case LTE-TDD frequency is acquired.
5. Triple Mode Cell

Figure 7. Triple Mode Femto Cell (LTE-FDD, LTE-TDD and WiFi) demonstrated by KT and Broadcom
The other LTE-TDD technology demonstrated was triple mode cell. The triple mode cell, showcased in cooperation with Broadcom, was the world's first femto cell that can support LTE-FDD, LTE-TDD and WiFi access all at the same time.
In the demonstration, the triple mode cell operated with 20 MHz of FDD in 1.8 GHz, 20 MHz of TDD in 2.3 GHz and 20 MHz of 802.11n WiFi in 5 GHz, allowing the mobile device to get download speeds of 150 Mbps, 110 Mbps and 450 Mbps, respectively through the three radio access modes.
Because it takes only one chipset to support three different access modes, the triple mode cell certainly has its merits: i) it is a space-saving solution, and ii) it allows mobile devices with different radio access modes to be served all at once. Once TDD frequency is secured, the triple mode cell is expected to be commercialized right away, enhancing indoor radio communication.
KT has been trying to convert the purpose of its 2.3GHz band from WiBro (Mobile WiMAX) to LTE-TDD. If everything goes well, KT will be able to acquire LTE-TDD frequency. The demonstration seemed to reflect KT's keen desire to expedite the process of converting WiBro into LTE-TDD purpose.
Ever since the LTE-FDD service (with 10MHz) launch in July 2011, Korea, with the highest LTE penetration rate in the world, has been leading development of LTE technology/service, for example, through the world's first commercialization of three new services: LTE-A (10+10MHz), Wideband LTE-A (20+10MHz) and Tri-band LTE-A (20+10+10MHz) services.
However, due to lack of available frequency, all Korean big 3 operators have had a hard time developing more advanced LTE technology with enhanced speeds and service quality.

To address this issue, the Korea Communications Commission (KCC) and the Ministry of Science, ICT and Future Planning (MSIP) announced the "National Mobile Broadband Plan" for allocation of additional frequencies. As the plan includes additional allocation of not only FDD but also TDD frequency, LTE service is expected to be commercialized through TDD as well.
Therefore, for continuous development of more advanced LTE technologies, efforts to get ready for LTE-TDD as well as LTE-FDD should be made. In that context, KT seemed to make such effort through its demonstrations using LTE-TDD.