It has been over a year since KT Chairman Hwang Chang Kyu's declaration of his vision GiGAtopia on May 20, last year. The main idea of GiGAtopia was that the company would make both of its wired and wireless networks giga-class, through investment of KRW4.5 trillion for three years to come. We thought it would be a good time to check how they did for the past one year, and what innovations have been achieved.
What's promised?
In the telecommunication industry, it's always right to be fast. With GiGAtopia, KT declared a speed battle, and promised:
• GiGA Internet: Upgrading home Internet speeds from the current 100Mbps to giga-class
- Giga FTTH, GiGA UTP: 1Gbps and 500Mbps for home users with optic fiber cable or UTP cable
- Giga Wire: As fast as 300Mbps even for home users with telephone-line only
• GiGA WiFi: Giga-class WiFi for home users
• GiGA LTE-A: Upgrading data speeds on mobile device from the current 150Mbps to 300Mbps using LTE-A
• GiGA Path: Upgrading data speeds on mobile device from the current 150Mbps to 450Mbps through interworking with WiFi
What's delivered?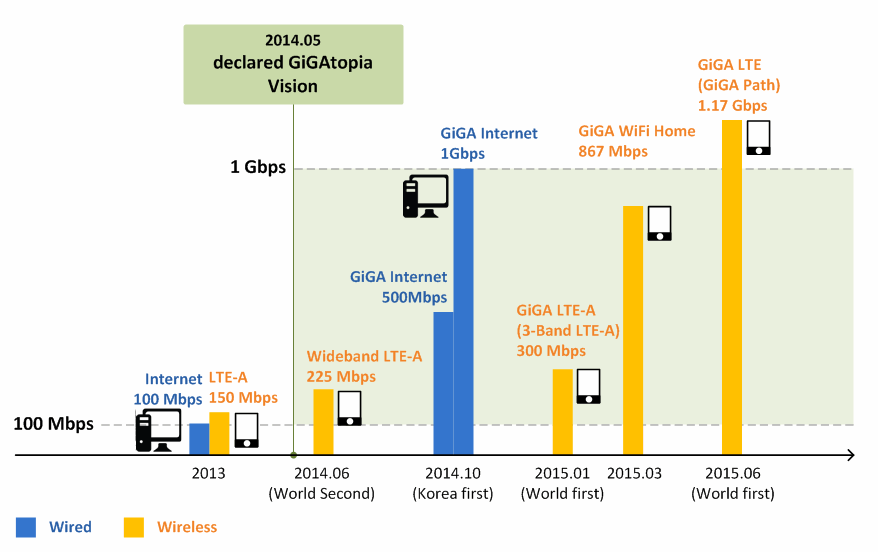 Giga Internet (GiGA FTTH, GiGA UTP, GiGA Wire): Last October, KT launched Korea's first commercial Giga Internet (based on E-PON and Ethernet Switch), supporting speeds of 1Gbps and 500Mbps. The number of subscription reached 100,000 in just two months after the service launch, and it only grew further, exceeding 200,000 in March 2015, and 300,000 in April.

​Giga WiFi Home: Launched in April, 2015, Giga WiFi Home (802.11ac, max 867Mbps) has become a pretty popular optional of GiGA Internet plan.

Giga LTE-A => 3-Band LTE-A: KT launched the world's second Wideband LTE-A service that combines a total of 30MHz (20MHz at 1.8GHz band and 10MHz at 900MHz band) and supports up to 225Mbps, in June 2014 - only days after SK Telecom did.
In January this year, it commercialized 3-Band LTE-A service that combines a total of 40 MHz (20MHz at 1.8GHz band, 10MHz at 900MHz band, and 10MHz at 2.1GHz band) and supports up to 300Mbps, for the first time in the world with SK Telecom.

Giga Path => GiGA LTE: ​Lack of LTE frequency is a big concern for every operator. Especially, Korea lacks not only frequency, but also lacks knowledgeable law makers who can understand and handle efficient distribution of frequency between the communication and broadcasting industries. So, these precious frequencies have been just wasted, and no one knew who is getting how much and when.
Korean operators, tired of just waiting, attempted to seek a way to improve speeds themselves, for example, by combining unlicensed bands with WiFi. KT also has been working hard to develop a solution to combine LTE and WiFi for the past years, and has actually made some accomplishments, like ABC commercialized in 2013, IFOM that achieved 450 Mbps in 2014, LTE-H capable of 600Mbps demonstrated at the Mobile World Congress this year.
As a result of all these efforts, this June KT commercialized GiGA LTE service that supports 1.17Gbps using MP-TCP, for the first time in the world. The new service combines LTE (3-Band CA, 300Mbps) and Giga WiFi (802.11ac, 867Mbps) to achieve speeds of 1.17Gbps. Although it actually supports up to 700~800Mbps in real networks, it is still pretty much something that a wireless solution can offer giga-class speeds.

UHD IPTV: In September last year, KT became the world's first IPTV service provider that offers real-time UHD broadcasting service and VoD service. UHD IPTV service, along with Giga WiFi service, justifies why even home users need GiGA Internet. KT is the only IPTV service provider operating 3 UHD broadcasting channels in the nation, and as of the end of June it is offering 306 VoD titles in UHD.

One word that best describes Chairman Hwang would be 'a man of tremendous drive'. Over just one year, he has actually accomplished a lot, probably as a result of sticking to one goal - achieving giga speeds.
It is true that lots of GiGAtopia components, including Giga Internet/Giga Wire, Giga WiFi, Giga Path, Giga LTE-A, etc., are achievements of others who had been at KT before him. But I guess what was missing then was one good leader as all those excellent technologies had been only working individually, not very efficiently. The company needed a pivotal leader who can see the big picture. Then, Chairman came and declared the new vision of GiGAtopia, putting things together to make a big thing. It takes only one good leader to make changes.
I have to admit that I was a little skeptical when Chairman Hwang first joined the company last year because he was a memory guy, rather than a networking guy.
How is a memory guy from Samsung, a maker of parts and devices, going to run a telecom specializing in networking and connections?
It appeared he took a more vendor-like approach, that is, "what would customers want on their devices?" He chose to give them faster connection, which in fact can impress customers most easily. It looks like, he came, he saw, and he conquered - at least until now.