While 2G still has the biggest share in the global market, 4G LTE has certainly been up and running in most countries (186 countries as of January 2017. Source: GSA). As of Q3 2016, the global LTE subscription rate reached 22.4% (source: OVUM) and it is still going up. Especially, global LTE leaders have reported 70~80% of LTE penetration. Those with matured LTE markets, like South Korean big 3 telcos and Verizon in the USA, have been seeing stagnant profits for years, and anxiously looking to switch to 5G quickly.
Traditionally, mobile communication technologies had been categorized into 'generations'. So, every time a new generation evolved into the next generation, new frequency, new radio access technology (RAT), and new network (RAN/Core) were defined and introduced, offering faster speeds and new services. But then there came 4G (LTE), which brought an integrated Core network to the world, allowing different RANs (2G/3G/4G/non-3GPP) to work together on it. 5G went even one step further, introducing a brilliant technology, 'virtualization', which makes it possible for different RAT, RAN and Core to be implemented as software on a universal server. This enabled telcos to adopt IT technologies that leverage open source SW/HW, making the communication infrastructure even more IT-based. As a result, the 5G ecosystem can extend its boundary to embrace ICT such as IT and IoT in addition to communication. This is why all telcos are aggressively seeking ways to transform into a platform provider, media service provider, solution provider or more.
5G global standardization has been driven by ITU and 3GPP. 3GPP aims to make technical reports (TRs) on 5G study items in Release 14 (scheduled to be finalized in June 2017), and develop 5G technical specifications (TSs) in Releases 15 and 16. When Release 14 is finalized and Release 15 begins in June 2017, a global race to take the lead in standardization, system development, and commercialization of 5G will begin in earnest.
5G commercialization has been mostly driven by telcos whose LTE has already reached the level of maturity or those who are in desperate need of increasing network capacities, and also by three nations in East Asia (South Korea, Japan and China) who are eager to develop and present 5G services during the Olympics games they are respectively hosting in 2018 (Winter), 2020 (Summer) and 2022 (Winter).
Although 3GPP 5G standard specifications, including supports for high-mobility, are not expected to be finalized before 2020, telcos like Verizon and AT&T are acting proactively. They aim to present broadband Internet that leverages pre-5G specifications, mmWave-based fixed wireless access (FWA), in 2017 in order to replace narrowband Internet and expand broadband service coverage. There certainly is a risk that such investment can fail if the actual 5G specifications end up being substantially different from the pre-5G specifications. Despite such risk, the two telcos are so determined as they need to expand broadband service coverage quick, and want to make 5G's standards resemble pre-5G's as much as possible.
Most active global leaders in 5G development include South Korean big 3 telcos (KT, SK Telecom and LG U+), and Verizon and AT&T in the USA, NTT DoCoMo in Japan, and China Mobile in China. We will look into 5G standardizations so far first, and analyze 5G strategies and developments by some of these 5G players.
Table of Contents

I. 5G Standardization so far

II. 5G Developments in Leading Countries

1-2. SK Telecom

1-3. LG U+

2. U.S.

2-1. Verizon

2-1. AT&T

3. Japan

3-1. NTT DoCoMo

4. China

4-1. China Mobile
I. 5G standardization so far
5G standardizations are led by two major standardization agencies: ITU and 3GPP.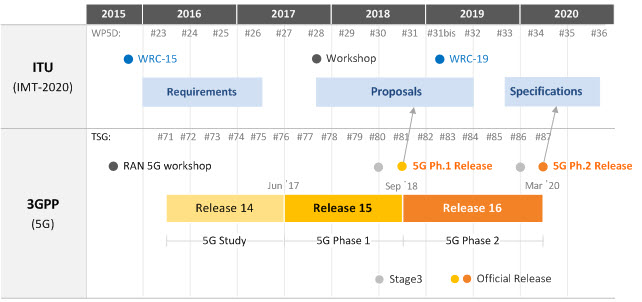 Figure 1-1. Timeline for 5G in ITU-R (WP5D) and 3GPP
1. ITU
Most 5G standardization initiatives by ITU are carried out by two different groups: SG5 Working Party 5D (WP5D) for NITU-R and SG13 Focus Group IMT-2020 (FG IMT-2020) for ITU-T. In 2015, ITU-R WP5D defined 5G communication as 'IMT-2020', presenting the following 5G usage scenarios:
MBB (enhanced Mobile Broadband),
mMTC (massive Machine Type Communications),
URLLC (Ultra-Reliable and Low Latency Communications)
ITU-R WP5D plans to have 5G technical performance requirements, and evaluation criteria and method finalized in June 2017 (at the 27th meeting), and begin to collect 5G proposals starting October 2017 (the 28th meeting) to present the final 5G standard specifications in October 2020 (the 36th meeting). Allocations of 5G frequency bands are to be announced in the 2019 World Radiocommunication Conferences (WRC-19).

Figure 1-2. ITU-R: Detailed timeline of IMT-2020 (5G)
<Table 1-1> 5G performance index (as reported in the 25th WP5D meeting in October 2016)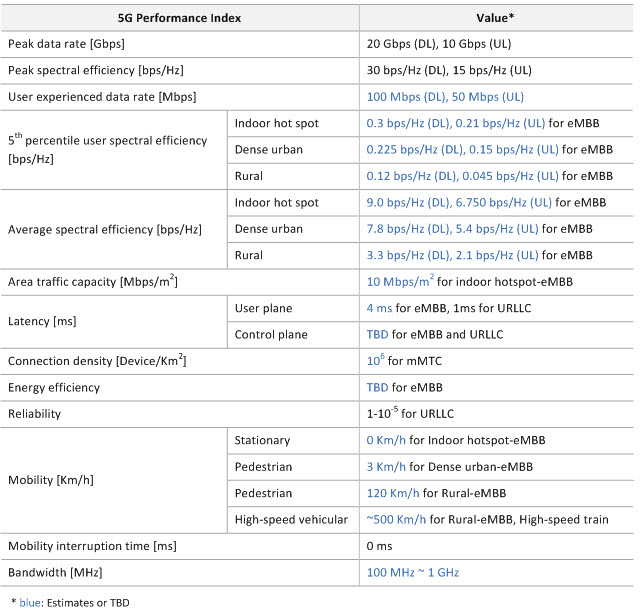 2. 3GPP
3GPP is set to conduct a preliminary study on 5G specifications in Release 14, and, based on the findings, begin to develop 5G specifications in Releases 15 and 16. Release 15 will release 5G Phase 1 specifications that define basic features of 5G, and Release 16 will release 5G Phase 2 specifications defining additional features of 5G. 5G specifications will be finalized through two phases - Phases 1 and 2 ending in September 2018 and March 2020, respectively, but Stage 3 will end in June 2018 and December 2019.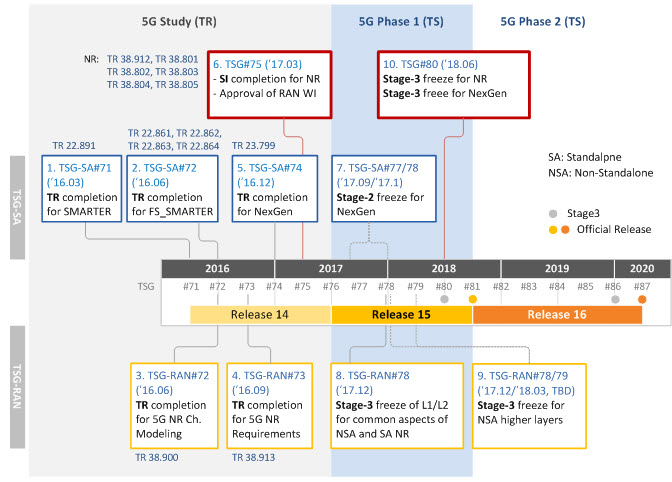 Figure 2-1. 3GPP: Detailed Timeline of 5G (as of Dec. 2016)
■ Release 14
The purpose of Release 14, a preliminary study phase needed to establish technical specifications (TSs), is to write technical reports (TRs) of 5G. Two of the most representative study items of 5G are 'Requirements for 5G access technology' by TSG (Technical Specification Group) RAN and 'Architecture for 5G system' by TSG SA (Service & System Aspects), which are defined in TR 38.913 and TR 23.799, respectively.
<Table 2-1> 5G technical reports in Release 14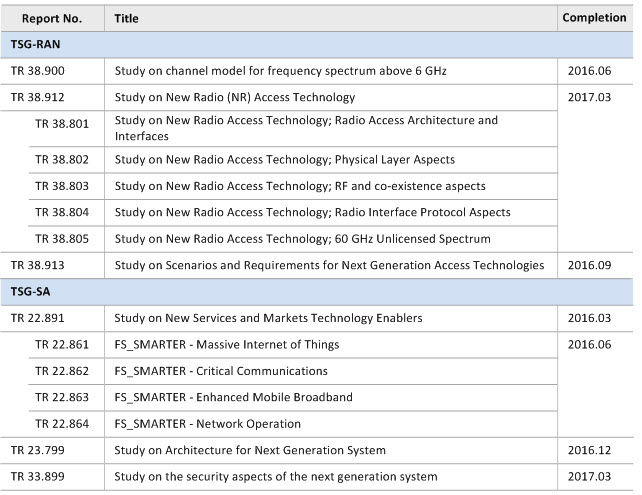 Below, we will briefly see some key 5G TRs prepared in Release 14 so far.
TR 38.913: Defines key performance indicators of 5G new radio (NR).
<Table 2-2> Key performance indicators for 5G new radio (TR 38.913 [V14.0.0])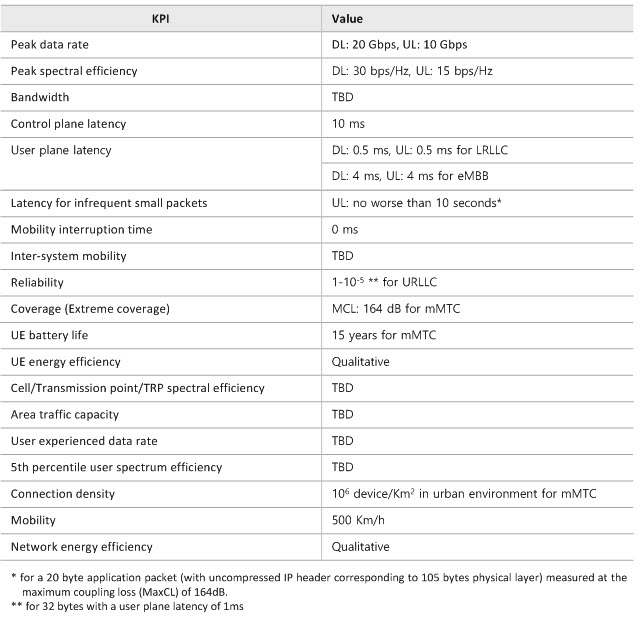 22.891: In March 2016, 3GPP SA1 released TR 22.891 which outlined SMARTER (New Services and Markets Technology Enablers), one of the 5G study items (SI).
| | | | |
| --- | --- | --- | --- |
| | TR 22.891 defines over 70 use cases classified in five categories (See <Table 2-3> below). SA1 is currently finalizing separate SI works in these five categories, and has already conducted studies on the following four SIs in Release 14, completing the relevant technical reports (TR 22.861, TR 22.862, TR 22.863, and TR 22.864): | sp | |
Enhanced Mobile Broadband,
Critical Communications,
Massive MTC,
Network Operation
A TR about Enhancement of V2X is scheduled to be completed in Release 15.
<Table 2-3> Use case categories (TR 22.891 [V14.0.0])

TR 23.799: 3GPP SA2 released TR 23.799 in last December which outlined the results of 'NextGen' study for 5G network architecture carried out in Release 14. In TR 23.799, key features relating to 5G network architecture are defined. <Table 2-4> shows what features are included and in which phases their technical specifications will be determined.
In 5G, eMBB service requires ultra-fast speeds (20 Gbps), mission-critical IoT service requires excellent latency (<5ms) and reliability (99.999%), and massive IoT service requires massive connectivity (106 devices/Km2). To meet all these requirements in various services, a 5G network should be versatile to offer an optimized and tailored solution for each service. One of the candidate technologies for that purpose is network slicing, which will be standardized in Release 15. Network slicing is one of the most essential technologies that 5G can probably rely on as it allows operators to split one physical network into multiple logically-independent networks.
<Table 2-4> Key issues for 5G system architecture (TR 23.799 [V14.0.0]) and phase of 5G system architecture work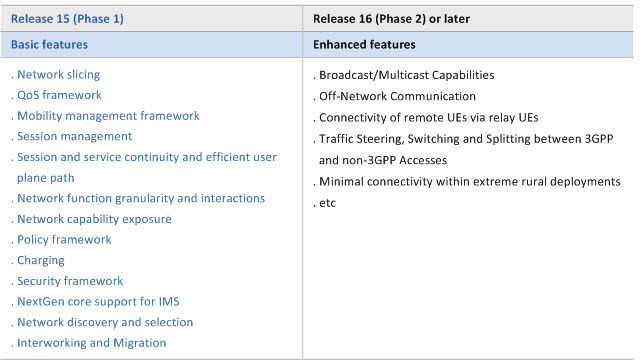 ■ Release 15
The scope of NR to be standardized in Release 15 include both non-standalone (NSA) and standalone (SA) operations. In NSA mode, both 5G NR and LTE can work together because the mode allows 5G NR to use LTE as an anchor on the control plane. Also, SA mode lets 5G NR work independently by supporting it with full control plane capability. While focusing on eMBB-type services, one of the 5G usage scenarios defined in ITU (eMBB, mMTC, URLLC), it also provides support for some URLLC-type services.