For the rest of the Q3 2015 issue of Korea Communication Review magazine please click here
As of April 2015, SK Telecom's mobile data traffic accounts for 44% of the entire mobile traffic in Korea (See Figure 1). Since the launch of LTE service, the company has experienced rapid growth of mobile traffic - more than tenfold from 5.7 PB in June 2011 (right before LTE service launch) to 57.7 PB in April 2015. With the company's announcement of unlimited LTE data policy in May, LTE traffic is expected to increase even more and faster.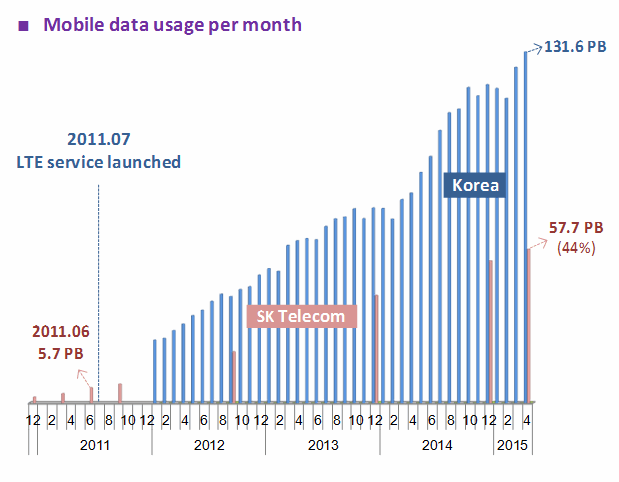 Figure 1. SK Telecom's mobile traffic growth (source: MSIP and SK Telecom)
SK Telecom, with a 47% market share in Korean LTE market, has the same amount of LTE frequency bandwidth (in DL) as its competitors, but is generating almost half of the entire LTE traffic in the nation. Currently, the company has a total of 40 MHz commercial LTE frequency across three bands: 10MHz at 850 MHz (Band 5), 20 MHz at 1.8 GHz (Band 3), and 10 MHz at 2.1 GHz (Band 1) (FDD LTE and DL only). Since 3-band carrier aggregation (CA) commercialization in last December, SK Telecom has been supporting up to 300 Mbps.
For enhanced network capacity, SK Telecom made LTE/LTE-A macro cells in urban areas smaller - as small as several hundred meters in radius. And it began to employ Centralized Radio Access Network (C-RAN ) for reduced cell site construction costs and efficient inter-cell coordination. As a result, most of its base stations have become C-RAN based, and small RRHs were introduced in some regions last year.
For indoor, Distributed Antenna System (DAS) solution has been pretty dominant. This solution, originally designed for extending coverage, might not work best today because what is sought after most now is a solution that can extend an indoor/ in-building capacity for accommodating the ever- increasing LTE traffic of these days. For this reason, i) DAS solutions have been evolving to give enhanced capacity, and ii) small cell-based solutions have been introduced. Let's take a look at SK Telecom's in-building solutions now.
I. SK Telecom's In-building Solutions
SK Telecom's highly scalable in-building solutions (for medium and large-scaled buildings) can be classified as follows:
• DAS Evolution
• 3G DAS + LTE small cell
• Indoor C-RAN: NEURON
DAS, traditionally focused on coverage expansion, is now evolving to yield increased capacity. In the meantime, small cells, capable of providing capacity on their own, unlike DAS, are evolving to further extend their coverage, beyond hotspots. This nature of small cell inspired SK Telecom to come up with new in-building solutions. First, in line with the decision to convert some of the 2.1 GHz 3G band to LTE band, it combined LTE small cell and 3G DAS at 2.1 GHz in 2014. Second, it presented NEURON, a solution designed to adopt C-RAN architecture for indoor use (tested in early 2015).
II. DAS Evolution
Conventional DAS: A popular coverage solution since 2G/3G designed to extend the coverage of a base station to areas with poor radio reception in a building. It brings RF signals from a base station/ RRH into a building via optic/RF cables, and has them transmitted across the building via antennas distributed in the building. This solution lets an outdoor cell work indoor as well, allowing its coverage to extend indoors.
Benefits: DAS distributes RF signals to antennas, and can deliver different Radio Access Technologies (RAT) like CDMA, WCDMA, LTE, etc., all through a single optic/RF cable (technology-neutral). Plus, since a single cell covers both indoors and outdoors, no quality degradation is caused by inter-cell interference or handover.
Drawbacks: DAS has too many components (attenuator, donor unit, remote unit, splitter, coupler, booster, etc.), which means complicated installation, longer construction period, and higher construction costs. But, what is even worse is that it has poor scalability which will make it hard to increase capacity when needed in the future - a serious drawback in this era of soaring data traffic. Also, all antennas used in DAS require individual power adjustment. Besides, if any of them fails, it is hard to detect the one that failed. Because outdoor cell resources are shared, high-speed data usage can be limited.
In-building solution I: DAS Evolution
Because LTE serves more data than voice, DAS should be able to provide not only good coverage, but also good capacity. In addition, installing process should be fast and inexpensive. To satisfy all these requirements, SK Telecom's DAS is evolving to ensure:
• Cheaper and faster installation using UTP cabling: To save costs of cabling, which often is the No. 1 cost-increasing factor in DAS installa- tion, economical and scalable standardized UTP cables are used instead of RF cables.
• Remote management: A smart antenna unit with both antennas and RF transmission control modules is introduced. A smart antenna unit reports radio signal measurements and status information, and remotely performs tasks like configuration, status check, fault management, etc., allowing for remote optimization.
• Increased capacity: MIMO and CA are supported for increased capacity. MIMO requires more antennas because it allows different types of radio signals to be sent within the same frequency band. CA combines radio signals from different frequency bands, and thus requires more frequency bands. Although in need of more frequency bands than MIMO, it can take advantage of SISO mode, doubling the speeds at devices.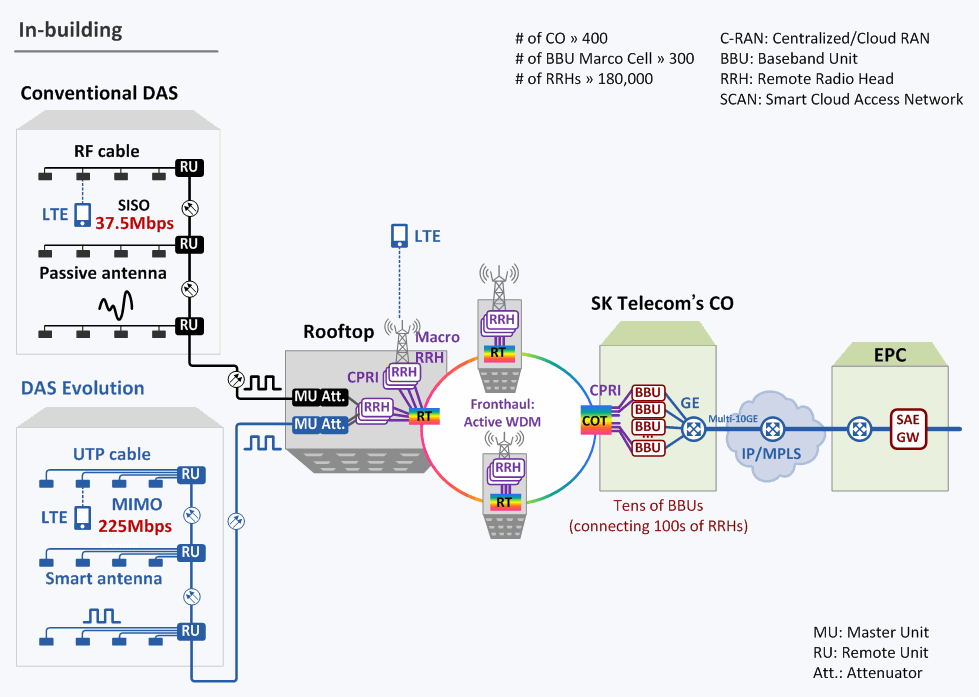 Figure 2. Architecture of DAS evolution
III. Small Cell
How will they evolve?
So far, SK Telecom's small cell evolution has been focused on femto cell. Now the operator is attempting to make small cell further evolve to serve larger buildings as well. The evolution of femto cell can be summarized as follows:
• In 2012, SK Telecom launched the world's first LTE public femto cell for hotspots that serves up to 32 active users. One public femto cell can offload data traffic at a macro cell by 6.6%, improving indoor capacity as well as macro user's throughput.
• In 2013, the world's first C-RAN-typed (DU and RU separated) LTE femto was introduced. Although this Femto Remote Solution (FRS) has not become very popular and ended up being applied only in limited areas, R&D activities on this type of indoor C-RAN went on. Then, at the beginning of the year, NEURON, a new solution featuring the ability to support fronthaul of any kind and high scalability, was showcased, and is getting ready for commercialization.
• In 2014, SK Telecom presented RF Reconfigurable Femto, alleviating interference with outdoor cell while increasing femto cell capacity to support up to 64 users. In January 2015, it commercialized eICIC, an interference coordination solution in HetNet, for the first time in the world.
What to consider when using small cell in-building solution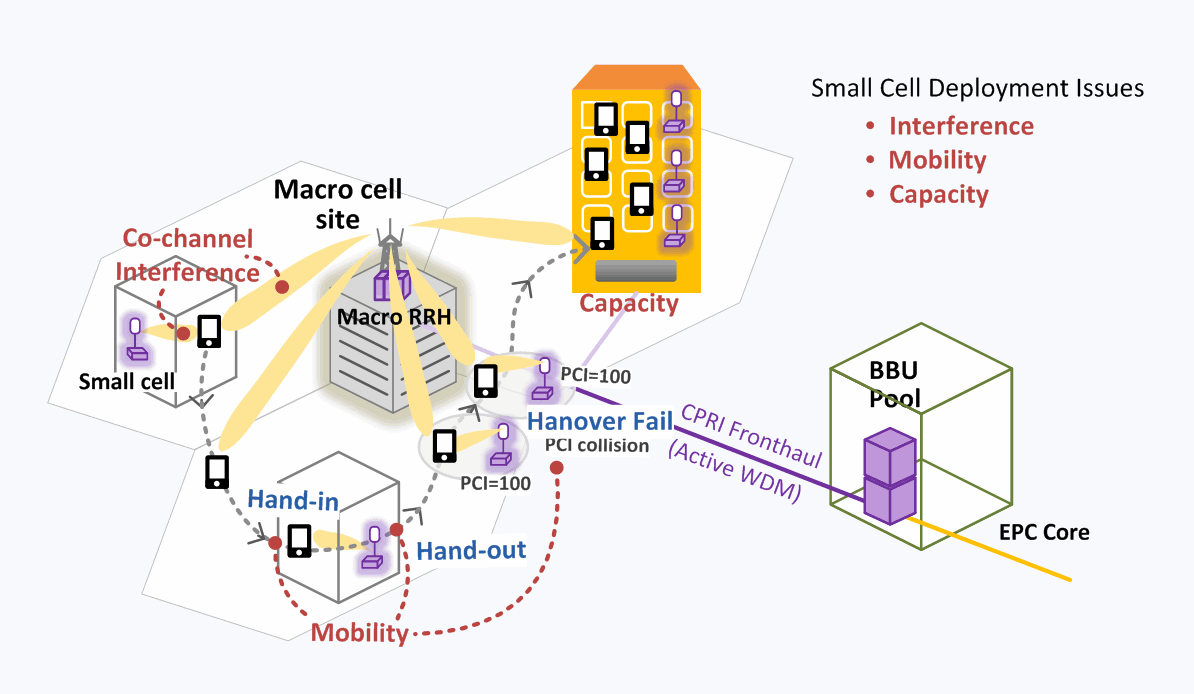 Figure 3. What to consider when deploying small cell
DAS boosts RF signals from an outdoor base station and distributes them. So, the resources of the outdoor base station are used. Small cells, on the contrary, are low-powered base stations with their own resources (i.e. with frequency re-use), and thus can improve capacity by using the resources. Small cell-based solutions have been actively adopted for indoor, but it does not appear they can simply replace DAS, yet. Then, what are key issues that SK Telecom should consider to make small cell solutions work as hotspot/in-building solutions in urban areas?
• Interference: Operating with the same frequency by indoor small cell and macro cell can cause co-channel interference. To minimize this interference, SK Telecom introduced multi-band small cell in August 2014 and eICIC in January 2015. Multi-band small cell is a reconfigurable public femto cell, and so it can use any of the three LTE bands (Band 1, 3 and 5), eliminating the chance of two cells' using the same band. eICIC makes macro cell and small cell work at different times, effectively avoiding co-channel interference.
• Mobility: Handovers between macro and small cells during hand-in (from outdoor to indoor) or hand-out (from indoor to outdoor) may cause QoE degradation. Other causes for QoE degradation include co-channel interference, as mentioned above, and technological disparity among macro/small cell vendors in implementing handovers. SK Telecom introduced eICIC to minimize co-channel interference, and has managed both macro and small cells through a single solution, centralized SON, thereby addressing multi-vendor interworking issues.
• Capacity: The success of a small cell solution in increasing capacity in medium and large-scaled building lies in the way small cells are deployed. Small cells are low- powered base stations designed specifically for short range use. So, an economical and scalable in-building solution that can extend coverage across the entire building is needed.
The goal of SK Telecom's small cell-based in- building solution for medium and large-scaled buildings is to find a cost-effective way to improve both capacity and coverage. And SK Telecom has been making efforts to achieve the goal through introduction of new solutions like, 3G DAS- combined LTE small cell solution in 2014, and NEURON solution (deploying RUs of small cells as in DAS), to be discussed in details below, in early 2015.
In-building solution II: 3G DAS + LTE Small Cell
This solution can be useful when you want to enhance in-building capacity in a building where DAS system has already been installed. You can simply add a small cell to the current DAS system - fast and economical.
Last year, SK Telecom converted a part of its 2.1GHz 3G band to LTE band - 10 MHz out of 30 MHz (DL), and launched a new in-building solution that adds a 2.1 GHz LTE small cell to the current 2.1 GHz DAS system. So, this solution allows for two different RF signals, 3G signals from macro cells and LTE signals from small cells, to be combined on RF through an optic repeater. And as a result of the combination, the DAS system, now with added LTE small cell capacity, can benefit from the resulting in-building capacity improvement while the LTE small cell can extend its coverage by leveraging the established DAS infra. Currently, SISO antennas are used in DAS systems, and the capacity increase expected from an added LTE small cell is 37.5 Mbps.
An LTE small cell is designed to be connected to a Master Unit (MU) or Remote Unit (RU) at DAS. Incoming LTE RF signals are received through a MU (or RU), and then converted into optic signals before being distributed by DAS. How many and where to add small cells are determined according to the amount of traffic. For example, just one at MU will work for low traffic, but one at each RU is required for high traffic. To an MU with sectoriza- tion feature, multiple small cells can be connected, allowing for dynamic control of in-building capacity and the coverage of each small cell.
3G base stations are connected to the EPC core network, through Packet Transport System (PTS) and then through 3G mobile backhaul. However, each LTE small cell can be connected to the core network either through SK Telecom's mobile backhaul or through SK Broadband (SKB) Internet network depending on their locations and the conditions of SK Telecom's infra. For example, an LTE small cell installed at a 3G base stations connects to the core network through PTS while ones installed remotely (e.g. in other building) connect through the SKB Internet network. A small cell accessing through the Internet network must be connected through security GW and small cell GW.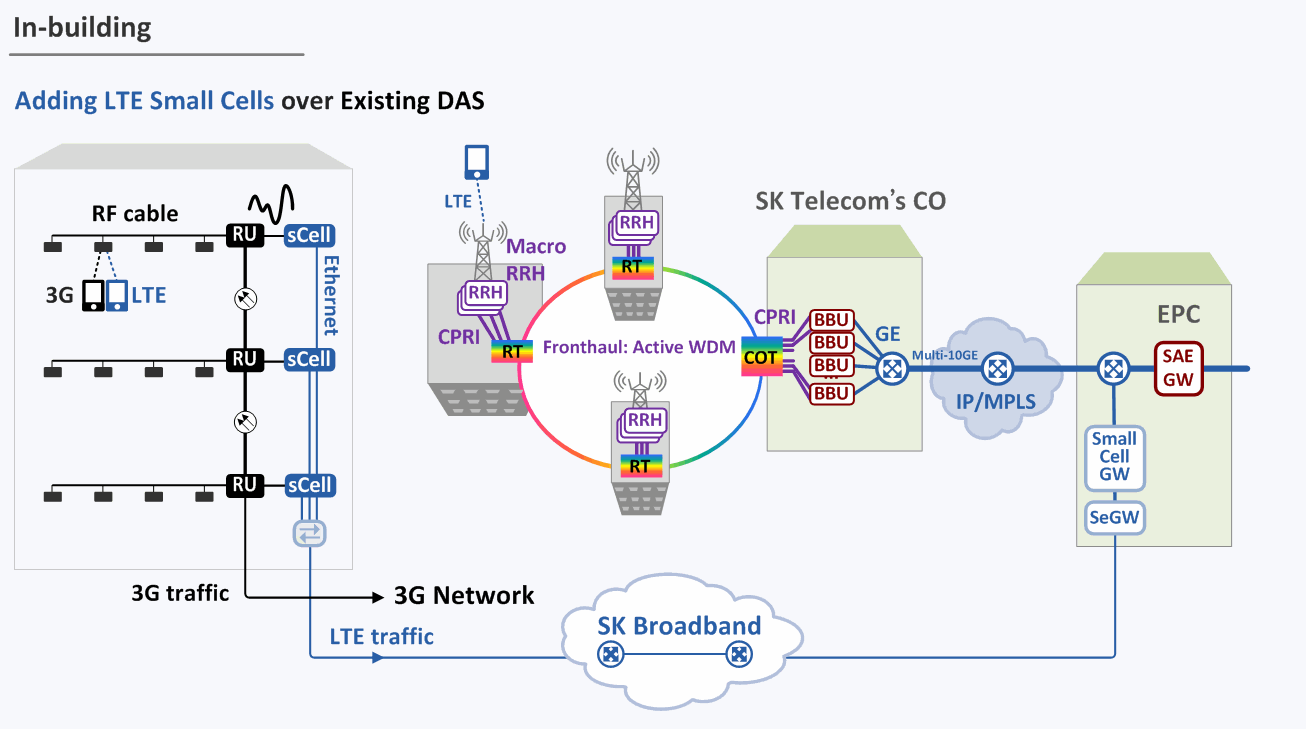 Figure 4. Combining LTE small cell with 3G DAS (2.1GHz)
Each small cell can serve up to 64 active users at once. According to the data released by SK Telecom at the Small Cells Asia Summit 2015, the average connected users at a 15-story building in Seoul was around 60. In a test that applied Small Cell + DAS solution in a 15-story building, the success rates of E-RAB/RRC and hand-in/out were reported 100/ 99% and 97/99%, respectively.
In-building solution III: NEURON - LTE small cell with C-RAN modified for indoors
Another small cell-based in-building solution is NEURON, which is a version of C-RAN modified for indoor. This solution can be an excellent option when DAS system cannot be leveraged because it features small cells with C-RAN architecture where DU and RU are separated. These types of small cells can provide their own capacity (i.e. resources and DU) unlike DAS, but their RUs are still distributed across the building just like DAS. Because NEURON allows small cell stations to group the RUs the way they want, cells can be configured dynamically and virtually. So, for example, you can group all the RUs into one to create a single cell as in DAS, or form multiple cells depending on the traffic condition in the building. NEURON (New Extendable eNB based on UTP, RF and Optic for fronthaul) was demonstrated in the beginning of the year, and is currently being tested for commercialization in the second half of the year.
NEURON consists of DU, Optic Extendable Unit (OEU) and RF Unit (RU). Between DU and OEU, baseband signals are digitized, and transmitted through optic cables. Then between OEU and RU, IF signals are digitized, and transmitted through UTP cables. Because distributed RUs are connected through inexpensive UTP cables, it costs much less and takes much shorter to build an in-building network.
• DU: Cost-effective as a femto modem is used. Can serve up to 64 active users when 10MHz used (up to 128 when 20MHz used). Each DU can support up to 80 RUs. Dynamic cell configuration made possible as RUs can be grouped according to traffic conditions.
• OEU: Connects to DU (or other OEU) through optic cable, and to distributed RUs through UTP cable. UTP cable connection works within up to 100m, but optic cable performs much better, allowing RUs to be distributed pretty far. OEU uses radio signal digitization and compression technologies for more efficient transmission through UTP cables. After terminating baseband signals, OEU converts them into IF signal. Then it digitizes and compresses the signal, and sends it to RU. OEU supplies the RU with remote power using Power over Ethernet (PoE)
• RU: Connected to OEU through UTP cables. When digitized IF signal is received from OEU, RU converts it into RF signal, and then transmits it through antennas. There are two types of RU:
i) LTE-only RU that can support only one LTE band, and
ii) WiFi-embedded RU that supports two LTE bands and WiFi band. Because WiFi- embedded RUs can operate with both 10MHz at 2.1GHz, and 20MHz at 1.8GHz, CA can be supported, providing up to 225 Mbps throughput.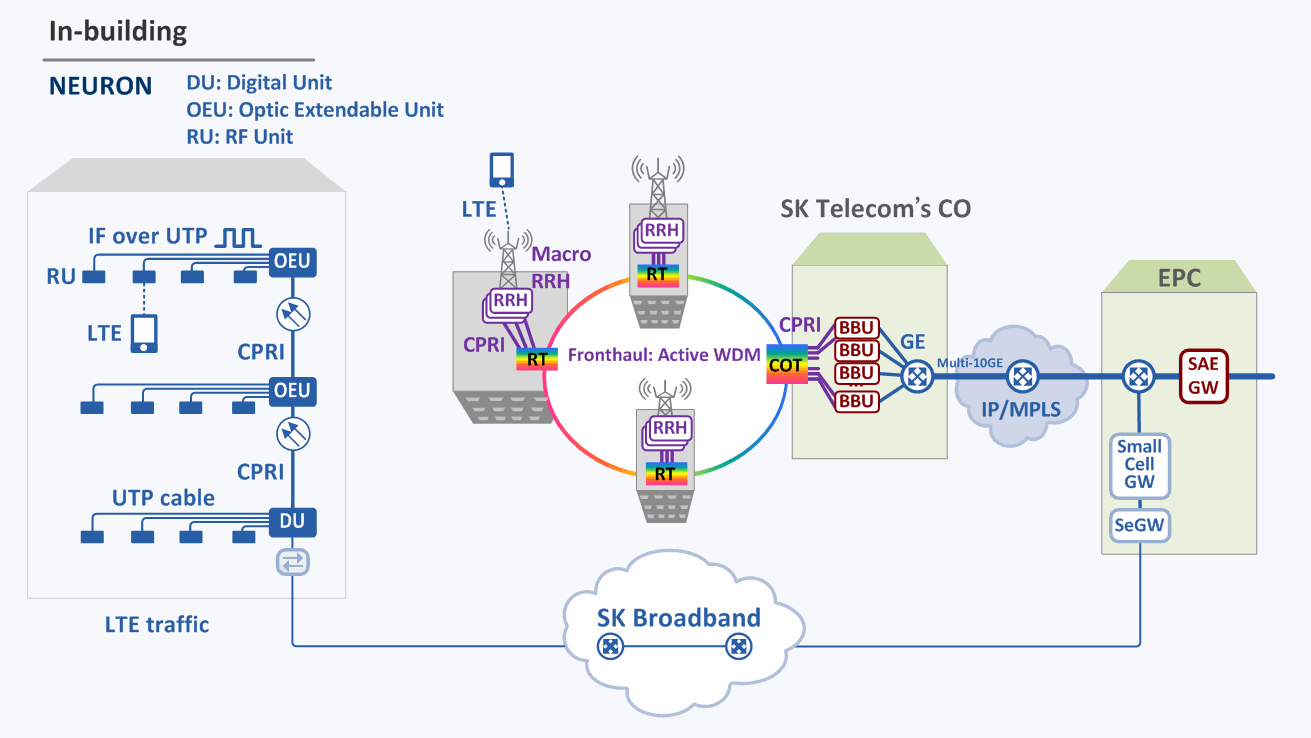 Figure 5. NEURON - LTE small cell with C-RAN modified for indoors
NEURON supports all types of fronthaul (optic, RF and UTP cable), and thus can give fairly flexible small cell coverage. It features DU with a femto modem, LAN (UTP) cable-friendly RU, and OEU with great scalability. Because of these properties, the solution is known to extend coverage as well as capacity in buildings of any scale, from small to medium/large-scaled buildings, in a more cost- effective, flexible way. In a test conducted by the operator, NEURON was found to support 41~125 Mbps when using 20 MHz at 1.8 GHz, and 26 ~ 56 Mbps when using 10 MHz at 850 MHz.
IV. Summary
We have so far explored the three in-building solutions by SK Telecom: DAS evolution solution, DAS + LTE small cell solution, and NEURON. We have also learned how DAS and small cell, respectively based on excellent scalability in coverage and capacity, are evolving, independently or dependently, for further enhancement of coverage and capacity. Now with more options to choose from, an operator can find a solution to use to build, operate and extend a more economical and reliable in-building network, according to its needs and conditions, like the current network infra in the building, the operator's infra in the area, etc.