In last November, KT, a South Korea-based telco, formed 'NB-IoT Alliance' with LG U+, aiming to launch NB-IoT service as early as Q1 2017. Later in the month, the company, apparently stimulated by SK Telecom who had just started LoRa-based, IoST-dedicated, commercial services, announced another plan to complete deployment of a nationwide NB-IoT network by June 2017 for faster entry to the market.
IoST is specifically designed to transmit small-volume data (sensor data like temperature/humidity, location data, etc.) by leveraging Low Power Wide Area (LPWA) network technology. Low costs (e.g. low network, module/device and service fees) are essential to keep the market barrier low.
Both KT and SK Telecom launched an LTE-M-based, IoST-purposed network back in last March. But for their flagship IoST network, SK Telecom chose LoRa and KT opted for NB-IoT after taking every aspect like low power consumption, module price, coexistence efficiency with LTE, scalability in the ecosystem, into consideration.
With a nationwide LoRa-based, IoT-dedicated network operating since last June, SK Telecom began commercial IoST services in last November. Before anyone else in the market, the telco announced a plan to transform itself from a conventional telco into a platform provider. In line with the plan, the company is prioritizing its efforts to make its IoST business more platform-centric. Dominating the market must take place before platforms can be expanded in the market. With that in mind, SK Telecom has been making quick moves in the IoST market by taking advantage of LoRa which has a relatively well-established ecosystem for faster time-to-market (see the articles in Netmanias Blog 1, 2, 3 and Report for more information). SK Telecom chose LoRa because of its price competitiveness and its open source advantage that helps to build/scale a platform-centric ecosystem.
KT, on the other hand, selected NB-IoT, a 3GPP standard solution, as the underlying technology for its IoST business. As a hosting telco of the PyeongChang Winter Olympics, it has dedicated its resources to 5G trial service for the event, which apparently made it hard for the company to allocate time or resources to a major project like building an IoT-dedicated network. KT's choice of 3GPP-based IoT has advantages in that i) because it is already a global standard, it is relatively easier to accommodate any technological changes in the future, ii) it facilitates roaming and interoperability, iii) QoS guarantee and enhanced security and interference performance are provided as licensed bandwidths are used, and iv) because it can use the legacy LTE network without having to install an additional IoT network, cost-efficiency can be achieved.
Despite the foregoing benefits, NB-IoT has some challenges to overcome as well. It has only been months since NB-IoT was first defined as a standard in Release 13 in last June, and further standardization in Release 14 is under way. Given the fact a good number of commercial LoRa services were launched by SK Telecom a while ago, and it usually takes one to one and half year for a technology to be offered in forms of commercial services after being defined as a standard, NB-IoT is obviously being left behind in the race to the market. Besides, even when building an NB-IoT network leveraging the legacy LTE network, additional investment has to be made to ensure the legacy system can actually support Release 13 NB-IoT functions. This will all leave KT burdened with the challenges of finding a way to catch up in the race to the market and seeking an efficient way to deploy an NB-IoT network.
Below, we will briefly discuss KT's IoST strategies, specifically focusing on NB-IoT, and explore some technologies related to NB-IoT.
<KT's IoST strategies>
■ Massive IoT and Critical IoT
KT provides IoST services in two areas: massive IoT where small volume data are delivered at very low rates using NB-IoT technology and critical IoT area where large volume data are delivered at high rates using LTE-M technology.
Massive IoT (NB-IoT): smart metering, smart waste management, disaster prevention, anti-theft, asset management, location tracking, smart factory, etc.
Critical IoT (LTE-M): health care, wireless payment, home control, vehicle communication, traffic Social Overhead Capital (SOC), location tracking, smart factory, etc.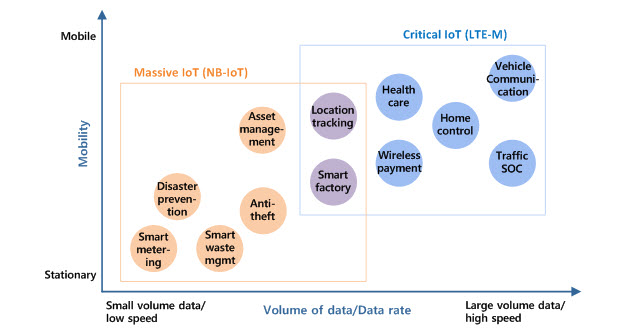 IoST service areas categorized by KT (source: KT)
■ KT's IoST: Past, present and future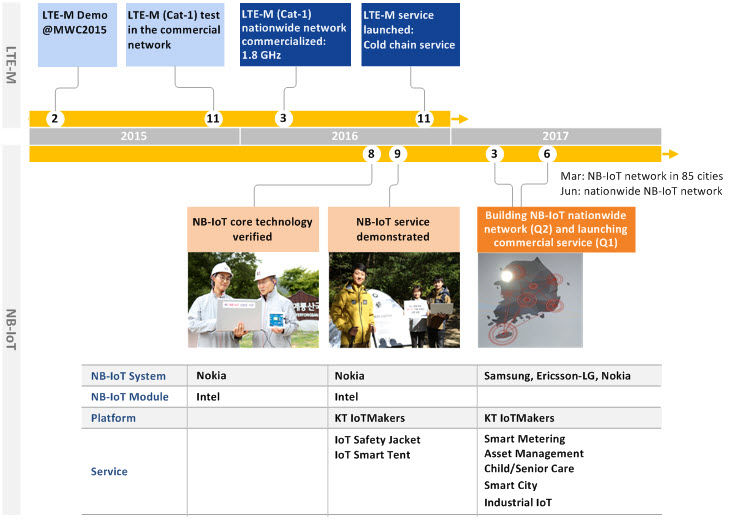 KT's IoST: Past, present and future
• Progresses in LTE-M
After completing deployment of a nationwide LTE-M network in last March, KT launched cold chain service for blood box transportation in the end of last November. In the coming spring, anti-theft solution for bikes will become available.
LTE-M cold chain service (blood box transportation)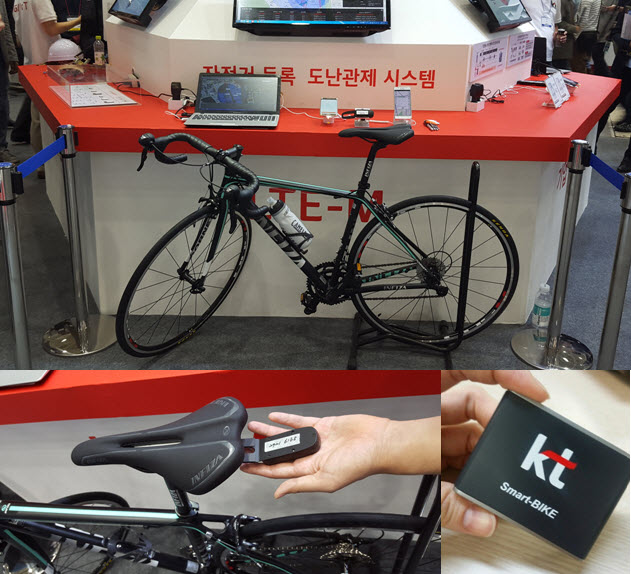 LTE-M anti-theft solution for bikes
• Progresses in NB-IoT
In last August, a coverage enhancement solution was demonstrated by the company in the 'commercial' network for the first time in the world. One month later, another demo of NB-IoT solutions like safety jackets and smart tents for hiking was conducted in an actual mountain environment. By March 2017, the company aims to deploy commercial NB-IoT networks in 85 cities first and then expand nationwide by June. In the 1H of 2017, some commercial NB-IoT services are scheduled to arrive.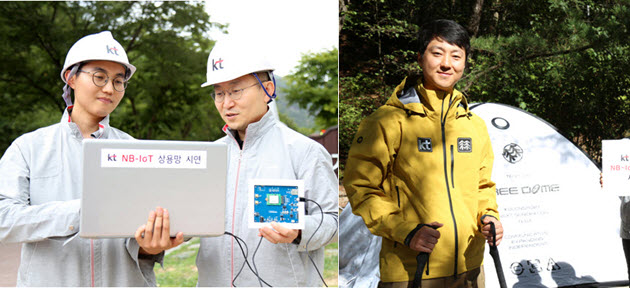 NB-IoT demoed in the commercial network (left) and NB-IoT service demoed (right)
■ Benefits of NB-IoT
KT pointed out that, because NB-IoT, technically a evolved version of LTE, uses licensed bands, it can give guaranteed service quality and added layer of security, compared to LoRa which uses unlicensed bands. SIM-based authentication ensures enhanced security and voice calls are supported for expanded range of applications. KT can benefit not only from its existing LTE base stations, but also over 300,000 repeaters deployed across the nation to serve conventionally under-served areas like indoors, underground and remote areas. Also unlike LoRa that has maximum Tx power of 200mW, NB-IoT offers wider coverage ranges thanks to its higher Tx power of 3W or above. Besides, its ultra-high capacity empowers each cell to connect over 15,000 devices. This all puts it at a great advantage in terms of business profitability.
The functional features that KT's NB-IoT technology is to provide include: 10+ years of battery span, $5 or less per module, and 7X or more coverage (For 3GPP NB-IoT requirements and technologies will be discussed later in this article).
■ NB-IoT business plan
KT's NB-IoT business can be categorized into five key areas: metering, asset management, child/senior care, smart city and industrial IoT.
<NB-IoT business categories (source: KT)>
Specifically, KT seeks to offer more reliable smart metering solutions leveraging NB-IoT security technology, and expand the service ranges of asset management to global logistics taking advantage of roaming and KT SAT satellites. Child/senior care will also be enhanced covering wider areas including underground and remote areas.
■ NB-IoT partnership with LG U+
As SK Telecom unveiled commercial LoRa services in the market in last November, KT and LG U+ formed partnership for faster launching of NB-IoT services in early November last year. The two telcos will cooperate to commercialize NB-IoT networks in the Q1 of 2017, co-source chipsets, modules, eSIM, devices, etc. to build an NB-IoT ecosystem faster, and have the technology standardized and expanded globally. They will also discover NB-IoT business ideas and share facilities to support NB-IoT development.
With their investment and cooperation details not fully disclosed, it seems unclear how much they are really willing to cooperate at this point. However, one thing clear is that they share a common, urgent goal - they want to accelerate the launch of NB-IoT to beat LoRa which entered the IoST market first. The partnership will likely generate positive effects on their building and expanding an NB-IoT ecosystem. Although joining the race later than SK Telecom, they will run harder to take the lead in the IoST market to make the market more NB-IoT-centric.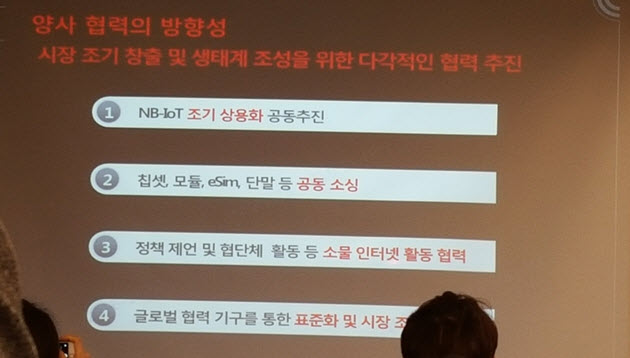 Partnership details
Full cooperation to form a market and ecosystem faster
① Partnership for accelerated NB-IoT commercialization
② Co-source chipsets, modules, eSIM, devices, etc.
③ Cooperate in IoST initiatives through proposing policies, participating in relevant activities
④ Accelerated standardization and market formation through global cooperative organizations
■ Strategies for deploying nationwide NB-IoT network
KT's NB-IoT network will be built based on the legacy LTE networks it has. For this, the telco expanded its partnership with its current partners, Samsung Electronics, Ericsson-LG and Nokia, who had provided its legacy LTE base stations since the end of November last year. The NB-IoT network is known to use 200 KHz bandwidth in 1.8GHz. To support NB-IoT features, legacy base stations will be upgraded through SW upgrade, and by adding a NB-IoT modem if needed. That is, on recently deployed LTE base stations, NB-IoT SW needs to be installed. Those relatively old, however, require installation of NB-IoT SW as well as a new NB-IoT modem. A device featuring a new module with a built-in, NB-IoT modem must be in place too.
NB-IoT is a 3GPP standards. So, below we will briefly review 3GPP NB-IoT technologies so far.
<3GPP NB-IoT Technologies>
Non-3GPP, LPWA-based, IoST services like LoRa and SIGFOX have already been offered in the market accelerating expansion of the IoST market. To catch up with it, 3GPP has also made great efforts to finalize NB-IoT standardization faster, successfully letting NB-IoT core parts be defined as standards in Release 13, in June 2016. Release 13 defines uplink/downlink transmission scheme which constitutes a core part of as well as NB-IoT requirements and operations modes (Standalone mode, Guard-band Mode, In-band Mode). NB-IoT requires a cell capacity of 50,000 devices per cell and more than ten years of device battery life.
<NB-IoT requirements>

In Release 14 (scheduled to be finalized in 2017), more enhanced NB-IoT (eNB-IoT) features are being defined. More features like positioning (to support tracking services), multicast downlink transmission like firmware or software updates and group message delivery, mobility and service continuity enhancements, new power class (for smaller form factor for wearables), etc. are to be defined. In Releases 15 and 16, which will focus on 5G technologies, features to satisfy requirements for massive MTC (mMTC) and ultra reliable low latency communication (URLLC) will be discussed.
<LTE-M vs. NB IoT>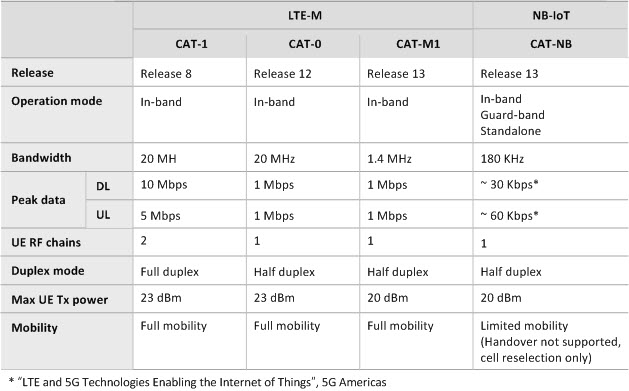 For efficient data transmission between IoT devices and IoT applications/services, Release 13 defines an EPS architecture optimized for cellular IoT (CIoT). The Release also supports non-IP data delivery by IoT devices that do not support IP stack.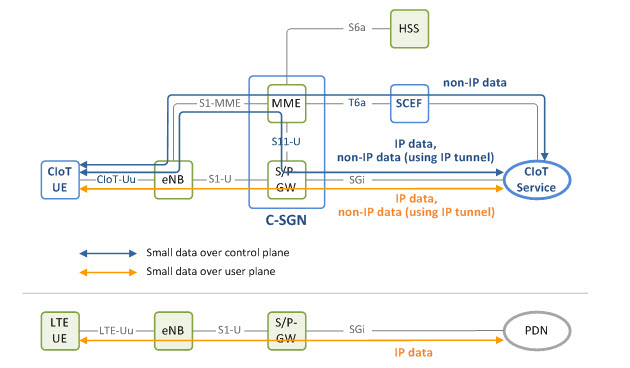 Optimized EPS architecture for CIoT (non-roaming case) - Network for NB-IoT data delivery (above)
Unlike conventional EPS architectures so far, this architecture supports CIoT EPS optimization (Control/User plane) allowing the network to deliver small data not only in user plane, but also in control plane. This was possible because the new architecture features two new entities, CIoT Service Gateway Node (C-SGN) and Service Capability Exposure Function (SCEF), and an interface, S11-U, defined for data transmission between MME and S-GW. C-SGN, a node that combines EPC nodes like MME, S-GW and P-GW, simplifies the functions of these EPC nodes, and supports CIoT EPS optimization. SCEF is originally introduced for provision of service capability to 3rd parties, but now also used in Non-IP data delivery (NIDD) when connected to MME.
Non-IP Data Delivery: Non-IP data can be delivered to application/service servers through SCEF or SGi interface. When delivered to SGi interface, IP encapsulation is performed by P-GW before the data is being delivered.
Control plane CIoT EPS optimization: Delivers small NB-IoT data on control plane. It allows small NB-IoT data to be delivered using Signaling Radio Bearer (SRB) without creating Data Radio Bearer (DRB) over the radio link. The NB-IoT data delivered to MME as NAS PDU are passed on through either SCEF or S/P-GW. Only Non-IP data can be delivered through SCEF. When Non-IP data are delivered through S/P-GW, IP encapsulation is performed first.
User plane CIoT EPS optimization: Delivers NB-IoT data on user plane like LTE data. Lower signaling is generated when switching to 'Connected' state because UE context is stored in both device and base station even in 'Idle' state. Compared to delivery on the control plane, higher signaling overhead can be generated, but data are delivered in order.
SK Telecom first began LoRa-based IoST service in last November, followed by KT and LG U+ who will be launching commercial NB-IoT service in Q1 this year. This year will see all three telcos, with their own nationwide IoST network for massive IoT, racing hard to take the lead in the IoST market.
KT and LG U+, who already declared partnership for faster launch of NB-IoT commercial service, saw that although NB-IoT joined the race later, it will soon catch up with LoRa because it is based on global standards which gives an advantage of having an ecosystem faster. They also predicted that in the future IoST market, NB-IoT will be a dominating sector eventually.
In the meantime, SK Telecom will likely thrive to expand the IoT platform leveraging its LoRa-based IoT-dedicated network for a while, and join the competitors in the NB-IoT market once the market begins to grow.
It is predicted the number of IoT devices in the world will reach tens of billions by 2020, with most of them being IoST devices. To lower the entry barrier of the IoST market where most of values are created from small data, keeping the costs of devices and service plans low is essential. This means despite the drastic increase in IoST connections, average revenue per connection (ARPC) will be very low, and even lower as the IoST sector grows. Advent of NB-IoT will certainly make the competition in the market even fiercer. However, what matters most will be the platform or service they can offer rather than whether it is LoRa or NB-IoT.