For the rest of the Q2 2015 issue of Korea Communication Review magazine please click here

At Mobile World Congress (MWC) 2015, SK Telecom showcased Quantum Cryptography System (QCS) it had developed for secure data transmission in ultra-capacity, ultra-high-speed networks of 5G era.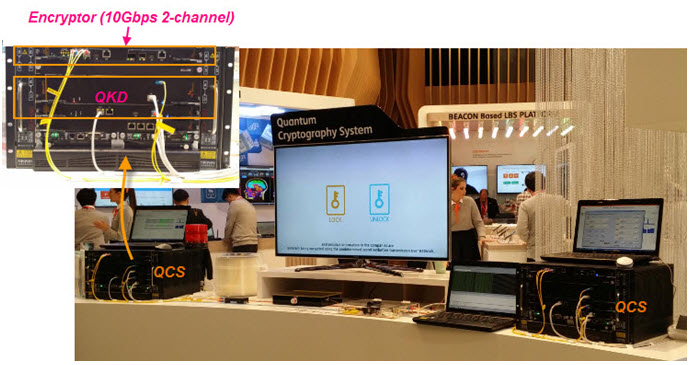 SK Telecom presented Quantum Cryptography System (QCS) at MWC 2015
Unlike the traditional cryptography system that is based on mathematics, QCS is based on quantum physics. So it is 100% effective in preventing any eavesdrop attempts as it generates secret keys using photons.
Above figure shows QCS prototype consisting of a Quantum Key Distribution (QKD) server and 2-channel encryptor. QKD enables one party to produce a secret key at 10Kbps, share it with the other party at the other end of the network (up to 50km away), and update the key if any eavesdrop attempt is detected.
An encryptor, with 2 channels, can encrypt transmitted data at 20 Gbps (that is, 10 Gbps per channel) with less than 10 usec of processing delay. This system allows for up to 800 Gbps data encryption using 40 stacked QCSs.
QKD uses photons, elementary particles of a quantum, in generating and sharing secret keys. When optic fiber signal is on, there exist 9 trillion photons. QKD can generate secret keys by using some of the photons, specifically one photon per user.
Secret keys are generated based on information on the polarization and phase of a photon, and sent to the receivers for sharing. So, any eavesdrop attempt will cause a state change in the photon embedded in the key, making eavesdropping impossible.
Traditional cryptosystems are based on mathematics (e.g. RSA), and thus data encrypted using traditional cryptosystems are inevitably vulnerable to hacking. On the contrary, if encrypted using QCS, it is virtually impossible to hack, or even unlawfully access, the encrypted data. Mr. Seung Hwan Kwak, Team Head of QKD Development at SK Telecom, noted that now cryptosystems rely more on physics, rather than mathematics.

In the demonstration, SK Telecom used a prototype designed for backbone (high-capacity QKD), which is scheduled to be commercialized in late 2015. In addition to high-capacity QKD, low-capacity QKD to be used between LTE RAN and Core network is under development as well.
In addition to QKD that operates at network level, the company is also working on development of True Random Number Generation (TRNG) chips that generate true random numbers at application level (not demonstrated at the event, though). So far, random numbers have been generated based on SW, and thus they were pseudo.
However, this HW-based TRNG chip generates true random numbers based on quantum mechanics. SK Telecom has been making efforts to develop small-sized, affordable TRNG chips. Thanks to its excellent versatility, the TRNG chips can be used anywhere that requires cryptography, and thus is expected to be quite attractive in the fields such as IoT, smart grid, etc., soon.