Introduction
Globally, 4G LTE service has steadily gained popularity since its launch in around 2010, making smartphones the bare necessities of our everyday life. High performance smartphones equipped with new features, some with multimedia processing capability (2160p@30fps) as good as PC, are being released every year.
Thanks to the popularity of such high performance devices, sizes of content like video, music, photo, etc. are getting bigger and larger as well.
In the beginning, download speeds on mobile devices were just around 75Mbps (LTE FDD 10MHz). Then with operators' additional purchase of LTE spectrums and introduction of LTE-A Carrier Aggregation (CA), they have jumped up to 150Mbps (20MHz) and 225Mbps (30MHz). Finally, recent commercialization of 3-band CA (40MHz) further upgraded the speeds up to 300Mbps.
All the new trends together have caused, and will continue to cause, drastic growth of data traffic across operators' networks in the market. Cisco recently forecasted that global mobile data traffic will increase tenfold between 2014 and 2019. In response to soaring traffic, operators have attempted to secure more LTE bands through spectrum auctions. Because of stagnated mobile ARPU these days, however, operators are now facing a burden of tremendous spectrum costs, which would be easily over millions of dollars.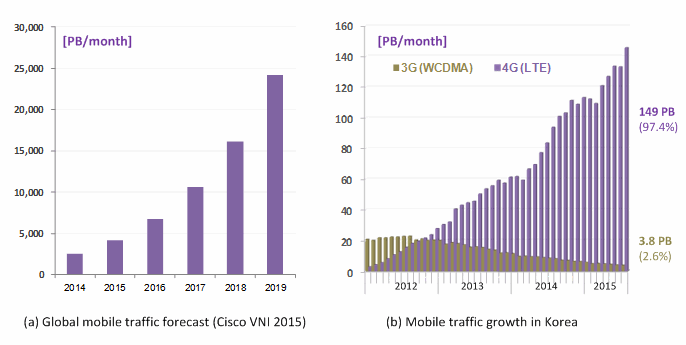 Figure 1. Mobile data traffic explosion
LTE/Wi-Fi Aggregation
Unlike cellular services (3G and 4G) which utilize licensed spectrums, Wi-Fi service uses unlicensed spectrum in 5GHz, which is FREE. Although LTE can theoretically use up to 100 MHz of bandwidth (BW) by means of CA of 5 20MHz bands, the actual BW that an operator can obtain is far less than that. On the other hand, Wi-Fi can use quite a wide range of BW, up to hundreds of MHz. Wi-Fi BWs vary depending on nations. For example, Korea has about 500MHz while the USA has more - about 700MHz.
Wi-Fi has evolved to IEEE 802.11 a/b/g/n, and currently IEEE 802.11ac (80MHz@5GHz, 2 Wi-Fi antenna at phone) which supports 866Mbps is commercially available. MU-MIMO is expected to be commercialized soon, and Wi-Fi is evolving even further, outperforming the speed of LTE-A. Besides, Wi-Fi AP can be easily installed and deployed by anyone as well as operators, so Wi-Fi AP has become available everywhere - at home, office, municipal, etc. Most LTE-enabled phones today are Wi-Fi friendly.
Recently, there have been attempts to seek a way to achieve both lower costs and higher speeds at the same time by combining this free and amazingly fast Wi-Fi, with LTE. Efforts have been made to steadily improve network capacity and user speeds by minimizing investment costs (licensed spectrum costs) through cost-efficient combination of the two.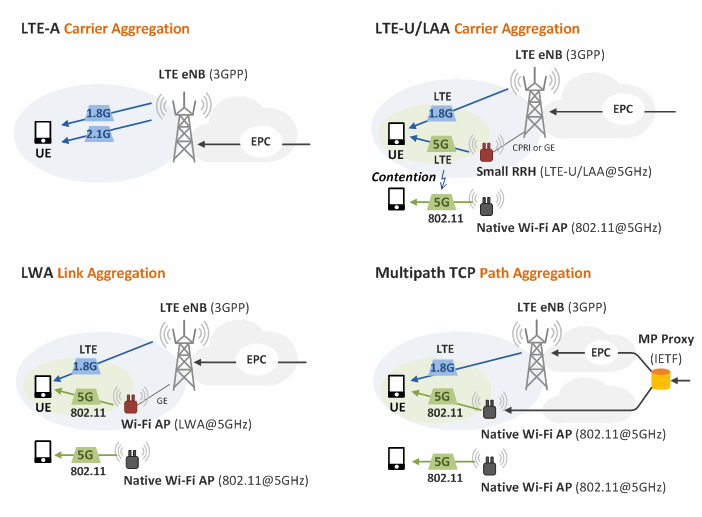 Figure 2. Aggregation technologies: LTE-A, LTE-U/LAA, LWA and MPTCP
LTE-U/LAA
One of the most discussed solutions designed to serve the purpose is LTE-U/LAA. Like LTE-A CA combines licensed bands, LTE-U/LAA combines licensed LTE bands with unlicensed 5GHz bands (i.e. LTE MAC and PHY over unlicensed band). It causes no spectrum cost issue, but co-existence issues (fairness, regulation, etc.) still remain controversial and unsolved. LAA, designed to address such co-existence issues by applying Listen-before-talk (LBT) to LTE, is still under review for standardization, and not quite ready for commercialization yet. LTE-U/LAA requires a considerable investment cost in installation of new LTE-U/LAA small cells (RRH or pico) in existing LTE networks. Plus, LTE-U or LAA-enabled mobiles devices have to be released first, and users have to buy those newer models to benefit from the technology.
LTE/Wi-Fi Link Aggregation (LWA)
With LWA, Wi-Fi runs over unlicensed bands while LTE runs over licensed bands. At eNB (BBU in case of C-RAN), LTE traffic is separated by PDCP or RLC layer. Then, some of them are transmitted through LTE via a RRH and the rest are sent through Wi-Fi via a Wi-Fi AP (802.11 MAC and PHY over unlicensed band). Unlike LTE-U/LAA, it causes no fairness issue with Wi-Fi. But, it is also under review for standardization, and quite not ready for commercialization yet. Again, LWA requires a considerable CAPEX because existing operators' Wi-Fi APs have to be replaced with LWA-aware APs and the existing Wi-Fi APs everywhere (operator-deployed Wi-Fi and user-deployed Wi-Fi) will not be used.
LTE/Wi-Fi Path Aggregation
LTE/Wi-Fi path aggregation based on Netvision Telecom's Multipath TCP (MPTCP) works differently as it is designed to aggregate multiple flows of data on transport layer. Due to this design, it can immediately aggregate LTE and Wi-Fi and improve speeds drastically simply by adding MPTCP gateway and SW upgrade on mobile device, without having to replace any part of existing infrastructure (LTE, Wi-Fi and IP infrastructure).

Another benefit is that it, unlike LTE-U/LAA, eliminates the controversial fairness issues between LTE and Wi-Fi. LTE/Wi-Fi path aggregation is the most cost-efficient LTE/Wi-Fi integration solution as it allows an operator to expand network capacity by using existing Wi-Fi networks (operator-deployed Wi-Fi and user-deployed Wi-Fi).
Table 1. Comparison of aggregation technologies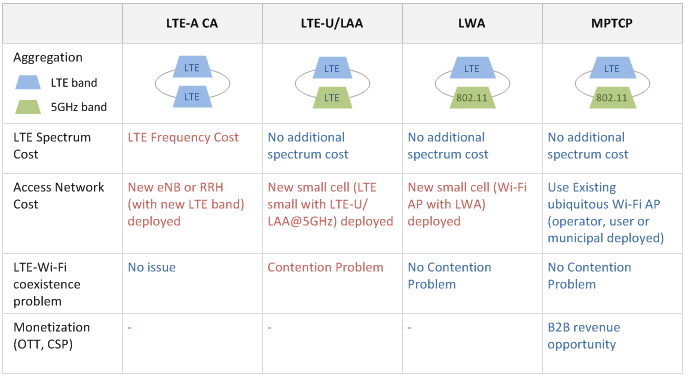 Netvision Telecom's Multi-Path Aggregation Solution (MPASTM)
Multi-Path Aggregation Solution (MPAS)TM is an LTE/Wi-Fi path aggregation solution based on MPTCP developed by Netvision Telecom. MPAS consists of i) MPAS app, ii) MP-GW (MPTCP proxy gateway), and iii) MP-Manager in charge of managing MP-GW and providing service policies to UE.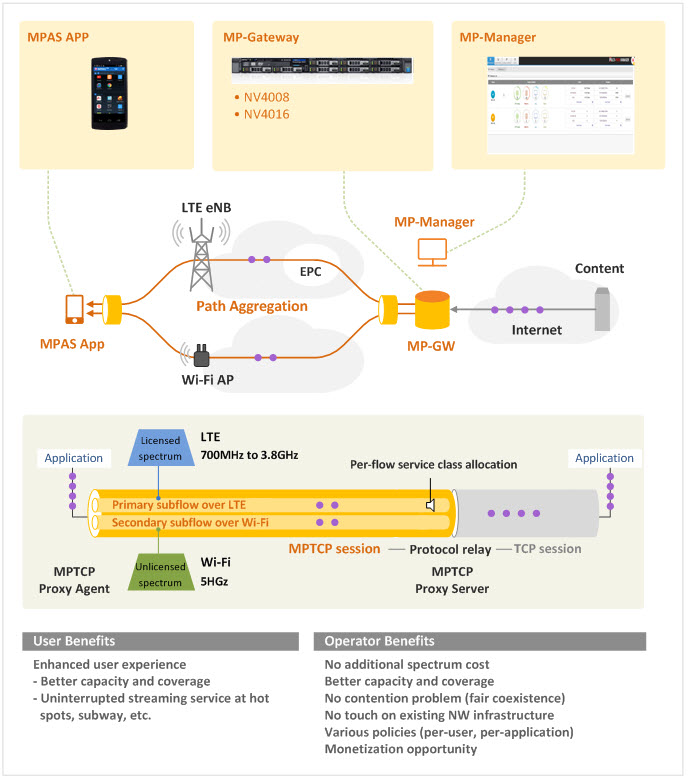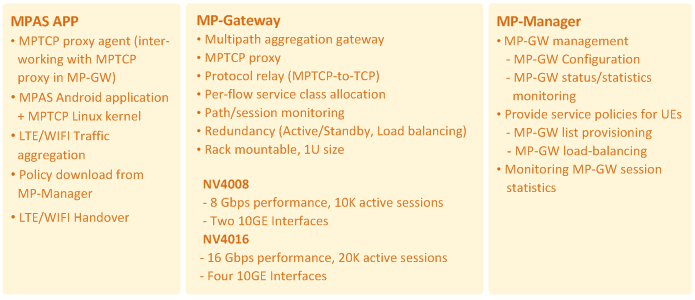 Figure 3. Netvision Telecom's Multi-Path Aggregation Solution (MPAS) architecture

Unlike other LTE/Wi-Fi aggregation solutions that require installing of new LTE-U/LAA or LWA enabled small cells and replacement of user mobile devices, MPAS gives immediate enhancement of download speeds just through upgrading SW on mobile devices and adding MP-GW. No replacement or modification is required in existing networks. So, this solution can be deployed over any existing commercial networks immediately.
This solution makes both users and operators happy – a true win-win situation. Users can download contents through multiple TCP sessions via both LTE and Wi-Fi, which theoretically means data can be downloaded at the sum of their maximum speeds (LTE and Wi-Fi combined). What's even better is that even in case of Wi-Fi congestion in Wi-Fi hot spots, users can still be served uninterruptedly through LTE.
Operators are happy because they can provide affordable, differentiated high speed download service, attracting new customers and reaffirming existing customers' loyalty. Also, as they can leverage their existing LTE and Wi-Fi infrastructure with no change or addition, investment in building infrastructure for accelerated speeds can be kept minimum. They can also decide which applications they want to apply MPTCP to, and adjust traffic ratios of LTE and Wi-Fi, giving operators chances to offer different services and plans.
Boost Download Speeds through LTE/Wi-Fi Aggregation
Most smartphones today come with both LTE and Wi-Fi modems, but the two modems do not work simultaneously. That means only one modem, either LTE or Wi-Fi, can work at once. The biggest benefit of MPTCP is that it aggregates two paths for LTE and Wi-Fi, and so data can be downloaded at the combined rates of LTE and Wi-Fi. So, for example, if LTE supports 300Mbps and Wi-Fi supports 866Mbps, theoretically maximum download speeds can be 1.17Gbps.
Another benefit of MPTCP is that it enables operators to use not only their own LTE and Wi-Fi, but also unmanaged Wi-Fi, such as user-deployed, public, or office Wi-Fi, when aggregating. In other words, they can access any Wi-Fi APs available to users in addition to their own APs. Also, with MPTCP, operators can cut down costs of spectrum as well as investment costs in small cells (Wi-Fi AP).
Figure 4. Better performance: using both LTE and Wi-Fi links simultaneously
No Touch on Existing NW Infrastructure
Earlier this year, Korean operators, KT, SK Telecom and LG U+, launched 3-band CA service supporting up to 300Mbps. They are currently testing LTE-U and LWA that would offer even higher speeds, 450Mbps ~ 600Mbps. However, because of issues like technological immaturity, co-existence with existing Wi-Fi, and of course the burden of enormous investment cost required for replacement of existing LTE and Wi-Fi equipment, the technology still has not been commercialized.
Figure 5. Advantage of MPAS – Instant upgrade the performance of mobile network
MPTCP works on transport layer regardless of the types of sub network. So, it can be immediately commercialized in any types of existing networks, whether LTE, Wi-Fi, or IP networks, by adding MPTCP GW and installing an application on mobile device, without having to modify the networks.
Under the circumstances, in June, KT launched GiGA LTE service that theoretically supports 1.17Gbps by means of 3-band LTE-A and GiGA Wi-Fi aggregation utilizing MPTCP, opening a mobile giga era for the first time in the world. With the launch, the MPTCP technology was recognized as the most feasible technology that can be immediately deployed and commercialized across the nationwide network of the nation at the minimum costs.

Figure 6. KT's commercialization of LTE, Wi-Fi and Multipath TCP
Application- or User-specific Policies - More Chances to Create Profits
Operators can set various user- and application-specific MPTCP policies as they want. They can apply MPTCP to all applications accessed by users, or to certain application services only. For instance, operators can apply MPTCP to their mobile video services to offer uninterrupted video service to their customers, ensuring greater service satisfaction. Or they can apply it to OTT video service provided by their partners (e.g. OTT, e-trading, etc.) to create a new profit model with B2B revenue.
Figure 7. Application- or user-specific policies – more chances to create profits
In this type of profit model, partners can share their profits with operators in return of the operators' provision of fast and reliable contents service (combined aggregation path of LTE and Wi-Fi). Or operator can even commercialize MPTCP service itself, and apply it to their customers with a plan of specific rates or higher only, generating additional profits (B2C revenue) and thereby improving ARPU.
Load Balancing and Failover
Netvision Telecom's MPAS solution works in out-of-band mode, not in in-line mode. This means, when accessing MP-GW, UE accesses MP-Manager first to acquire address information of MP-GW to access. Then, it creates an MPTCP session toward its allocated MP-GW, which then creates a TCP session with the original destination server, relaying the two sessions.
Figure 8. Operation flow of MPAS solution
MP-Manager monitors traffic loads at MP-GWs, and allocates a GW list (ex, UE1: GW1/GW2, UE2: GW2/GW3) to UE accordingly, to ensure all resources at MP-GWs are evenly utilized. Then the UE accesses primary GW first, and then secondary GW if the primary GW fails. If all GWs are down or fully loaded, the UE directly accesses the destination server. This process helps distribute loads evenly to MP-GW servers so that service is not interrupted even when a GW or all GWs are down.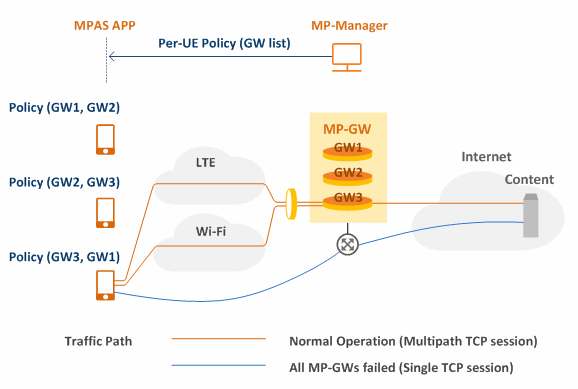 Figure 9. MP-GW load balancing and failover mechanism
Summary
Netvision Telecom's MPAS aggregates traffic on transport layer, significantly increasing data speeds at minimum costs without having to modify existing wireless network infrastructure. It allows for LTE aggregation with user-deployed Wi-Fi APs (like home, office, and municipal AP) as well as with operator-deployed carrier Wi-Fi APs. This nature gives an effect of expanding mobile network coverage without any extra costs caused on operator side.
With MPAS, various user-specific and application-specific policies (whitelist, service class, failover, load balancing , etc.) can be implemented. As a result, operators can offer a variety of plans and business models, improving ARPU and creating more B2B revenue models.
In addition, Netvision Telecom's load balancing feature and failover logics reassure reliable expansion of MP-GW, consequently preventing service interruption.
MPAS is considered as the most cost-efficient, and most feasible LTE/Wi-Fi integration solution that can expand mobile network capacities using existing Wi-Fi networks.
Acronyms
3GPP 3rd Generation Partnership Project
AP Access Point
ARPU Average Revenue Per User
BBU Base Band Unit
BS Base Station
CA Carrier Aggregation
C-RAN Centralized/Cloud RAN
DAS Distributed Antenna System
D-RAN Distributed RAN
EPC Evolved Packet Core
LAA Licensed-Assisted Access
LBT Listen-Before-Talk
LTE Long Term Evolution
LTE-U LTE in Unlicensed spectrum
LWA LTE Wi-Fi Link Aggregation
MPAS Multi-Path Aggregation Solution
MP-GW Multipath Gateway
MP-Manager Multipath Manager
MPTCP Multipath TCP
MIMO Multi-Input and Multi-Output
MU-MIMO Multi-User MIMO
OTT Over-The-Top
PDCP Packet Data Convergence Protocol
RLC Radio Link Control
RRH Remote Radio Head
About Netvision Telecom (www.netvisiontel.com)

Netvision Telecom has developed and provided networking solutions to service providers and network equipment vendors over past 15 years. Netvision Telecom is specializing in networking protocols that are used for mobile backhaul or high-speed access network. Recently, Netvision Telecom has been focusing on developing "Multi-Path Aggregation Solution (MPAS)" based on multi-path TCP technology for mobile network and "SDN controlled gateway solution" for home network & access network.

● Location and Contact Information
1-412 Migun-Techno Building, Techno-2ro, Yuseong-Gu, Daejeon, Korea
TEL 82-42-931-4130 | FAX 82-42-913-4133 | E-MAIL bcjeon@netvisiontel.com
● For more information, please visit us at www.netvisiontel.com

[Netmanias' Notice] Netvision Telecom, Korean Specialist in MPTCP Technologies, to present its MPTCP Gateway Solutions at MWC 2016. Netvision Telecom, Netmanias' proud sponsor, will be exhibiting and presenting their latest solutions at MWC 2016. Let's take a peek at what they have to share with the world, in advance.