On April 20, in time for the arrival of the Samsung Galaxy S8, SK Telecom began nationwide application of Connected Mode Discontinuous Reception (C-DRX), a solution specifically designed to give enhanced battery efficiency, following KT who did the same in the beginning of the month.
C-DRX refers to a technique that allows a device (UE) to discontinuously receive data in connected state ('RRC_Connected state') where a radio connection is established between the device (UE) and the base station (eNB). It gives a benefit of saving power consumption on devices, but the disadvantage is that if data is not received in time, the resulting packet delay may cause packet loss, which may lead to service quality degradation.
At a press conference on April 12, KT announced that, with C-DRX optimization, it could reduce battery consumption on devices by up to 45% without compromising service quality (packet loss rate). SK Telecom, who began application of C-DRX in select areas like the Seoul metropolitan area back in May 2016, went nationwide as Samsung Galaxy S8/S8+ hit the market. LG U+ also applied the technology to its nationwide network around that time.
■ Why now?
In fact, C-DRX is not new. It was first defined in Release 8 in the very beginning of LTE era. SK Telecom and LG U+ introduced LTE service back in July 2011 and KT in January 2012, but none of them have actually applied C-DRX until now. Then why now? Why everyone is talking about it now?
1) Quality
Fierce quality competition among the big 3 telcos in South Korea has made the nation remain one of the countries with the best quality mobile communication service in annual evaluation of global communication service quality for years. As mentioned above, C-DRX does reduce battery consumption but may cause packet loss as a result of delay in the course of packet transmission. Unlike packet loss rates that have direct impact on service quality, less battery consumption improves user experience and does not really degrade service quality. Telcos in the nation so far have prioritized the quality of communication service over battery saving.
Comparison of service quality by nation in 2016 (Source: 'Smart Choice' homepage)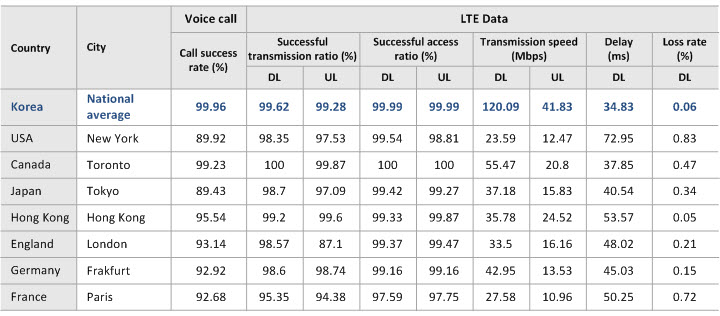 2) More video playing in bigger screens requires better power saving solutions
Then, what less battery consumption became so important?
The two most significant factors will be more video usage - probably resulting from increasing number of unlimited LTE subscribers - and increased needs for bigger screens on smartphones. As of March 2017, about 25% of LTE subscribers are unlimited LTE plan subscribers. Average monthly traffic per LTE subscriber was 6.1GB, 31% higher than the previous year. When comparing traffic used by each plan, LTE unlimited plan subscribers use 18.2GB, which is over ten times of what standard plan subscribers use (1.8GB). When comparing by content type, video content contributes as much as 59% (and even 65.5% when including multi-media) of the total LTE traffic.

Changes in mobile traffic and traffic distribution by application (Q1 2017)
As users use more video content on their smartphones, the size of smartphone screens has become bigger and bigger. The Galaxy S7/S7+ edge released last year came with a 5.1"/5.5" screen, but the Galaxy S8/S8+ released in April came with a 5.8"/6.2" screen. Battery life and width remained almost the same, but the screen size was increased by 0.7".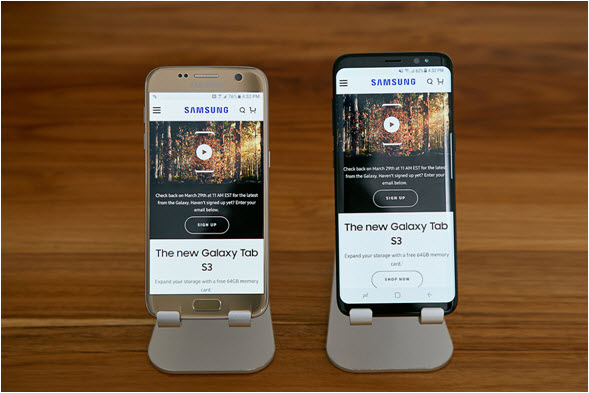 Screen size: S7 with 5.1" (left) vs. S8 with 5.8" (right), both with 3000 mAh battery (Source: Samsung)
Equipped with higher performance and better features (in terms of screen size, resolution, processor capability, memory capacity and number of applications), new smartphone models consume more power. Battery is the sole power source of a smartphone. And so it has become a more critical factor as the performance of smartphones is improved. It is especially true when it comes with display, the biggest power consuming part of a smartphone. As the increases in video usage and screen size lead to faster battery drain, longer battery life has become a key VoC of users.
■ How DRX works
Now let's briefly discuss how DRX can save power consumption.
Data transmission between devices and their base stations uses radio frames with 10 ms duration, wherein each radio frame consists of ten (10) 1 ms subframes. Physical Downlink Control Channel (PDCCH) at the beginning of each subframe indicates whether there is data to receive or not.
Devices must monitor these PDCCHs in each subframe to find out whether they carry any data to receive. Because devices do not receive data in every single subframe, this monitoring process naturally leads to significant battery consumption.
The primary purpose of DRX is to reduce battery consumption during the process. So, when there is no traffic, devices enter into Sleeping mode (with RF transceiver turned Off) for certain period of time. Then when there is traffic, they wake up entering into Active mode (with RF transceiver turned On) for data reception/transmission. Detailed settings of how long devices are put into Sleeping mode before wake up are delivered as configuration data. And the network delivers this configuration data to devices through upper layer control message or System Information Block Type 2 (SIB2) broadcasted by base station.
DRX process can be used in either RRC_Idle or RRC_Connected state. DRX used in Idle state is called Idle mode DRX and one in Connected state is called Connected mode DRX (C-DRX). Idle mode DRX is related to paging, and thus used in 3G as well. C-DRX was defined with the arrival of LTE.
- RRC_Idle state: When radio connection (RRC connection) between base station and device

is not established

- RRC_Connected state: When radio connection (RRC connection) between base station and

device is established

DRX behaviors defined in LTE standards:

- Idle mode DRX: 3GPP TS 36.304 "User Equipment (UE) procedures in idle mode", 7.1

Discontinuous Reception for paging

- Connected mode DRX: 3GPP TS 36.321 "MAC protocol specification", 5.7 Discontinuous

Reception
Let's explore how DRX works, primarily, in DL.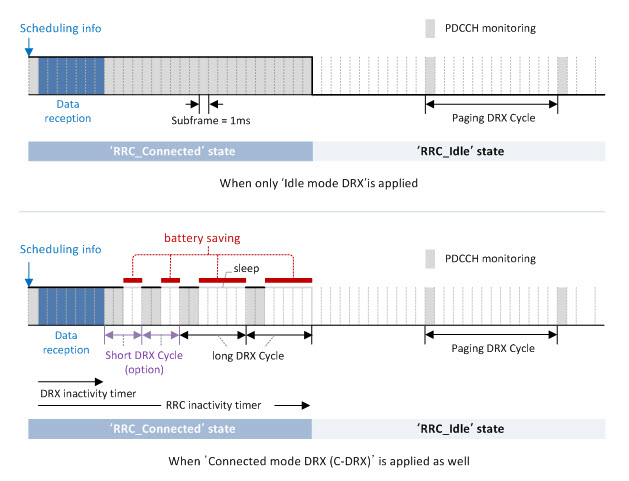 When only Idle mode DRX is enabled devices in the Connected state monitor PDCCHs in every subframe whether there is data to receive or not. When C-DRX is applied, however, devices have the RF transceivers turned off even in the Connected state if there is no data to receive/transmit, effectively reducing battery consumption. So the battery can be saved while the device remains inactive in Sleeping mode.
1) Idle mode DRX: Paging DRX cycle
When there is traffic heading to a device in RRC_Idle state (Idle state), paging to the device is initiated. The device wakes up periodically (i.e. once every paging DRX cycle) to check for a paging message in PDCCH. If paging is detected, then the device switches to Connected state, receiving data. If not, it returns to Sleeping mode.
Devices obtain Idle mode DRX configuration information from upper layer control messages or SIB2 messages broadcasted by base stations. Based on this information, the devices determine in which subframe of which radio frame they should monitor PDCCH. Devices in Idle state monitor only one subframe (PO) in each paging DRX Cycle.
2) Connected mode DRX (C-DRX): Short DRX cycle, Long DRX cycle
When scheduling information (e.g. DL Grant) is received in RRC_Connected state (Connected state), DRX inactivity and RRC inactivity timers are resumed.
- When the DRX inactivity timer expires, DRX mode is initiated and the device wakes up once every DRX cycle, monitoring PDCCH during a specified interval ('on duration timer'). DRX cycles are divided into two types: short DRX cycle (optional) and long DRX cycle. When short DRX is turned on, the device triggers DRX mode with a short DRX cycle first, and then switches to a long DRX cycle. Long DRX cycles are n times longer than short DRX cycles, where devices wake up more often than in long DRX cycles.
- When the RRC inactivity timer expires, the device switches to Idle state, initiating paging DRX cycle.
■ C-DRX Configuration
C-DRX performance is affected by DRX parameter value settings. DRX parameter values are determined by the network (i.e. operator) and applied to devices through a DRX configuration setup process. The DRX parameter values can be applied regardless of the device type without the need of adding any additional function to the device. Now let's look a closer look at C-DRX configuration setup and C-DRX operation.
1) C-DRX Configuration parameters
The DRX configuration data is transmitted to devices through RRC messages (RRC Connection Reconfiguration message) when RRC connections between base stations and devices are established. In the RRC Connection Reconfiguration message, communication methods between base stations and devices are defined. DRX configuration data is included in MAC MAIN configuration.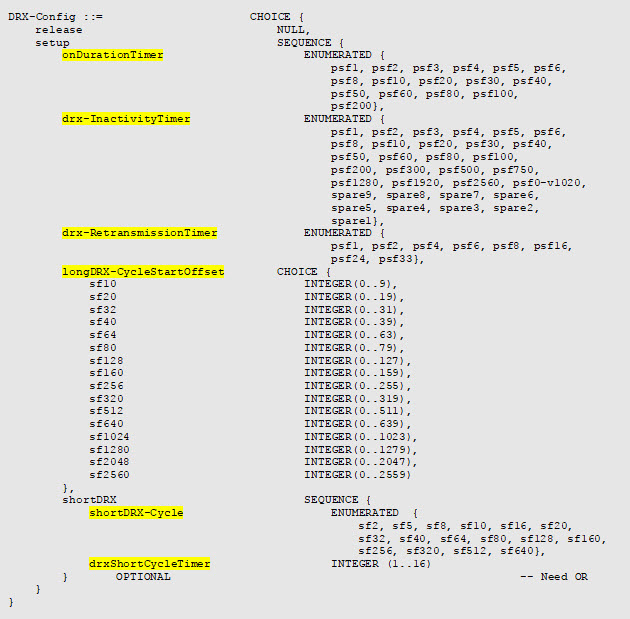 DRX configuration data (3GPP TS 36.331)
C-DRX configuration parameters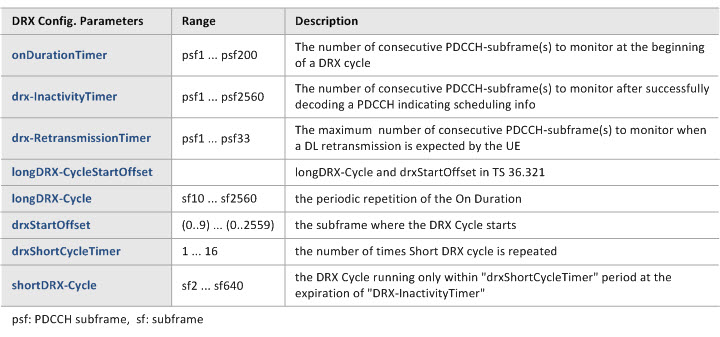 ('longDRX-CycleStartOffset' in TS 36.331 refers to 'longDRX-Cycle' and 'drxStartOffset' defined in TS 36.321)
2) Example of C-DRX Configuration
We will briefly review two operation scenarios: one with Long DRX only and the other with short DRX as well, as discussed in the paper written by SK Telecom.
With Long DRX only: The device wakes up once every 'longDRX-Cycle'

(10 ms) to monitor PDCCH for 'onDurationTimer' (2 ms). During the second onDurationTimer, it detects scheduling information and thus receives data, extending PDCCH monitoring

for 'drx-InactivityTimer' (4 ms).

If there is no scheduling information.

, the device enters Sleeping mode again, repeating the 'longDRX-Cycle'. Duration of inactive time is affected by 'onDurationTimer' and 'drx-InactivityTimer'.

Example of C-DRX with long DRX only
When Short DRX is applied as well: The device wakes up once every 'longDRX-Cycle' (10 ms) to monitor PDCCH for 'onDurationTimer' (2 ms). During the second onDurationTimer, it detects scheduling information and thus receives data, extending PDCCH monitoring for 'drx-InactivityTimer' (4 ms). When drx-InactivityTimer is expired, it starts 'shortDRX-Cycle' (5 ms). When 'drxShortCycleTimer' is expired (i.e. two cycles of shortDRX-Cycle), it triggers 'long DRX', repeating the longDRX-Cycle. Because shortDRX-Cycle is shorter than longDRX-Cycle, onDurationTimer is set to be turned on more frequently in short DRX mode. It helps to maintain the QoS of packets transmitted in short periods while keeping the device's inactive time shorter.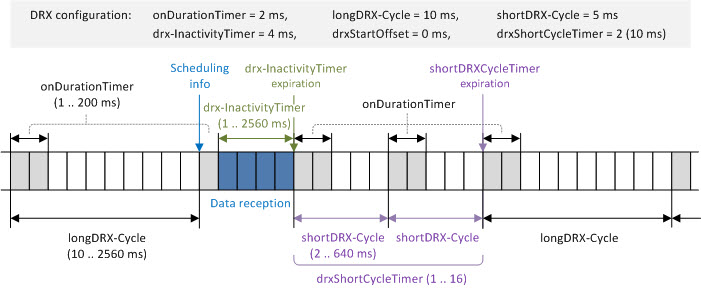 Example of C-DRX with both short and long DRXs
3) DRX configuration in the commercial networks
When applying DRX operation, more careful setting of DRX parameters is required because there is a trade-off between battery saving and packet delay, and packet delay could lead to degradation of service quality. Of the big 3 telcos, KT had the C-DRX parameter settings disclosed - only Long DRX was applied.
KT DRX parameters:
onDurationTimer - psf 10

drx-InactivityTimer - psf 100

drx-RetransmissionTimer - psf 8

longDRX-CycleStartOffset - sf 320, 315
DRX configuration parameter settings (KT)
KT announced that it, through field tests, succeeded in deriving DRX-optimized parameters that reduce battery consumption while keeping the existing packet loss rate quality (0.06%), and applied them to its nationwide network. YouTube video streaming services were tested using Galaxy S8s by the Telecommunications Technology Association (TTA), a Korean IT standards organization, and it was found using C-DRX had improved the battery life by up to 45%.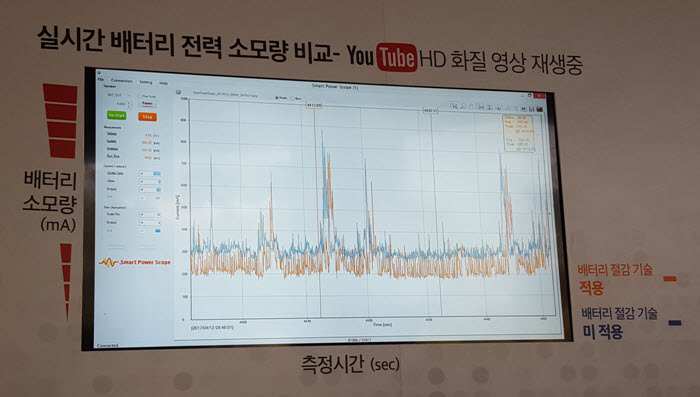 (x-axis: Time lapsed (sec), y-axis: battery consumption (mA), Orange line: With C-DRX, Blue line: Without C-DRX)
Comparison of battery consumption (KT)

All three telcos applied C-DRX to data service only, and not to VoLTE service. In case of voice service where traffic is generated consistently in active period and real-time transmission of data is required, C-DRX seems not very effective yet.
Saving battery consumption up to 45% by KT was achieved in the restricted environment where only YouTube video streaming was tested. So, in a typical smartphone usage environment where multiple services, including voice calls without C-DRX, can be used simultaneously. the saving would not be as great as that. The other thing is that, is it really possible to optimize the entire network in the nation by simply applying the same parameters when C-DRX performance is affected by the bursty nature of traffic, mobility characteristics, radio environment, etc.
However, one thing for sure is that, for LTE which has video positioned as its killer app, C-DRX apparently is one of the most useful technologies to reduce battery consumption. In addition, C-DRX commercialization has risen as one of the hottest issues for both users and telcos as video content usage on mobile devices and the size of the mobile device screens grow bigger. Until now, reducing battery consumption and improving battery life have been primary dependent on the display solutions of smartphone manufacturer. Now with the application of C-DRX, however, we can expect telcos to pay more active attention to improvement of user convenience in addition to communication quality.
---
Future LTE Designed by SK Telecom
(1) 4.5G Evolution Roadmap - 5-CA Commercialization and 4x4 MIMO Deployment
(3) AI-enabled Mobile Network Quality Management: TBD