On May 20, Chairman Chang-gyu Hwang of KT (with sales of KRW 23.8 trillion in 2013) announced that "KT will open up a new age of GiGAtopia by investing KRW 4.5 trillion (USD 4.4 billion) in GiGA FTTH, GiGA Path (heterogeneous networks convergence technology that combines LTE and Wi-Fi networks), and GiGA Wire (copper wire-based transmission technology) for the next three years."
Later on June 19, Mr. Seong-mok Oh, head of the Network Business Division at KT, announced the company would accelerate the process and Commercialize GiGA FTTH and GiGA Wire in the second half of this year.
To go nationwide with its Giga Internet (GiGA FTTH) service, KT has been introducing high-capacity OLT that offers 1 Gbps to each subscriber, which is 10 times faster than the current 100 Mbps. The high-capacity OLT system was first introduced in pilot projects that had been conducted in selected Seoul metropolitan areas until May 2014.
Then it was further deployed across the entire Seoul metropolitan areas in June, and then across 35% of the country by July. On August 17, KT announced that it would complete the nationwide deployment of the system by the end of the year.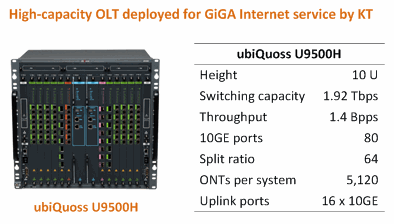 KT's high-capacity OLT system is an enhanced version of its previous FTTH OLT (100 Mbps per subscriber). It can cover upto 5,120 users (80x10GE-PON ports, Split ratio 64), and has an excellent switching capacity of 2 Tbps, 40 times higher compared to the previous OLT.

With the introduction of the high-capacity OLT system, KT is fully fledged to respond to soaring traffic to be caused by
UHD TV, Internet of Things (IoT), etc.
Chang-Seok Seo, vice president of the Network Technology Unit at KT, noted that "With deployment of high-capacity OLT systems, KT will be able to provide differentiated Giga services that no other can do, and drastically improve service quality as well. KT will devote itself in developing new technologies and conducting researches to ensure high quality service for customers."
Upgrade of broadband access speed from 100 Mbps to 1Gbps will result in increased traffic in backbone networks. To effectively respond to this traffic, KT i) replaced the routers in premium core networks that deliver ITPV/VoD traffic with high-capacity 4 Tbps routers last August, and ii) has continued to expand KORNET, which is in charge of delivering Internet traffic, through router replacement, additional line card installation, etc.