KT IPTV (4K UHD) Service
(1) UHD Live TV
(2) 'Most Popular Channels Now' (9-Channel View)

KT launched the world's first UHD IPTV service in September 2014. Now it has over 100,000 subscribers as of April 2015, closing trailing LG U+ who has attracted around 125,000 UHD subscribers over the same period of time. What differentiates KT's UHD IPTV service from its competitors' is that it is the only service that offers not only UHD VoD, but also a UHD broadcasting channel. UHD VoD service is available from its competitors, SK Broadband and LG U+, as well, but neither of them provides a UHD broadcasting channel.

So, we thought it would be worthwhile to take a look at KT's Live TV service(real-time retransmission of broadcast channels over IP network, linear TV channels).

First, we will briefly review the history of KT's IPTV Live TV service. KT launched SD/HD-class IPTV Live TV service in January 2009, and Full HD service in December, 2013. Then in September 2014, the company began to offer UHD service (encoding rate: 21Mbps, 3840x2160) via its UHD-only channel 'Sky UHD' (# 001).

In addition, since it first applied 'Pre-UHD' technology (encoding rate: 17Mbps, 1920x1080) in April 2015 to upgrade some of the popular channels in Full HD (encoding rate: 9.5Mbps) to UHD-class, KT has provided more semi-UHD channels (I was very satisfied with the video quality of the UHD channel, and I personally did not notice any difference in video quality between Pre-UHD and UHD channels. It apparently is very subjective, though). This year, KT plans to add a couple of UHD channels, and continue to upgrade existing channels to Pre-UHD class.

As of May 23, 2015, KT:
has 214 channels in total
uses Transport protocol = UDP, channel request = IGMPv2, QoS = DiffServ 0x80(DSCP 0x20), CBR for all channels
Channels

Resolution

Codec

Encoding Rate

Streaming Rate

Network BW

QoS

UHD Chanel

001: SkyUHD

3840x2160

H.265(hevc)

4:2:0

21.3Mbps

26.3Mbps

27.1Mbps

CBR

0x80

Pre-UHD Channels

015: JTBC

5 channels

1920x1080

H.264

4:2:0

17.2Mbps

20.7Mbps

21.4Mbps

CBR

0x80

Full HD Channels

011: MBC

159 channels

1920x1080

H.264

4:2:0

9.5Mbps

13.1Mbps

13.5Mbps

CBR

0x8

0

* Streaming rate: Refers to the UDP payload rate which can be obtained by subtracting the network overhead (including Ethernet, IP, UDP headers) from the network bandwidth of a multicast stream measured by Wireshark. In general, streaming data includes not only video data, but also other data including encryption information, FEC data, etc. So, the actual encoding rate of a video is lower than its streaming rate.
* Encoding rate: Refers to the Content Bitrate value measured in VLC.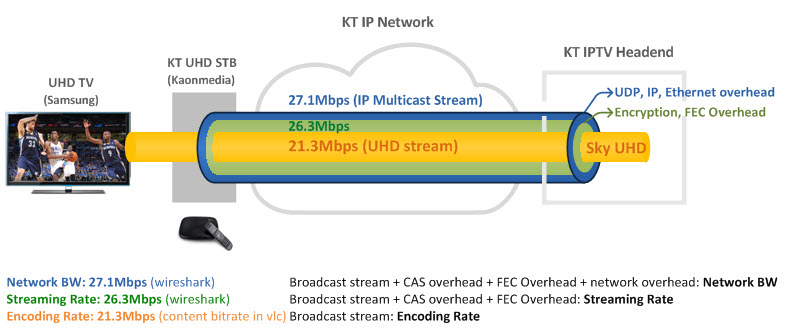 The figure below is the screenshot of the traffic to/from 'Sky UHD' by KT, the only UHD channel provider in Korea (KT's Giga Internet, Samsung's UHD TV, Kaon Media's UHD STB).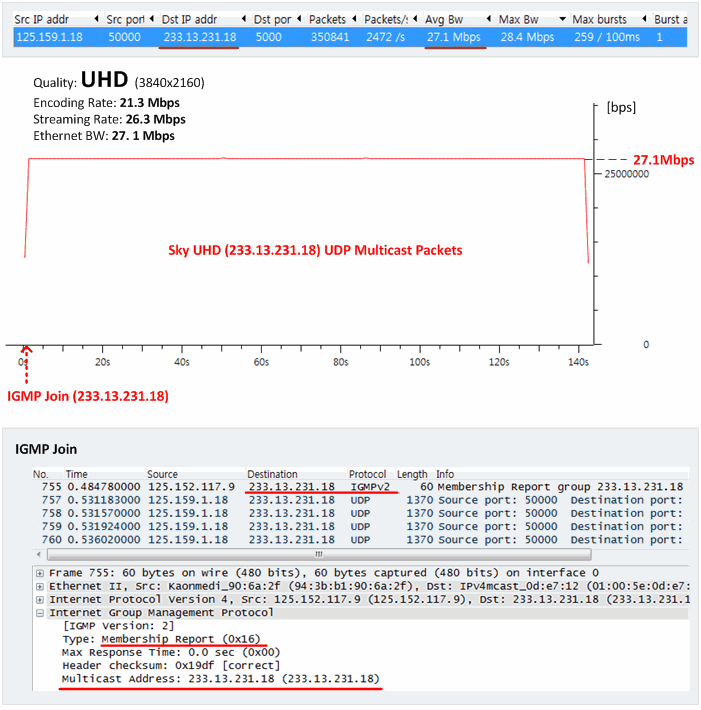 Out of 214 channels provided by KT, we selected 60 channels (CH1 through CH73), changed the channels every 20 second, and captured them for analysis (KT's Giga Internet, Samsung's UHD TV, Kaon Media's UHD STB). And the results were as seen in the figure below. The numbers in black indicate network BWs, and ones in purple are streaming rates.