Netmanias interview with China Mobile at MWCS 2015: 4G evolution (LTE-Advanced, 4.5G) technologies
4.5G (TDD Evolution, TDD+)
China Mobile also introduced some TDD+ (also known as TDD evolution), which can be called "not quite 5G yet, but 4.5G" technologies, in cooperation with Huawei. The figure below shows the concept of 4.5G, along with its key words. The goals of TDD+ include 5+ Gbps speeds, 5x spectrum efficiency, 50% less network costs, etc. Below, we will take a look at these goals one by one.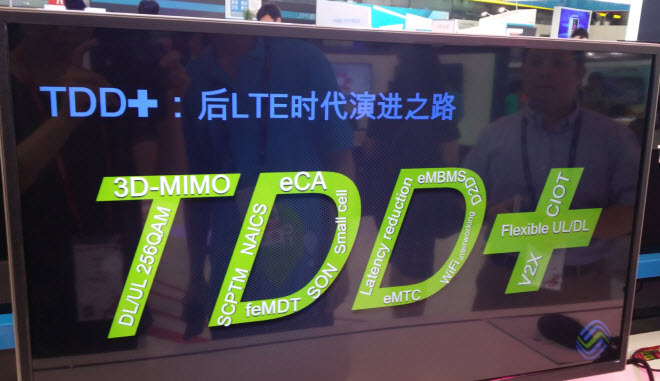 1. Technologies for 5+ Gbps peak date rates
The maximum speeds that TD-LTE cells can give are 100 Mbps or so. So, in order for TDD+ to be able to support 5 Gbps, cell capacity (or maximum speed) has to be improved by more than 50 times. In the event, technologies like CA enhancement, 256QAM, and TDD-FDD joint operation were introduced as potential enablers for 5+ Gbps.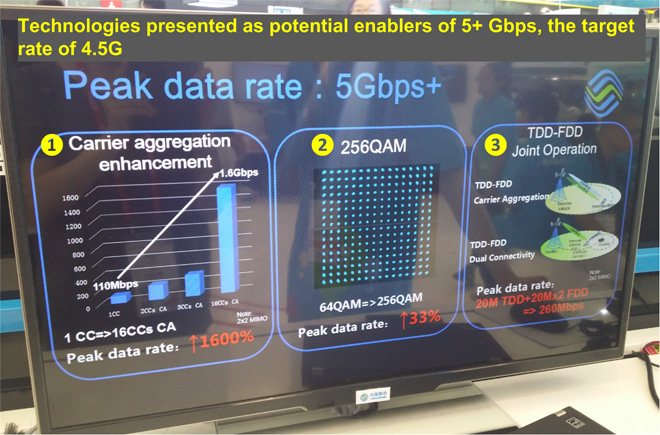 ❶ CA enhancement:
CA enhancement aggregates up to 16 TDD carriers to increase the current maximum 100+ Mbps by 16 times, achieving 1.6 Gbps.
❷ 256QAM
256QAM applies a higher order form of modulation than the conventional TD-LTE (64QAM) to obtain improved transmission rates. In the event, China Mobile applied DL 256 QAM to LampSite, an in-building small cell (C-RAN based) solution by Huawei, achieving 147 Mbps, which is 33% faster than 64QAM. When applied with Dual CA, 256QAM supported up to 295.3 Mbps.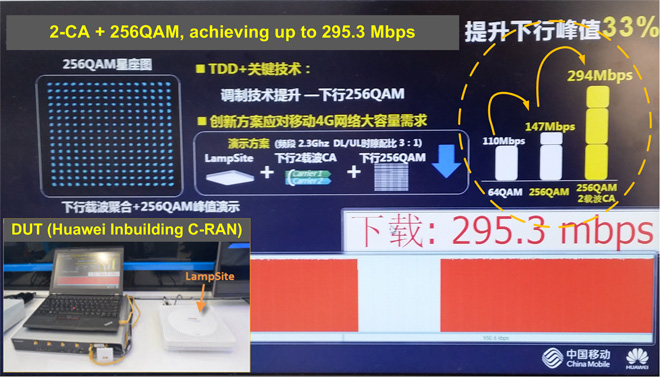 ❸ TDD-FDD joint operation:
TDD-FDD joint operation uses the frequencies of TDD and FDD together to obtain improved speeds. TDD-FDD CA gives expanded bandwidths, resulting in higher speeds, while TDD-FDD Dual Connectivity allows for reliable and high-speed connection in HetNet.
2. Technologies for 5x better spectrum efficiency
China Mobile introduced 3D-MIMO, advanced interference cancellation, and dynamic TDD as TDD+ technologies that would improve spectrum efficiency by more than 5 times, compared to 4G (TD-LTE).
❶ 3D-MIMO
3D-MIMO is based on Active Antenna System (AAS). AAS improves spectrum efficiency by increasing the number of antenna elements (e.g. 128x128). It combines RF transceivers and antenna elements to form 2 dimensional antenna arrays, and controls the beam pattern of each array.
3D-MIMO can control beam patterns both horizontally and vertically. It can also generate narrower beams, and is capable of vertical beamforming, which allows for more improved spatial reuse. Plus, it can serve multiple users at the same time using multiple beams, or further divide cells using vertical sectorization, consequently improving coverage, capacity, and interference performance. In the demonstration, thanks to 3D-MIMO, both average cell transmission rate and cell edge transmission rate were improved by 130% and 243%, respectively.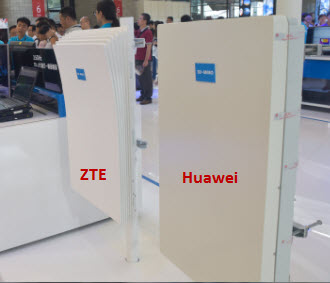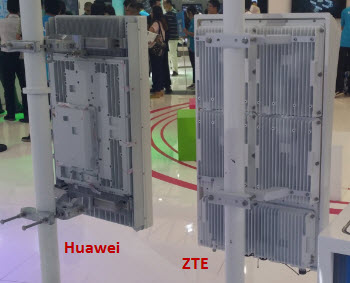 3D-MIMO
❷ Advanced interference cancellation
A base station delivers interference information obtained through inter-base station cooperation to a user device, which then, using the information, eliminates interference signals from the received signals before it decodes the desired signals by using an advanced receiver. This helped average cell transmission rate and cell edge transmission rate improve by 20% and 50%, respectively.
❸ Dynamic TDD
A base station monitors UL/DL traffic loads, and dynamically controls UL/DL transmission rates in TDD radio frames accordingly, consequently improving both average cell transmission rate and cell edge transmission rate by around 40%.
3. Technologies for 50% less network costs
Minimization of Drive Test (MDT), Self-Organized Network (SON) and Small Cell were presented as technologies for lowering network costs by 50%.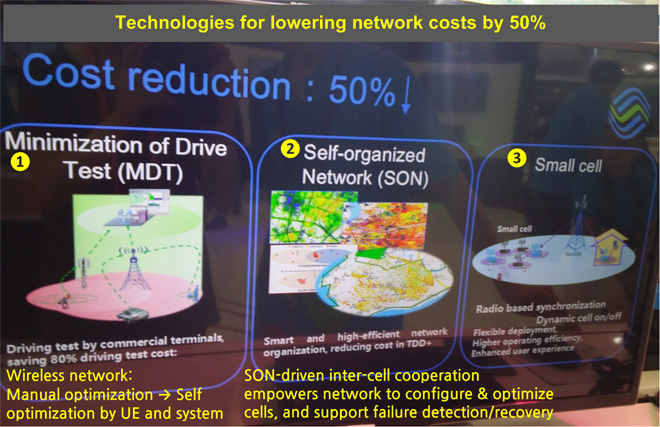 ❶ Minimization of Drive Test (MDT)
This technology helps operators maintain the quality of their mobile networks and services by using information on the received signal strength measured and reported by user devices, more efficiently than conducting conventional drive tests. MDT is known to reduce drive test costs by 80%.
❷ Self-Organized Network (SON)
LTE, in the pursuit of faster connection, now has smaller cell coverage than 3G, and TD-LTE has narrower coverage than LTE FDD. Besides, small cells are expected to be more prevailing in no time. Eventually, the conventional ways of cell planning, installation, and management will result in pretty high network costs.
New ways of configuring/optimizing cells, and detecting/recovering failure should be sought after in order to build affordable LTE network quickly enough to catch up with the fast growing 4G subscription. In such regard, SON can be a very effective option in that it, through inter-cell cooperation, helps a network to automatically configure and optimize cells, and detect/recover from failure, effectively lowering network costs.
❸ Lower costs of maintaining small cells
In HetNet, small cells can be installed almost anywhere, including high user density areas, shadowing areas, homes, etc. Because traffic loads change depending on time and events, a feature that can synchronize small cells and selectively deactivate those with no traffic load is needed in order to reduce interference between small and macro cells. China Mobile introduced an affordable technology that can manage small cells efficiently by performing synchronization among small cells, and between macro and small cells based on common reference signal (CRS) from the macro cell, and dynamically turning on/off the small cells accordingly.
4. Penetration to vertical industries
LTE is no longer used for communication between mobile devices only. It is actually being used for IoT communication as well. This means services from operators, once limited in the communication industry, can be expanded into other industries like Vehicle to Vehicle, enhanced Machine Type Communication (eMTC), enhanced Multimedia Broadcast Multicast Service (eMBMS), etc., according to China Mobile.
China Mobile began 4G service two and half years after Korean operators did. As of June 2015, the company has 23% of 4G service subscription. It is still pretty low compared to Korean big 3's 75% of LTE subscription, but the actual number of subscribers in China is 190 million - nearly 4 times as many as that of Korea.
With the company's 4G subscription growing so fast, demand for more LTE networks is increasing as well. The LTE evolution technologies discussed so far are likely to be introduced in the market soon one by one, probably CA first as it is proven to drastically boost data speeds.
In the first half of the year, China Mobile has constantly made efforts to build and optimize CA trial networks. In June, as a result of such efforts, it demonstrated TDD 3-carrier aggregation successfully achieving 300 Mbps. We should be able to discuss the company's TD-LTE evolution technology scheduled to be commercialized soon.
About China Mobile

Along with China Unicom and China Telecom, it is one of the 3 major mobile operators in China. As of June 2015, the total mobile subscription in the nation reached 1.29 billion. China Mobile has 63% market share (820 million), followed by China Unicom with 22.3% (290 million) and China Telecom with 14.7% (190 million). The total subscription consists of 47.9% of 2G (620 million), 34.7% of 3G (450 million), and 17.4% of 4G (230 million).

[One Shot Gallery] 2/3/4G subscription growth in China

China Mobile, No. 1 mobile operator in China, launched the nation's first TDD-type 4G (TD-LTE) on Dec. 18, 2013. Since then, the nation's 2G and 3G subscription have declined while 4G subscription has grown fast. As of June 2015 (one and half year after TD-LTE launch), China Mobile's 4G subscription accounts for 23.2% (190 million) of the company's total mobile subscription.

[One-Shot Gallery] China Mobile's 2/3/4G subscription growth

China Mobile is offering 2G GSM, 3G TD-SCDAM, and 4G TD-LTE services. GSM system works in FDD mode while TD-SCDMA and TD-LTE systems work in FDD mode. Commercial frequencies owned by China Mobile are as follows:

Table 1. Commercial frequency bands owned by China Mobile

(as of June 2015)

Operating Band

Bandwidth

Usage*

FDD

Band 8: 900 MHz

2x20 MHz

GSM

Band 3: 1800 MHz

2x25 MHz

GSM

TDD

Band 34: 2010-2025 MHz

15 MHz

TD-SCDMA

Band 39: 1880-1900 MHz

20 MHz

TD-SCDMA & TD-LTE

Band 40: 2320-2370 MHz

50 MHz

TD-SCDMA & TD-LTE (indoor only)

Band 41: 2575-2635 MHz

60 MHz

TD-LTE

* 2G: GSM, 3G: TD-SCDMA, 4G: TD-LTE

(source) CMCC presentation of 4.5G panel, ICCC2014