For the rest of the Q3 2015 issue of Korea Communication Review magazine please click here
Hear from CTO of Korean Telcos
1. Dr. Dongmyun Lee, CTO of KT: Leading 5G through wired/wireless Integration
2. Mr. Changwoo Lee, CTO of LG U+: LG U+'s Mobile Network Evolution Strategies
► 3. Dr. Jingsung Choi, CTO of SK Telecom: SK Telecom's 5G Evolution Strategies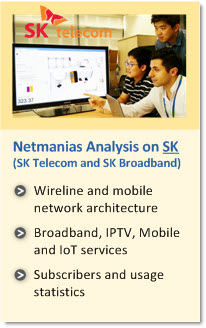 Dr. Jinsung Choi, CTO of SK Telecom said 5G will bring Korea a golden opportunity to reassure its leadership in the global mobile market. He also mentioned the company will enhance its focus on improvement in LTE service quality and development of 3 key platforms this year. He stressed, for success of the Internet of Things (IoT), building 'vertical platforms' is essential to achieve economies of scale. Below are the summary of the interview for you.

What are your key investment areas this year?
Our top investment priority will be LTE quality improvement, for example securing more 3-band CA coverage. Also massive investment will be made in development of 3 key platforms - lifestyle enhancement, advanced media, and IoT service. Especially, for IoT, a platform called Mobius will be released in June, and is expected to be a success. Introducing more IoT success cases is very critical.

There are some criticisms that the term 'platform' is too abstract.
A platform can be seen as a foundation for buildings. It is like an ecosystem. For example, if Operating Systems (OS) like Andriod, iOS, etc. are platforms, app stores are the ecosystem that should be built on them. I call them 'horizontal platforms'.

There are vertical platforms, intended for business, as well. A vertical platform is an integrated platform that comes with everything necessary, from hardward to applications. This type of platform can be easily used/adopted??? in many different markets. Let's take Smart Farm as an example. From sensor, to software, application and network, everything comes as a package. It can also be applied to other similar industry, with no or little modification. Vertical platforms are important because they give economies of scale. If economies of scale are not achieved, the IoT cannot go beyond the bounds of long tail markets, and the IoT industry will end up having only one option in competing, labor costs competition.

What are current development status and strategies of 5G?
5G can be a golden opportunity for Korea to win the leadership in the global mobile market. Others are not as desparate as Korea for 5G. For instance, the US is one of the largest countries in the world, and people are happy with what LTE is offering. But, it is a different story in Korea. Korea has a big sports event coming, to be hosted by the Korean government. This event can serve as a great chance for the country to show its leadership in the mobile market.

In 5G, the ecosystem are more open, compared to 4G and earlier networks where the ecosystems were built by only 4 parties - equipment, device and chipset manufacturers and an operator. In 5G, conventional IT vendors like HP and IBM, NFV software developers, and software ventures will also be involved in the process. So, we have to work on building an open ecosystem. This is why SK Telecom installed a 5G testbed in Bundang, and made the facility open to its mid-sized partners.

From 5G on, what matters will be whether there can be many practical cases of 5G application or not. Until LTE, speed was the key factor, and others like service and contents followed. But, now with LTE speed user experience easily exceeding 100 Mbps, there is barely a noticeable difference in speeds that users can actually feel. So, offering merely higher speeds without providing 5G-specific application cases is not enough to satisfy customers. Developing solutions that can give users new experience is a prerequisite now. Virtual Reality (VR) can be a good example of them.
Regardless of Pyeongchang Winter Olympic, we are planning to showcase 5G technologies by then - independently or in cooperation with the government.

There are some skeptisms about 5G as well.
LTE and 5G will co-exist for quite a long period of time, but with their own market values. From a customer's perspective, this means more services to enjoy. Once 5G hits the market, probably between 2020 and 2025, there will be no turning back. Soon, we will not be able to live without it.

From a service provider's perspective, of course 5G means 'efficiency' - more data delivered using the same amount of frequency. Being far more efficient than LTE, 5G is suitable for mission-critical service, like in robots or automobiles. For example, a 5G technology can be built in an anti-collision system of an automobile because of its excellent real-time capabilities.

5G era is to be shaped by vendors and operators. As noted above, the ecosystem pool will get wider, and that will make small-sized network operators play even more important role than anyone else.

What do you think about the doubt that OFDM technologies, which have been very effective until in LTE, will no longer be effective in 5G?
I think that makes sense. In 4G LTE, OFDM has long been believed to be most optimized for high-speed transmission. But, now another high-speed transmission technology is being sought after. So, people might think 'why do we need another super computer when we already have one perfectly working?

Different bandwidths require different technologies. With LTE, OFDM has all communications made in 1.8㎓, 2.1㎓, 2.6㎓, etc. (all under 3.5 GHz), using 10 ~ 30 MHz in each channel. On the other hand, with 5G, the same OFDM has communications made in ultra-high frequency channels, like 28㎓, 29㎓, or even 60㎓. Whatever has been working under 3.5㎓ will not work in such ultra-high freqeuncies.

Besides, so far in LTE, bandwidths up to 30 MHz have been used in each channel. But, with such ultra-high frequencies, at least 500 MHz (and even 1GHz) is expected to be used. So, if LTE is a merely 5-lane highway, 5G is like a whopping 500-lane highway. They both may be able to use the same operating principle, but completely different operating technologies.

Is there any LTE-A technology under development?
We are currently working on improvement of inter-cell inteference control. To give better call quality and faster speeds, unwanted noise signals except for user signals to receive have to be eliminated. And for that, interference has to be controlled. Overlapping coverage between base stations are called 'cell edge areas', and these areas usually have the poorest quality. 70 Mbps can be enhanced to 120 Mbps, if interference is managed properly. So, these areas are the ones with the greatest room for improvement in LTE-A.

Another important technology in LTE-A is Carrier Aggregation (CA). CA combines multiple frequency bands. The more bands are combined, the more complicated the implementation gets. To ease this issue, new lanes have to be added, or the existing lanes have to be widened. So far, 4-band CA proved pretty plausible. But 5-band CA has some problems in signal reception, so is not ready yet.