In this blog, we look at the background of the emergence of private 5G and private 5G operators, and examine four models for enterprises to deploy private 5G networks.

In 2019, Germany's BNetzA, Japan's Ministry of Internal Affairs and Communications, and Ofcom in the UK opened 5G frequencies for the industry to promote digital transformation, enabling enterprises to build and operate private 5G networks independent of mobile carriers' public 5G networks. In 2021, Ministry of Science and ICT in Korea opened private 5G frequencies (100MHz@4.7GHz and 600MHz@28GHz).

It has become possible to establish a carrier-grade quality wireless private network in enterprise workplaces.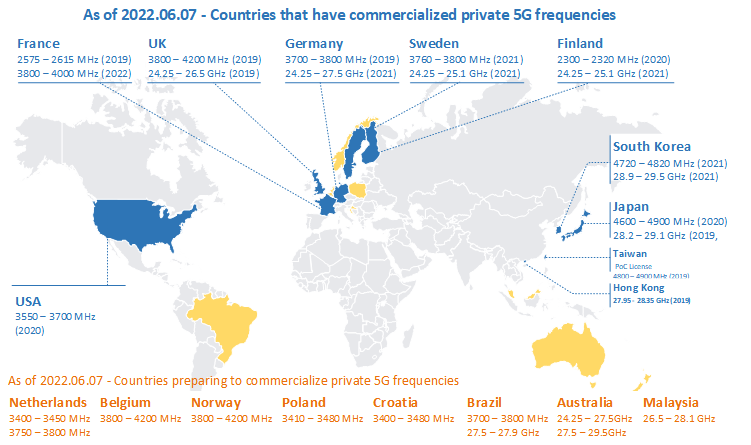 Figure 1. Current Status of Commercialization of Private 5G Frequencies
in Countries around the World.
Unlike wired Ethernet and Wi-Fi, which are existing private network technologies, private 5G networks provide unprecedented wireless connectivity with mobility, large capacity (10Gbps), ultra-low latency (up to 1ms), and ultra-connectivity (106 devices/Km2).

As a result, enterprises can implement various types of industrial applications/use cases with different requirements in terms of mobility, capacity, latency, and number of concurrent access terminals, such as camera and AI-based image analysis, robot motion control, and asset tracking.
The Private 5G network is expected to be used in various industrial fields as a key infrastructure for industrial digital innovation.
In December 2019, big companies in Germany began to build a private 5G network.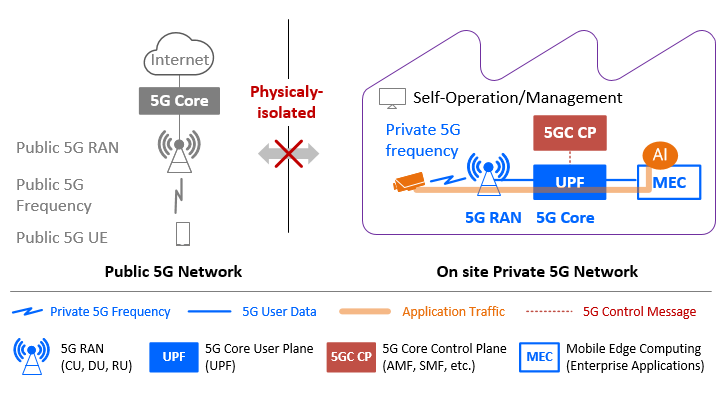 Figure 2. Isolated Private 5G network built by the Enterprises
In Germany, which opened the Sub-6 5G frequency (3.7-3.8GHz) to the industry first in the world in 2019, German big companies such as Bosch, Volkswagen, Porsche, Rohde & Schwarz, and KUKA began building their own private 5G networks (They design/procurement/build/operate their own private 5G network).
They self-develop a completely closed private network (on-premise type) that is ideal in terms of high security in that data and terminal information generated by the company are distributed only inside the workplace, 5G performance such as large capacity/low latency, and stability regardless of the external network environment.
These companies operate their own private 5G networks with an organization dedicated to designing/constructing/operating 5G networks in-house.
Obstacles to enterprise's deployment of private 5G networks
However, unlike the large companies mentioned above, which have been preparing to build a private 5G private network for several years, the situation of general companies that are not familiar with 5G technology is different from them.
The lack of expertise in 5G mobile communication technology and the high cost of purchasing 5G equipment are acting as major obstacles to enterprise's deployment of private 5G networks.
Lack of expertise: without expertise, it is almost impossible for most companies to understand difficult and complex 5G to design customized 5G networks for themselves, select 5G core and base station vendors, integrate 5G equipment from multiple vendors, and operate themselves.
Expensive equipment cost: all 5G elements in the workplace must be purchased and built. Unlike existing wired LANs or WLANs, 5G equipment is very expensive because it is originally used for mobile communication. In the case of products from major 5G vendors, purchasing one 5G core control unit, one UPF, one 5G CU, one DU, and a few RUs costs nearly $800K.
For private 5G to be successful in the market, it must solve the problem that private 5G equipment is very expensive because it is 3GPP cellar, the long and costly problem of companies integrating equipment from multiple vendors, and the difficulty of existing network operators to operate 5G networks like Wi-Fi and wired Ethernet.
In particular, these problems are more serious in small and medium-sized enterprises (SMEs) rather than large corporations with abundant capital and manpower, which is a major obstacle to the rapid spread of private 5G around the world.
Emergence of private 5G operators
In order to solve these difficulties and realize the rapid introduction of private 5G, private 5G operators* that provide private 5G network design, construction and operation services to enterprises are appearing all over the world.
* Private 5G operator: An operator that provides private 5G service to enterprises using private 5G frequencies (SI company, Telco/CATV operator, cloud service provider, mobile operator, etc.).
Japan: NSSOL, Fujitsu, Hitachi, NTT East Japan, NTT Com, NEC, NESIC, Ehime CATV, Mitsubishi Real Estate, Okinawa Cable TV, etc.
Germany: DT, Vodafone Germany, Telefonica Germany, Becon, Siticom, Cocus, Umlaut, etc.
USA: AT&T, Verizon, AWS, Google Cloud, Microsoft, Betacom, etc.
Korea: Naver Cloud, LG CNS, SK Networks Service, Nable Communications, CJ Olive Networks, KT MOS, Sejong Telecom, Wizcore, etc.
Figure 3. Private 5G Services (Private 5G Operators)
These operators provide 5G network design, construction, and operation as a service to enterprises that are struggling to build due to lack of expertise (Figure 3 - A).
In addition, in order to facilitate the introduction of private 5G networks,
(Figure 3 - B) It also provides monthly subscription services to lower the initial investment cost of enterprises.

(Figure 3 - C) 5G core, which is the most expensive of 5G network components, is placed in the cloud of a private 5G operator rather than located at each enterprise site, and multiple enterprises share the 5G core (network slicing), reducing the investment cost per enterprise site. This further lowers the subscription service fee.

The components of the private 5G network are the same as the public 5G network used by general consumers mainly for smartphones, and are largely composed of 5G core control units (AMF, SMF, etc.), 5G core data units (UPF), 5G base stations (CU, DU, RU), and 5G terminals (UE).
Depending on the physical distribution location of these 5G network components inside and outside the enterprise site, various deployment models for private 5G network are possible.
There are four major private 5G network deployment models that have emerged in the market
Private 5G deployment models can be classified into four major categories as follows, depending on the builder and the physical location of 5G components.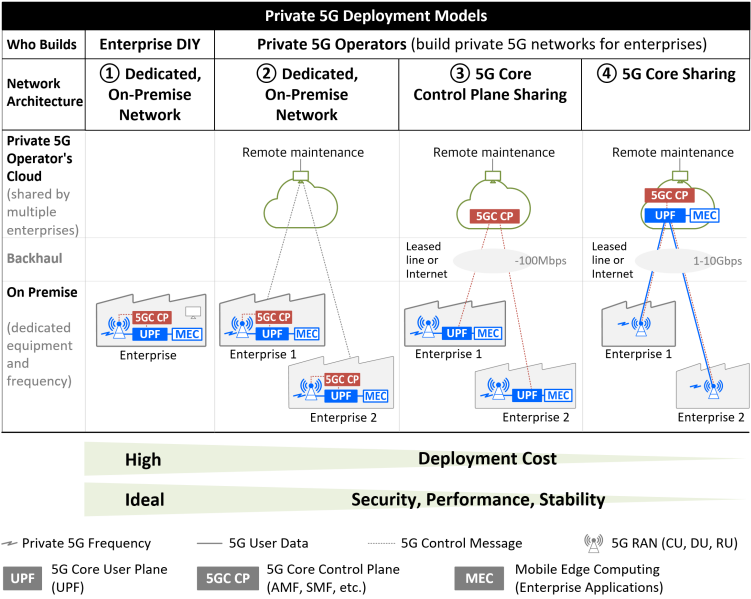 Figure 4. Private 5G Network Deployment Models
① Enterprise DIY (Dedicated, on-premise network): enterprise builds all components of the 5G network on enterprise site
② Private 5G Service (Dedicated, on-premise network): private 5G operator builds all components of the 5G network on enterprise site
③ Private 5G Service (5G Core Control Plan Sharing): private 5G operator builds only 5G user plane within the enterprise site
④ private 5G service (5G Core Sharing): private 5G operator builds only 5G RAN within the enterprise site
Depending on the private 5G network deployment models, there are advantages and disadvantages in terms of deployment/operation costs, low-latency application support capabilities, large-capacity application support capabilities, stability, enterprise data privacy, and full control (see Table 1).
Enterprises that want to introduce private 5G networks can build private 5G networks by themselves by purchasing equipment from 5G vendors (on-premise type), or use private 5G network deployment and operation services (on-premise type, 5G core control plane sharing, and 5G core sharing) in consideration of their security policies, major applications, and secured budgets.
Table 1. Comparison of private 5G network deployment models
Who Builds
Enterprise DIY
Private 5G Operators
Network Architecture

① Dedicated, On-

Premise Network

② Dedicated, On-

Premise Network

③ 5G Core Control

Plane Sharing

④ 5G Core Sharing

Cloud of

Private 5G

Operator

-

-

5G Core CP

UPF, 5G Core CP, MEC

On Site

5G UE, 5G RAN,

5G Core, MEC

5G UE, 5G RAN,

5G Core, MEC

5G UE, 5G RAN, UPF,

MEC

5G UE, 5G RAN

Security (Data

Privacy)

No data leakage outside the enterprise

All data in the enterprise

is externally leaked.
Only for enterprises that

allow data leakage.

eMBB

Performance

Excellent support for large-capacity applications with a data plane

established in the enterprise site.

Requires large-capacity

backhaul link.
Internet VPN is also

possible.

URLLC

Performance

Excellent support for low-latency applications with a data plane established

in the enterprise site.

Applicable only if the

backhaul transmission

delay due to distance is

lower than the allowable

delay of the application.
Expensive quality

guaranteed backhaul

line required.

Stability

Independent of enterprise external network failure

Affected by a communication failure/disaster

outside the workplace (Communication/service

interruption)

Backhaul

No need for backhaul lines

Since only control

messages are carried,

low-capacity, best-effort

lines are also possible.

Because user data is

also carried, low-latency

applications require

expensive quality-

guaranteed lines.
High-capacity

applications require

best-effort high-capacity

lines.

Access to the

enterprise

network in the

workplace

Access to the enterprise network from UPF in the workplace

A leased line is required

between the UPF of the

cloud and the enterprise

network in the workplace

Network

Slicing

Sufficient number of slices can be created (e.g. slices for each

department/application within the enterprise)

Depends on the private

5G service provider, but

usually provides a few

slices for each

enterprise

Full Control

Enterprises can fully

control private 5G

networks, such as

up/down speed

adjustment, network slice

creation, access

authority control for each

slice, device addition,

and QoS/permission

settings

Enterprise control over the private 5G network is also possible within the

range provided according to the service policy of the private 5G operator.

CAPEX

An enterprise purchases

base stations and cores.
The initial investment

cost of the company is

very high.

The service fee is high

due to the operator's

large investment cost

(base station, UPF, 5GC

CP) for each enterprise

site.

Low service fee due to

reduced investment cost

(base station, UPF) for

each enterprise site.

The service fee is the

lowest because the

operator's investment

cost (base station) of

each enterprise site is

the lowest.

In-house 5G

experts

Need for 5G experts

inside the enterprise

Possible without 5G experts inside the enterprise