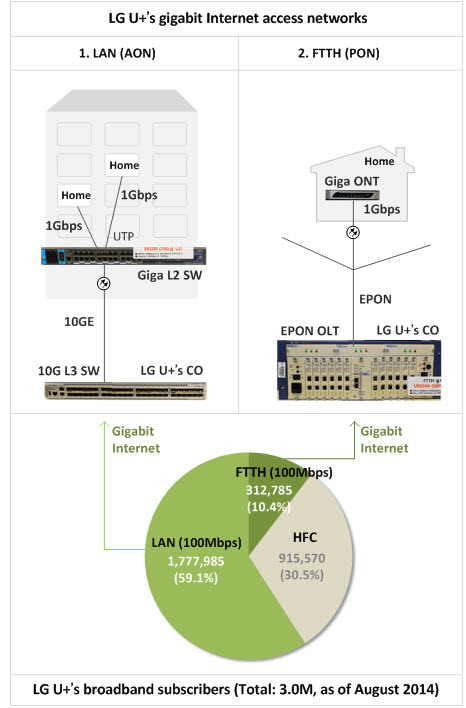 LG U+ unveiled its gigabit Internet access network solution at the World IT Show 2014 held in Busan on October 20th. The new solution is said to be capable of supporting bidirectional Internet speed of 1 Gbps per user.
Unlike its competitors, KT or SKB, the company offers LAN, FTTH and HFC services only, and not XDSL. At the show, LG U+ gave a demonstration of the technology and equipment that provide 1 Gbps in LAN and FTTH environments.
Now, here is what we, Netmanias, witnessed and learned about the LG U+'s solution at the show. The company presented the following two 1 Gbps Internet technologies:
1. LAN (AON): provides 1 Gbps through UTP cabling already installed at home
2. FTTH (PON): provides 1 Gbps through fiber cabling to be installed at home
► As a giga Internet solution for apartment units in LAN environment, LG U+ used • 10G L3 switch, • Giga L2 switch, and • Compact Giga L2 switch.
10G L3 switch (ubiQuoss E6100) is a 1U switch with switching capacity of 960 Gbps. This compact switch, designed to be located at LG U+ central office, has 48 10G ports with just 1U. The switch was first introduced in LG U+'s commercial network last year.
Giga L2 switch (ubiQuoss E5424) is a 1U L2 switch with 10 GE uplinks. It is designed to be installed in an apartment building and to support 24 GE (1000Base-T) ports. As each port provides 1 Gbps speed to each apartment unit, one switch can serve up to 24 units. This switch was first introduced in LG U+'s commercial network in September this year.
These two switches (10G L3 and Giga L2) are connected to 10GE.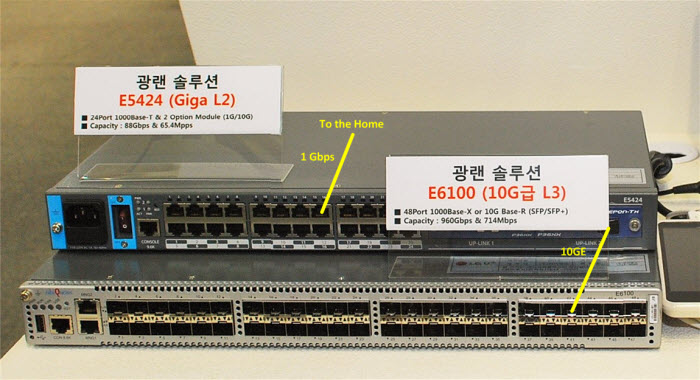 Click on the image to see the larger version
The other interesting item noteworthy was ultra-compact giga L2 switch (ubiQuoss E2105) shown below. Usually IDFs in old apartment buildings are too narrow to hold large L2 switches, and also supplying power for large L2 switches is not easy. To this kind of issue, this ultra-compact L2 switch can be a perfect solution as it can be easily placed even in a narrow no-powered IDF, delivering 1 Gbps to up to 5 units. It's small, needs no power, and delivers giga. Couldn't be better! Power for the switch (and of course data as well) is delivered through UTP cables via a PSE (Power Source Equipment) unit installed in MDF. The company said it completed a pilot installation of the switch in May this year.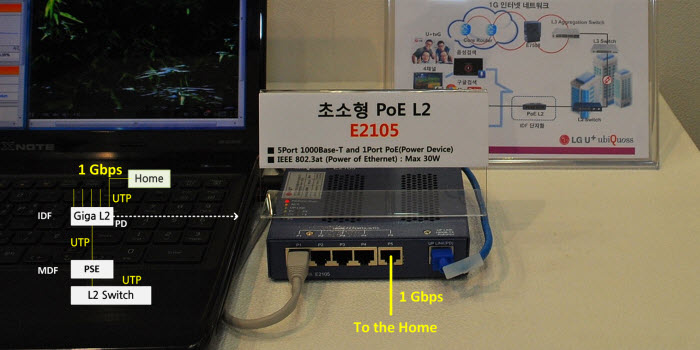 Click on the image to see the larger version
► For FTTH access network, EPON OLT (U9024A) and EPON ONT (C504L) were presented.
U9024A, located at LG U+'s central office, supports 20 EPON ports and serves 1,280 subscribers (ONT) with 64 split ratio. C504L, installed at home, has 4 GE (1000Base-T) ports, but unfortunately doesn't support Wi-Fi.
These two were introduced in LG U+'s network years ago, and have worked as the company's key FTTH equipment for years. For now, they are only used for 100 Mbps service. But the company said, once the giga Internet service is commercialized, 1 Gbps service can be offered to each household right away without having to replace any equipment, that is, with no additional investment, but by simply adjusting just one setting in OLT and ONT (PON profile: 100M ⇒ 1Gbps).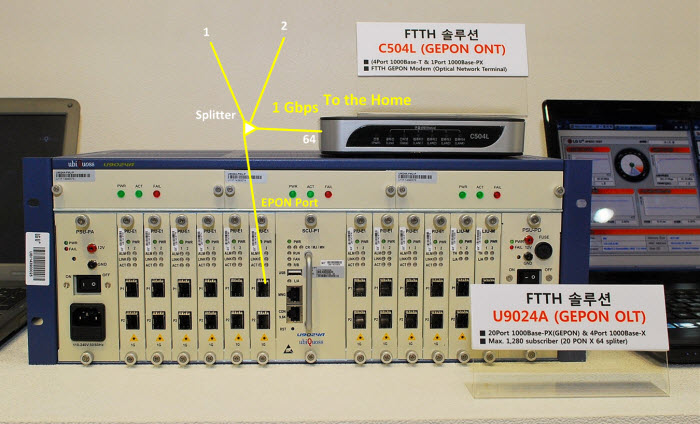 Click on the image to see the larger version
On the same day, KT broke the news that it launched Korea's first giga Internet service on October 20th. Judging from what we have seen at the show, LG U+ seemed to be technically ready and all set for giga Internet service commercialization. It is expected to launch the service as soon as specific pricing plans are finalized.
It sure is a giga era! Are you ready for it?