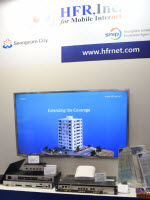 Netmanias Interview with HFR at MWC 2015 (In-building DAS, Fronthaul, Backhaul)
03/12/2015 | By NETMANIAS
HFR, a Korean specialist in Optical and Radio Networking technologies, presented its newest In-building DAS, C-RAN Fronthaul and Carrier Ethernet solutions at Mobile World Conference (MWC) 2015.

HFR, Korean Specialist in Optical and Radio Networking Technologies, to present its Fronthaul, Backhaul and Indoor Wireless Solutions at MWC 2015
02/12/2015 | By NETMANIAS
HFR, our proud sponsor, will be exhibiting and presenting their latest solutions at MWC 2015.
Let's take a peek at what they have to share with the world, in advance.