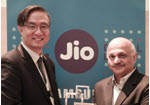 Jio and Samsung Win "Best Mobile Innovation for Emerging Markets" at Global Mobile Awards 2017
03/01/2017 | By Netmanias
Jio and Samsung Electronics, announced on February 28 that they have won the "Best Mobile Innovation for Emerging Markets" from Global Mobile Awards 2017 at MWC 2017 for the digital movement that Jio, with support from Samsung, is bringing to India.
Jio and Samsung Shift the Indian LTE Mobile Market Landscape Once Again with the "I&G Project"
03/01/2017 | By Netmanias
Samsung announced on February 28 its innovative "I&G (Infill & Growth) Project" for Reliance Jio Infocomm Ltd in India. This joint project was established to upgrade current LTE mobile communication services across India by expanding both the current network capacity as well as network coverage.