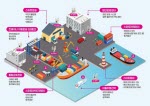 SK Telecom Announces its 5G Achievements and Plans on the First Anniversary of 5G Launch
03/29/2020 | By
SK Telecom today announced its 5G milestones achieved over the past year since launching the world's first 5G service on April 3, 2019, along with its plans going forward.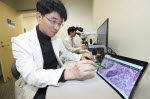 KT and Samsung Medical Center to Build 5G Smart Hospital
01/20/2020 | By
KT Corporation, Korea's largest telecommunications company, and the Samsung Medical Center (SMC) announced last week that they have jointly developed an innovative, 5G-powered medical service as an initial step to establishing a 5G smart hospital.
SK Telecom Joins Forces with Bridge Alliance Members for Cooperation in 5G MEC
01/13/2020 | By
SK Telecom today announced the launch of the 'Global MEC Task Force' with Bridge Alliance member operators, including Singtel, Globe, Taiwan Mobile and PCCW Global, for cooperation in 5G mobile edge computing (MEC).