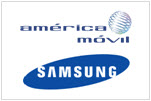 Samsung and America Movil Unite to Propel Hyper-connectivity in Latin America
07/19/2017 | By Netmanias
Samsung and America Movil have signed and formalized a letter of intent to develop a series of pioneering projects across Latin America. Both companies will develop technologies for the new era of hyper-connectivity and of the IoT in Mexico and elsewhere in the region.
SK Telecom Commercializes More LTE-A Pro Technologies: Five-band Carrier Aggregation and 4X4 MIMO
06/15/2017 | By Netmanias
SK Telecom announced on June 5th, that it successfully commercialized five-band Carrier Aggregation (CA) and 4X4 MIMO, which are key technologies of LTE-A Pro, the last stage of LTE evolution.