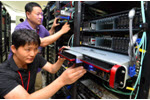 SK Telecom to manufacture and sell networking equipment
09/07/2016 | By Yongjoo Kim
On the 4th, SK Telecom launched 'SCube' (tentative name), a new brand for networking equipment it plans to offer. SCube equipment was developed by SK Telecom and manufactured by a small-sized local vendor and SK Hynix. Initially, a group of five products, including AF-Media, NV-Array and T-CAP were released.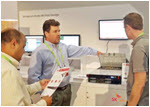 SK Telecom unveiled 'NV Array', a 5G storage medium co-developed with Facebook
08/23/2016 | By Yongjoo Kim
SK Telecom announced on the 15th that it unveiled NV array, a next-generation storage medium for 5G mobile communication that it co-developed with Facebook, at Flash Memory Summit 2016 (FMS 2016), the world's largest event focused on flash memory solutions.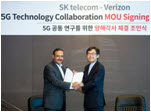 SK Telecom Signs MOU with Verizon for Technical Collaboration in the Field of 5G
08/17/2016 | By Netmanias
SK Telecom today announced that it has entered into a MOU with Verizon, the largest wireless telecommunications provider in the United States, to drive standardization and to conduct joint studies in the field of 5G.