[MWC 2016] SK Telecom participates in MWC 2016
02/22/2016 | By NETMANIAS
SK Telecom announced its participation in the 2016 GSMA Mobile World Congress. Reflecting its strong determination of transforming itself as a platform company based on its unrivalled competitiveness in telecommunications, SK Telecom will be showcasing a wide variety of innovative technologies and services in the areas of Life Enhancement Platform, Media Platform and IoT Platform, along with industry-leading 5G enabling technologies.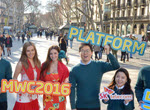 [MWC 2016] SK Telecom unveils Innovative Media Technologies at MWC 2016
02/19/2016 | By NETMANIAS
SK Telecom today announced that it will display next-generation media platform and technologies, including 'Mobile Social Broadcasting Platform,' 'Cloud Streaming,' and '8K UHD Super Encoder' at the Mobile World Congress 2016 being held at Barcelona, Spain.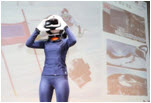 [MWC 2016] KT - 'Global 5G Leader'
02/18/2016 | By Netmanias
KT will showcase its cutting-edge 5G technologies and integrated services under the theme of 'Global 5G Leader' in the Mobile World Congress to be held from February 22nd through 25th.