KT signed an MOU with 5 Domestic and Overseas Manufacturers for GiGA Wire's Entry into Overseas Markets
KT is collaborating with domestic and overseas manufacturers to expand the horizon of GiGA Wire. On July 5, KT Institute of Convergence Technology signed an MOU with domestic and overseas companies to further develop GiGA Wire and create a global ecosystem for the technology. The 6 MOU signees are KT, Marvell, Ubiquoss, Dasan Networks, Lightworks and Dongwon T&I and they agreed to collaborate for the promotion and standardization of GiGA Wire and establishment of standards for compatibility between devices.

These companies for technological cooperation also plan to conduct a wide range of activities to inform overseas telecom service providers, device developers and the press of the excellent performance of GiGA Wire. Their activities will include joint research and standardization efforts to further develop and promote the application of the technology.

The multilateral MOU is the first step for GiGA Wire developed by KT and Korean companies to enter into overseas markets and is expected to play a catalytic role to build a global ecosystem for the technology. The MOU will lay a foundation for the technology to secure competitiveness in the global market, helping KT to lead the domestic network equipment industry.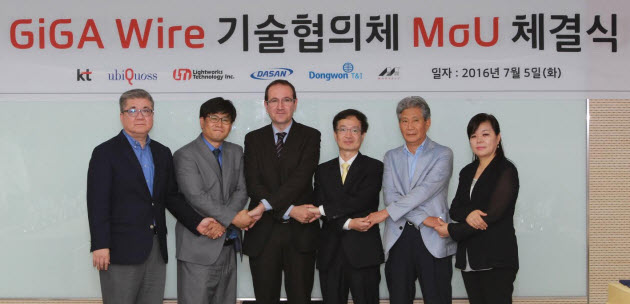 What is GiGA Wire?
Overview: GiGA Wire was jointly developed by Korean SMEs and KT and commercialized for the first time in the world. With this innovative technology, the Internet service can be provided at the speed of up to 1Gbps through copper wire such as telephone lines, coaxial cables, power lines and UTP cables.

Standard: ITU-T G.996x (G.hn)

Current status: GiGA Wire became commercially available by KT in 2015 and GiGA Wire 2.0 with speed of up to 1 Gbps will be introduced in the 2nd half of 2016.

Application: premises with copper wiring system (buildings and apartments, leased premises that need wireless internet service with gigabyte speed, historic sites that should remain intact when wire routing is installed nearby etc.)

※ For further information contact: KT Public Relations manager, Kyoungju Lee at +82-10-9530-5117, gigawire@kt.com