KT applied a battery-saving technology (C-DRX) in the LTE network, enabling smartphone battery to last up to 45% longer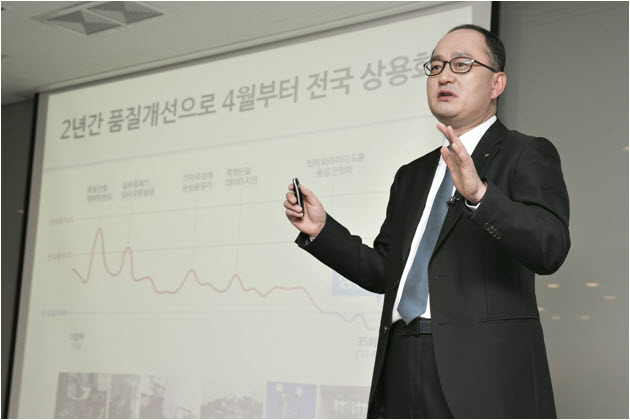 Kuk-hyun Kang, KT's marketing division head, is presenting the C-DRX technology that KT has recently introduced in its LTE network.
South Korean big 3 operators have all been aggressively seeking ways to offer enhanced user experience, and a long-life battery tops the user's list of phone needs.
KT announced on the 12th of April that it has applied a technology called Connected Mode Discontinuous Reception (C-DRX) in the LTE network, and the technology has successfully helped smartphone battery last longer up to by 45%.
Discontinuous Reception (DRX) is one of the battery-saving technologies that are used in LTE. It allows devices to enter sleeping mode (RF transceiver off) when there is no traffic, and wake up entering active mode (RF transceiver on) and deliver traffic when there is traffic. Devices enter sleeping or active mode as instructed in the messages sent by their base stations.
C-DRX enables devices to run on DRX even while using services in connected state. In general, while a device is in connected state, its RF transceiver must remain on to be able to send or receive data. But, C-DRX can save battery consumption by utilizing DRX even when the device is in connected state. When there is no traffic being sent or received on the smartphone, it minimizes network connection, consequently using less battery.
Communication while in 'connected state': Without C-DRX vs. With C-DRX
C-DRX certainly saves battery consumption, but may cause delay in packet reception as it allows devices to receive packets non-continuously. This means trade-off between battery saving and delay in packet delivery. As such delay may result in service quality degradation, special attentions are required when setting parameters relating to C-DRX.
KT said it has completed network optimization through multiple field tests to ensure saving effects in battery usage is achieved without compromising the quality performance. The C-DRX solution has been in operation since April 1, and is available to its LTE service subscribers without separate device upgrade.
According to the company, the efficiency of the solution may vary depending on the smartphone model in use, battery deterioration level, radio environment, the number of installed applications, etc. but will bring battery usage saving by 40% at average.
A test by the state-run Telecommunications Technology Association (TTA) found that the C-DRX made a Samsung Electronics' Galaxy S8 battery last longer by up to 45 percent.
Without C-DRX: Up to 10 hours and 36 minutes
With C-DRX: Up to 14 hours and 24 minutes
"Over the past three years, the LTE data traffic per person jumped 260 percent. The battery-saving technology is expected to meet the needs of consumers who wish to use smartphones longer without recharging," said Kuk-hyun Kang, head of the Marketing Division at KT.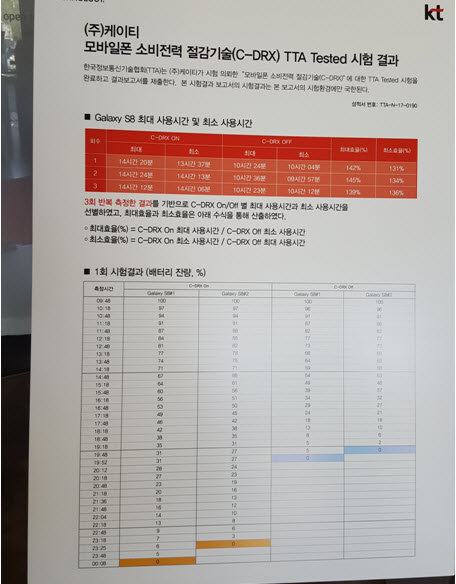 C-DRX test result by TTA