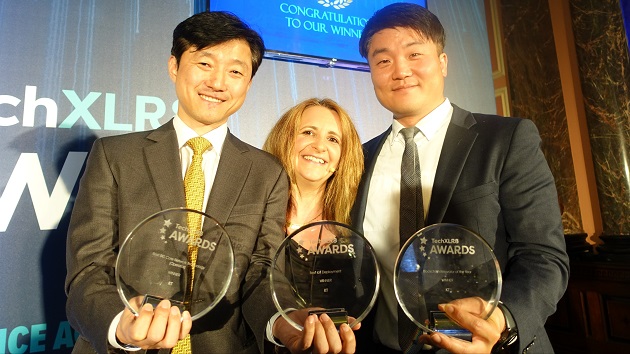 * Global Leadership Reaffirmed with `Best 5G Core Network Technology'
* Also Awarded 'Blockchain Innovator of the Year,' 'Best IoT Deployment'
SEOUL, South Korea (June 15, 2018) – KT Corp. (KRX: 030200; NYSE: KT), said today that it won the TechXLR8 Awards in the three categories of "Best 5G Core Network Technology," "Blockchain Innovator of the Year" and "Best IoT Deployment" at this year's London Tech Week, solidifying its global leadership in the next-generation wireless technology.
KT, Korea's largest telecommunications company, won the award for "Best 5G Core Network Technology" in recognition of its outstanding development of next core network, which enables hyper-speed and ultra-low latency connectivity for various 5G immersive services such as virtual reality and autonomous driving.
"It is our great honor to win such prestigious awards for our pioneering role in 5G and other innovative technologies," said Lee Su-Kil, head of KT's Network Research Technology Support Uni. "We will continue our efforts to accomplish the world's first 5G commercialization in March next year."
KT successfully showcased trial 5G services at the PyeongChang Winter Olympics in February this year with the world's first 5G core network, which redesigned the existing 4G LTE core network to separately build data traffic handling equipment at the edge communications center near base stations. It also improved the 5G core network's operational efficiency and stability with the 5G-LTE interworking and other innovative networking technologies including automatic fault recovery.
For its landmark application of "Data Chain" technology specialized for electronic document management, KT was named the "Blockchain Innovator of the Year." The company has applied the technology to its affiliate, BC Card Co., increasing the speed of handling electronic signature image files by up to 70 percent and reducing the use of server capacity by up to 80 percent. KT plans to further advance its blockchain-based service, expanding it into a Software as a Service (SaaS) solution.
KT's "GiGA IoT LED Signage," which is already commercialized, earned the company the award for "Best IoT Deployment." A combination of KT's IoT and LED (Light-emitting Diode) signage technologies, the GiGA IoT Display Board allows users to produce, change and manage advertising content through an app on their smartphones, increasing consumer satisfaction and helping to explore new markets.
The TechXLR8 Awards were part of TechXLR8, which brings together the world's eight leading technology events under one roof, including 5G World, Internet of Things World Europe, AR & VR World, Digital CX World, Cloud & DevOps World, Smart Transportation & Mobility, Blockchain 360, and Project Kairos.
TechXLR8 is the main exhibition of London Tech Week, Europe's largest tech festival, which this year was held June 11-17 at Gibson Hall in London. The award categories are designed to highlight both research & development and solution providers leading the way in 5G, virtual and augmented reality, IoT, Cloud, connected automotive, and artificial intelligence.