NTT Docomo announces OREX® Open RAN Service Lineup — Achieves TCO reduction of up to 30% and reduces power consumption by up to 50%
NTT DOCOMO, INC. announced today its brand-new service lineup of OREX RAN, OREX SMO, and OREX Services, part of its commitment to becoming an Open RAN service provider for international telecom operators. Through this announcement, the company aims to provide clarity and mutual understanding among international telecom operators regarding the services offered by OREX, thereby facilitating its further expansion.
OREX is DOCOMO's Open RAN service brand, developed in collaboration with multiple global vendors. It can be customized to address the unique challenges of each customer. The introduction of OREX Open RAN services is expected to reduce clients' total cost of ownership by up to 30%1 when the costs of initial setup and ongoing maintenance are taken into account. It can also reduce the time required for network design by up to 50%. Additionally, OREX reduces power consumption at base stations by up to 50%.2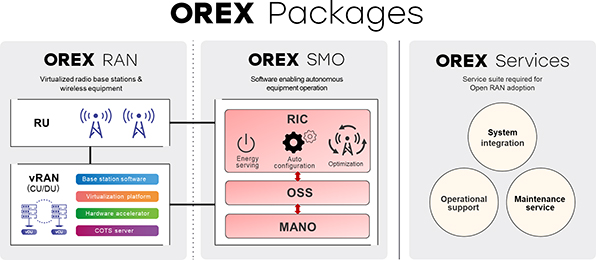 Open RAN services provided by OREX (OREX Packages)
In the OREX RAN offering, OREX leverages the features of Open RAN, allowing the combination of various vendor products to provide base stations that are highly cost-effective. Leveraging the knowledge gained from DOCOMO's unique experience in building mobile networks with multiple equipment vendors since the 4G era, OREX integrates the strengths of its 13 OREX PARTNERS3 to offer an extensive range of virtualized radio base networks (vRANs) and radio units (RUs) compatible with the range of different frequencies in use in various countries. With the addition of seven new RU vendors,4 OREX is poised to meet the demands of an even larger customer base.
With OREX SMO, OREX provides software developed by NTT Corporation to facilitate the efficient design, configuration and monitoring of wireless access networks, enabling autonomous and optimized device operation. Adoption of OREX SMO allows the automatic optimization of network design, reducing design workload by up to 50%, particularly in complex cases that would normally take several weeks. It also reduces operational workload by automating tasks such as the adjustment of the antenna angle of base stations, which is critical for securing the coverage area. OREX SMO is compliant with the standard specifications defined by the O-RAN ALLIANCE.5
OREX Services provide the procurement and system integration required for the adoption of OREX RAN and OREX SMO, as well as post-implementation operational support and maintenance.
On September 22, DOCOMO initiated the deployment and operation of OREX RAN and OREX SMO in its domestic 5G network, incorporating base station software from Fujitsu Limited, cloud platform from Wind River, hardware accelerator from NVIDIA, and COTS server with Intel processors. Building on the operational experience they have accumulated within DOCOMO's network, these companies plan to enhance OREX Open RAN services and expand their product combinations, striving to offer improved cost-effectiveness and reliability.
Going forward, DOCOMO will continue to support global telecom operators in their adoption of Open RAN with its new OREX offerings, strengthening its cooperation with global partners to make Open RAN a reality. In addition, DOCOMO will leverage the technology by applying the All-Photonics Network6 to transport network in Open RAN, following the concept of the Innovative Optical and Wireless Network (IOWN)7 promoted by the NTT Group. It will also utilize low-power servers equipped with photonics-electronics convergence technology and integrate OREX SMO with IOWN's Cognitive Foundation.8
1. Estimated value based on comparison of DOCOMO's standard network with DOCOMO's standard network with deployment of OREX RAN and OREX SMO. This also includes the impact of partial reductions in power consumption.

2. Estimated value based on a comparison of DOCOMO's standard network with DOCOMO's standard network following the deployment of OREX RAN and OREX SMO.
3. The number of OREX PARTNERS as of September 26, 2023. For more information, please visit the official New windowOREX website.

4. DENGYO Technology Co., Ltd., DKK Co., Ltd., Fujitsu Limited, HFR, Inc., Mavenir, NEC Corporation, and SOLiD.
5. The O-RAN ALLIANCE, led by DOCOMO since its establishment, is a world-wide community of telecom operators and vendors committed to re-shaping Radio Access Networks to be more scalable, open and intelligent in order for them to be able to support 5G and all future network standards.
6. An architecture that introduces photonics (optics) based technology to every aspect from the network to terminals. This enables far lower power consumption, higher quality, greater capacity, and less delay, all of which are difficult with current electronics-based technology.
7. A concept for networks and information-processing infrastructure, including terminals, that aims to optimize the individual and the whole based on a whole variety of information. It leverages innovative technologies focused on optics to provide high-speed, high-capacity communication and tremendous computational resources. For more details, please visit New window https://www.rd.ntt/e/iown/.
8. A mechanism for the deployment, configuration and coordination of information and communication technology (ICT) resources at different layers, from cloud to edge computers, network services and user facilities, and the centralization of their management and operation.

OREX is a trademark of NTT DOCOMO, INC.